AgileLearn® Master Certified
Productos destacados
En la ventanilla aquí abajo Usted puede encontrar una selección de cursos de formación y examenes en el entorno AgileLearn® Master Certified.
Para buscar otros cursos u otras modalidades de exámen, puede utilizar la herramienta "Búsqueda precios cursos/exámenes" que encuentra a continuación.
Si no visualiza el curso o el examen requerido, no dude en contactarnos.
AgileLearn® Master Certified es una marca registrada de iCONS - Innovative
Consulting S.r.l., de la cual iLEARN es una business unit.

AGILELEARN MASTER CERTIFIED
AgileLearn® Master Certified (ALMC®) is a cross-practice qualification aimed at providing the knowledge needed to optimally leverage all the elements of the Agile "umbrella" and finally to improve project success or business as usual performances. The AgileLearn Master Certified (ALMC®) is intended for anyone wishing, first of all, to get a better understanding of the origin, evolution and impact of the Agile movement that is spreading today across a broad range of activities and function, across all types of organizations and all sectors.
CERTIFICACIÓN AGILELEARN MASTER CERTIFIED
AgileLearn Master Certified (ALMC®) certification helps to classify and find out the right mixt of agile practices to manage the products, handle software development, organized and manage the flow of work or use hybrid approaches. One of the main purposes of this certification is to provide tangible and practical elements to understand what it means for a team, a set of teams or an organization as a whole to adopt an Agile mindset, Agile practices and Agile organizational principles.
CURSO AGILELEARN MASTER CERTIFIED
AgileLearn Master Certified course is aimed to anyone interested in charge of improving the organization performances using Agile methodologies. The course is also particularly beneficial for practitioners of specific Agile practices (e.g. Scrum) who need to understand how to integrate or leverage other Agile practices.
The main objective of this course is to give you the means to define, according to your situation, your objectives and the resources at your disposal, the most appropriate approach to adopt an Agile way of thinking and acting and possibly to make a transition to an Agile organizational mode.
INSIGNIAS DIGITALES (AGILELEARN) AGILE MASTER CERTIFIED
Después de aprobar el examen de certificación final, el candidato va a obtener gratuitamente la siguiente Insignia Digital que certifica las competencias obtenidas.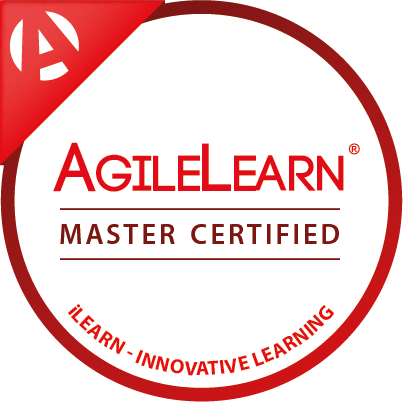 Descubre más sobre las Insignias Digitales de iLEARN clicando aquí.
¿No está seguro de si AgileLearn® sea justo para usted? ¡Lea este artículo!
Here below you can read the course sheet with all the information of AgileLearn Master Certified course.
Cursos de formación y exámenes de certificación AgileLearn Master Certified disponibles en varios idiomas y proporcionados por iLEARN