Scaled AgileLearn® Master Certified
Scaled AgileLearn® Master Certified es una marca registrada de iCONS - Innovative
Consulting S.r.l., de la cual iLEARN es una business unit.

SCALED AGILELEARN MASTER CERTIFIED
Agility is usually implemented initially at a local level, e.g. team, project. When successful, it becomes natural to scale the approach to the whole organization to fully achieve its benefits. However, this has proved to be a challenge and, here too, several approaches have been developed to govern this evolution.
Scaled AgileLearn® Master Certified is a cross practice qualification aimed at providing the knowledge needed to scale Agile approaches in organizations.
CERTIFICACIÓN SCALED AGILELEARN MASTER CERTIFIED
Scaled AgileLearn Master Certified certification helps you understanding how to use the Agile frameworks and practices in synergy in a scaled environment, how to design and govern the deployment of agility al scale in organizations.
CURSO SCALED AGILELEARN MASTER CERTIFIED
Scaled AgileLearn Master Certified course is aimed to project teams in charge of scaling agility or having to support it. It is also suitable for anyone interested in successfully scaling Agile approaches in an organization.
INSIGNIAS DIGITALES (AGILELEARN) SCALED AGILE MASTER CERTIFIED
Después de aprobar el examen de certificación final, el candidato va a obtener gratuitamente la siguiente Insignia Digital que certifica las competencias obtenidas.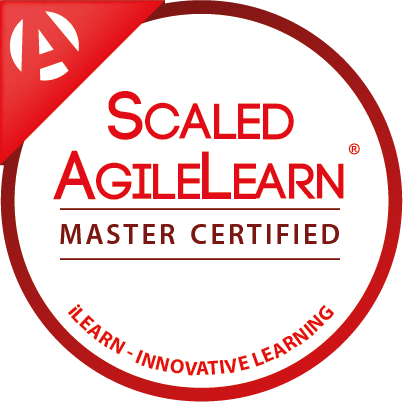 Descubre más sobre las Insignias Digitales de iLEARN clicando aquí.
¿No está seguro de si AgileLearn® sea justo para usted? ¡Lea este artículo!
Here below you can read the course sheet with all the information of Scaled AgileLearn Master Certified course.
Cursos de certificación Scaled AgileLearn Master Certified ofrecidos por iLEARN