Foundation & Awareness Suite: IT4IT™ Standard 180d con examen curso en línea en Inglés entregado por iLEARN Innovative Learning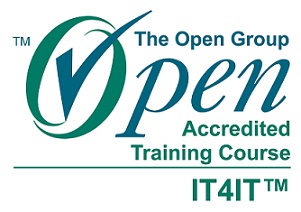 Los cursos IT4IT™ Foundation e Awareness: IT4IT™ Standard proporcionados en este paquete representan una introducción excelente a la Arquitectura de Referencia IT4IT y a la Cadena de Valor TI. Gracias a varios meses de acceso, los candidatos tienen la posibilidad de estudiar segun sus propios ritmos sin deber pedir tiempo libre a sus horas de trabajo. O, aún mejor, es posible disfrutar del contenido de Good e-Learning a través de los dispositivos digitales portátiles, permitiendo a los usuarios acceder a la información en todas partes y en cualquier momento.
DURACIÓN DE ACCESO
180 días de acceso a la plataforma
DETALLES DEL CURSO EN LÍNEA FOUNDATION & AWARENESS SUITE: IT4IT™ STANDARD
Duración del curso: más de 20 horas
Soporte de profesores
Ejercicios y simulaciones de prueba
Compatible con móviles
DETALLES DEL EXAMEN EN LÍNEA IT4IT™ FOUNDATION
Preguntas de opciones múltiples
40 preguntas
60 minutos para completar el examen
El examen es a libro cerrado y supervisado por un Invigilator. No se puede utilizar ningún recurso o material durante el examen
Los puntos mínimos requeridos para el examen son igual al 65 por ciento: hay que marcar 26 preguntas fuera de las 40 preguntas correctas
En países donde el Inglés es segunda lengua, el tiempo a disposición para el examen es extendido a 90 minutos
ACREDITACIONES
Foundation & Awareness: IT4IT™ Standard proporcionado por Good e-Learning es un curso acreditado por The Open Group. iLEARN promueve el corso para Good e-Learning.
Acreditación
The Open Group (IT4IT Foundation only)
Precio individual
599,00EUR
Duración de acceso al curso
180 días
Objetivos
Los profesionales serán capaces de comprender:
Las solicitudes y los factores principales para el cambio de las funciones TI (para volverse en en bróker e integrador de servicios) y, por consiguiente, la importancia de IT4IT
El posicionamiento de la norma IT4IT con respecto a otras (como ITIL), así como la manera en que IT4IT es complementario a ellos
Los cuatro Flujos de Valor: el Flujo de Valor de la Estrategia a la Cartera, el Flujo de Valor de la Exigencia al Empleo, el Flujo de Valor para Satisfacer las Solicitudes y el Flujo de Valor de la Detección a la Corrección
Los conceptos básicos de la Arquitectura de Referencia IT4IT y la Cadena de Valor TI
Todo el necesario para aprobar el examen oficial IT4IT Foundation, volverse en un profesional IT4IT certificado y conseguir una calificación reconocida en todo el mundo !
A quién está dirigido
Los Empresarios
Los Arquitectos de Empresa
Los Programadores
Los Ingenieros informáticos
Los Ejecutivos de las operaciones TI
Todos los que tiene interés en garantizar que el IT funcione de la manera más rápida y eficaz posible sin deber sacrificar la calidad.
Roles para los cuales es necesario comprender IT4IT, su contenido, el contexto, las actividades y las ventajas, pero no hay que ser un profesional certificado
Un grupo de promotores, integradores de servicios o partes interesadas que deben conocer el valor y los beneficios de un proyecto IT4IT
Individuos que deben "vender" IT4IT dentro de una organización
Contenidos
Awareness: IT4IT™ Standard
IT4IT™ Foundation (v2.1)
Pre-requisitos
No hay ningún prerequisito necesario para poder seguir este curso Foundation & Awareness Suite: IT4IT™ Standard.
Lengua del instructor
Inglés
Idioma del material del curso
Inglés
Certificación
Certificado oficial IT4IT™ Foundation
Tipo de certificación
En línea autónomo