Awareness: IT4IT™ Standard 180d sin examen curso en línea en Inglés entregado por iLEARN Innovative Learning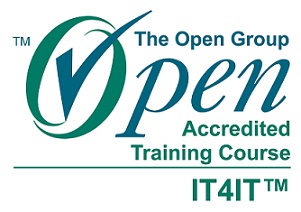 Este curso aborda todo lo que se debe saber sobre la Norma IT4IT de The Open Group, y lo convierte en una introducción perfecta tanto para los individuos como para los equipos.
Aunque este curso no implica ninguna certificación ni acreditación formal, esto les permitirá considerar formaciones adicionales IT4IT.
Es probable que la su organización esté implementando una norma o esté considerando la importancia de dicha implementación. Independientemente de que sean responsables o usuarios potenciales, profesionales TI, jefes Recursos Humanos o contables. Sea cual sea su experiencia, la Norma IT4IT es algo que se debe conocer!
DURACIÓN DE ACCESO
180 días de acceso a la plataforma
DETALLES DEL CURSO EN LÍNEA AWARENESS: IT4IT™ STANDARD
Curso de formación acreditado
Duración del curso: más de 6 horas
Soporte de profesores
Ejercicios y simulaciones de prueba
Certificado de participación
ACREDITACIONES
Awareness: IT4IT™ Standard proporcionado por Good e-Learning es un curso acreditado por The Open Group. iLEARN promueve el corso para Good e-Learning.
Precio individual
39,00EUR
Duración de acceso al curso
180 días
Objetivos
Explicar los problemas que la Arquitectura de Referencia IT4IT es capaz de resolver
Comprender las solicitudes y los factores principales para el cambio de las funciones TI (para volverse en bróker e integrador de servicios) y por lo tanto la importancia de IT4IT
Comprender la Norma IT4IT de alto nivel, los Flujos de Valor IT4IT y la Arquitectura de Referencia IT4IT
Comprender el posicionamiento de la Norma IT4IT en relación con otras normas (como ITIL) y entender cómo IT4IT es complementario a ellos
A quién está dirigido
Ustedes deberían seguir este curso si:
Tienen un rol para el que es necesario comprender IT4IT, su contenido, el contexto, las actividades y las ventajas, pero no hay que ser un profesional certificado
Tienen un grupo de promotores, integradores de servicios o partes interesadas que deben conocer el valor y los beneficios de un proyecto IT4IT
Tienen que "vender" IT4IT dentro de su organización
Desean conocer mejor la norma IT4IT antes de dedicarse totalmente a la formación y al examen Foundation
Contenidos
¿Cuál es la historia?
La Norma IT4IT en detalle
Las Ventajas de la utilización de la Norma IT4IT
Las Ventajas de IT4IT para cada una de las Partes Interesadas
Pre-requisitos
No hay ningún prerequisito necesario para poder seguir este curso Awareness: IT4IT™ Standard.
Lengua del instructor
Inglés
Idioma del material del curso
Inglés