Añadir a la cesta
TOGAF® 9 Level 1 & 2; Level 1 - 30d con examen curso en línea en Inglés entregado por iLEARN Innovative Learning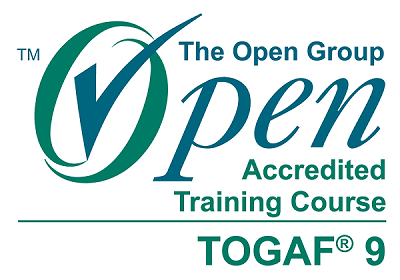 El Estándar TOGAF, Versión 9.2, es una actualización del estándar 9.1 que proporciona una guía mejorada, una corrección de los errores, una mejora de la estructura del documento y la remoción de los contenidos obsoletos. Las mejoras principales en esta versión incluyen actualizaciones de la Arquitectura Empresarial y del Content Metamodel. Todos estos cambios hacen el marco TOGAF más facil de utilizar y mantener.
La certificación TOGAF® 9 Level 1 & 2; Level 1 proporciona una validación de la terminología, la estructura y los conceptos principales del estándar TOGAF 9 y de la comprensión de los principios de la Arquitectura Empresarial y del Estándar TOGAF.
Duración de acceso
30 días de acceso a la plataforma
Detalles del curso en línea TOGAF® 9 Level 1 & 2; Level 1
13 lecciones (5 horas de videos grabados por un profesor acreditado)
Documentos PDF descargables con contenidos detallados (diapositivas, explicaciones) para cada lección
Ejercicios
1 practice test
FORMATO Y CARACTERÍSTICAS DE LOS CURSOS EN LÍNEA
Acceso 24/7
Para más información sobre los cursos en línea, por favore presione aquí.
ACREDITACIONES
El curso TOGAF® 9 Level 1 & 2; Level 1 de iLEARN - Innovative Learning es acreditado por The Open Group
FORMATO Y CARACTERÍSTICAS DE LOS EXÁMENES EN LÍNEA
El examen se puede tomar en dos diferentes modalidades:
En línea con la supervisión de un Supervisor (OnVUE)
En un Centro de Pruebas Pearson Vue
Para más información sobre los exámenes en línea, por favor presione aquí.
PDU - TOGAF® 9 Level 1 & 2; Level 1
Nuestro curso de formación TOGAF 9 Level 1 & 2; Level 1 puede proporcionar 16 Professional Development Units (PDUs). Aquí abajo puede encontrar más detalles sobre la asignación de los PDU:
Technical: 0
Leadership: 0
Strategic: 16
Le acordamos que, para auto declarar PDU a través de este curso proporcionado por iLEARN, es obligatorio comprar la confirmación de participación (certificado de asistencia) en formato eléctronico (pdf). Durante la compra, seleccione la opción relacionada para añadir la confirmación de participación y proceda a la compra.
Para más información los PDUs y sobre cómo mantener sus calificaciones PMI, por favor visite esta página.
Acreditación
The Open Group
Precio individual
299,00EUR
Duración de acceso al curso
30 días
Objetivos
Al final del curso, los participantes obtrendrán las siguentes competencias:
Los conceptos claves de la Arquitectura Empresial y el marco de arquitectura TOGAF
Los principios básicos de la arqutectura empresarial basados en el marco TOGAF 9
La terminología principal del marcoTOGAF 9 en el contexto de ADM
El ciclo ADM y los objetivos de cada fase y como adapatarlos en ADM
El concepto de Enterprise Continuum, su propósito y sus partes constitutivas
Cómo cada fase contribuye al éxito de una arquitectura empresarial
Las directices y las técnicas ADM
Cómo la Architecture Governance contribuye al Architecture Development Cycle
Los conceptos de Architecture View y la Architecture Viewpoints y su rol en la comunicación con las partes interesadas
El concepto de Building Blocks
Los principales Deliverables en el ciclo ADM
Modelo de Referencia TOGAF
A quién está dirigido
Arquitectos empresarials de todos niveles
Los que quieren ingresar en la arquitecura empresarial
Los que quieren aprobar el examen de certificación TOGAF® 9.2
Contenidos
Las habilidades principales del marco TOGAF
El Architecture Development Method (ADM), todas sus fases y las informaciones claves para aprobar el examen
Otros temas incluidos en el examen, como Architecture Governance, Architecture Capacity, Enterprise Continuum, Capability Assessment y marcos de referencia (por ejemplo TRM y III-RM)
Pre-requisitos
Alguna experiencia en la resolución de problemas a nivel empresarial, aunque la familiaridad con el estándar TOGAF no es requerido.
Lengua del instructor
Inglés
Idioma del material del curso
Inglés
Certificación
Certificado oficial TOGAF® 9 Level 1
Tipo de certificación
En línea autónomo
Idioma del examen
Inglés, Francés, Chino (Mandarín), Español (Latinoamérica)