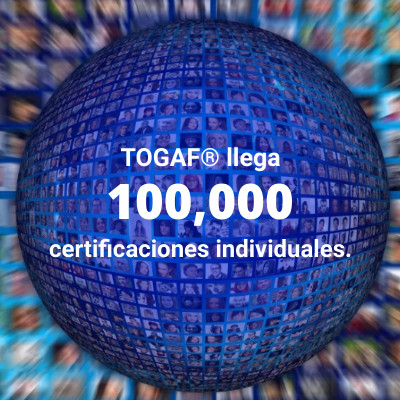 Copyright © The Open Group 2020
The Open Group ha anunciado que el programa de certificación TOGAF® 9 ha llegado a la meta de 100 mil certificados en todo el mundo.
La certificación TOGAF 9 es la certificacón "vendor-neutral" y reconocida en todo el mundo para el estándar TOGAF, el estándar abierto utilizado por las organizaciones más importantes para mejorar su eficiencia empresarial.
¿Por qué obtener una certificación TOGAF 9?
La certificación TOGAF es ampliamente referenciada en la selección de personal, y aparece regularmente entre las tres primeras certificaciones en el IT Skills & Certification Pay Index por Foote Partners LLC. Además, las encuestas muestran que las empresas están pagando un estipendio más altpo desde el 8 hasta el 13% a los arquitectos empresariales certificados TOGAF con respecto a los que no tienen esta certificación.
El programa de certificación es realmente global, con personas desde 149 diferentes países incluidos en el registro. La certificación es biewn establecida en los Estados Unidos y en Europa y está creciendo significativamente en Asia.
¿Cómo obtener una certificación TOGAF 9?
iLEARN - Innovative Learning es un Accredited Training Cemtre (ATC) of The Open Group. Pueden encontrar más información sobre los cursos online y presenciales a este enlace.
Para más información sobre The Open Group, hagan clic aquí.