DASA DevOps
Produits en évidence
Dans cette vitrine vous trouvez une sélection de cours de formation et d'examens dans le cadre DASA DevOps.
Pour rechercher un cours ou un examen en particulier, vous pouvez utiliser l'outil "Rechercher prix cours/examens" que vous trouvez ci-dessous.
Si vous ne trouvez pas le cours ou l'examen souhaité, n'hésitez pas à nous contacter.
Recherche prix cours/examens
iLEARN est un
ATO
(Accredited Training Organization)
de
DASA
pour les cours
DevOps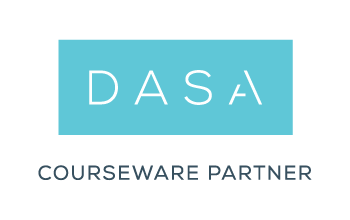 Pour vérifier en ligne les accréditations, veuillez faire la recherche avec iCONS - Innovative Consulting S.r.l. dont iLEARN est la business unit.
QU'EST-CE QUE DASA?
DevOps Agile Skills Association (DASA) est une association indépendante et ouverte, dirigée par ses membres, qui soutient le développement de la formation et de la certification DevOps sur le marché mondial. Elle promeut le développement de professionnels et d'équipes informatiques performants grâce à des initiatives DevOps agiles.
Pour réaliser son objectif plus grande, DASA vise à:
Promouvoir un référentiel de connaissances et de compétences pour DevOps, basé sur un ensemble défini de principes.
Développer et évangéliser un programme de qualification DevOps neutre pour les professionnels.
Susciter l'intérêt et la sensibilisation pour le besoin de développement des connaissances et des compétences.
Faire progresser la qualité de la formation et la certification Open Source pour les connaissances et les compétences de DevOps.
Mapper le contenu de formation des membres sur la base de référence basée sur les rôles.
PRINCIPES DASA DEVOPS
Pour DASA, DevOps n'est pas un produit, une norme, une spécification, un référentiel ou un titre d'emploi. DevOps parle d'expériences, d'idées et de culture pour créer des organisations informatiques performantes.
Action centrée sur le client
Créer avec End in Mind
Responsabilité End-To-End
Équipes inter-fonctionnelles
Amélioration continue
Automatiser tout ce que vous pouvez
CERTIFICATIONS DASA DEVOPS
Le programme de certification DASA DevOps est conçu pour les professionnels de l'informatique qui veulent réussir avec DevOps. Chaque certification couvre des sujets spécifiques du modèle de compétences DevOps de DASA, aidant les équipes DevOps et Agile à créer la bonne combinaison de compétences et de capacités.
DevOps Fundamentals
Elle fournit une introduction complète aux principes DevOps agiles de base couvrant les compétences essentielles de connaissances et de compétences qui ont été définies par DASA.
DevOps Professional Enable and Scale
Elle s'appuie sur la qualification DASA DevOps Fundamentals. L'objectif principal de DevOps Professional Enable and Scale est sur les 4 domaines de compétences requis pour des résultats DevOps réussis.
PROGRAMME DE QUALIFICATION DASA
DASA a identifié 3 zones principaux d'expérience et elle a développé un programme de certification pour chaque profil. Ces programmes testent les habiletés et l'expérience des professionnels qui s'identifient à ces profils.
Copyright© DevOps Agile Skills Association LLC. All rights reserved.
OFFRE ILEARN
Les cours DASA DevOps peuvent être suivis de la manière suivante:
Classique

à calendrier: formation traditionnelle en salle, au sein des sièges de iLEARN
intra entreprise: formation traditionnelle en salle projetée en fonction des besoins du client, dans les locaux du client ou de iLEARN

Distant-learning: formation traditionnelle mais virtuelle par le biais d'une plate-forme en ligne
En outre iLEARN offre seulement le niveau Fundamentals dans les modalités suivantes:
E-learning: formation entièrement en ligne sur notre plateforme en ligne
ONE-to-ONE: accès à la plateforme e-learning et sessions interactives via web-conférence avec l'enseignant accrédité
LIENS UTILES
Grâce à la nouvelle application "iLEARN LMS", vous pouvez profiter de votre cours e-learning où et quand vous le souhaitez sur vos dispositifs mobiles. Téléchargez-la vite!
Cours de formation DASA DevOps offerts par iLEARN