SCRUMstudy™
Produits en évidence
Dans cette vitrine vous trouvez une sélection de cours de formation et d'examens dans le cadre SCRUM.
Pour rechercher un cours ou un examen en particulier, vous pouvez utiliser l'outil "Rechercher prix cours/examens" que vous trouvez ci-dessous.
Si vous ne trouvez pas le cours ou l'examen souhaité, n'hésitez pas à nous contacter.
Affichès

5

de 6
Page

1

de 2
Affichès

5

de 7
Page

1

de 2
Recherche prix cours/examens
iLEARN est un REP (Registered Education Provider)
de SCRUMstudy pour les cours SCRUM®



Pour vérifier en ligne les accréditations, veuillez faire la recherche avec iCONS - Innovative Consulting S.r.l. dont iLEARN est la business unit.
SCRUM est une des méthodologies Agile pour la gestion des projets plus populaires. Il s'agit d'une méthode rapide, flexible et efficace facilement adaptable et qui est projetée pour apporter rapidement une valeur tout au long d'un projet. SCRUM garantit une transparence dans les communications et crée un domaine de responsabilisation collective ainsi qu'un progrès continu. Le domaine de travail SCRUM, tel qu'il est défini dans le manuel SBOK™, est projeté de façon à supporter le développement de produits et de services dans n'importe quel type d'industrie et de projet, indépendamment de leur niveau de difficulté.
Un des points de force de SCRUM consiste dans l'utilisation d'une équipe multifonctionnelle, auto-organisée et efficiente qui se divise les tâches en unités de travail brèves et concentrées.
La gestion de projet traditionnelle se concentre sur une planification préalable et détaillée, en donnant une grande importance à l'évaluation des zones d'intervention, de coût et de temps d'un projet et à la gestion de ces paramètres. Au contraire, SCRUM encourage des décisions itératives et basées sur les informations disponibles pour lesquelles l'objectif primaire est la livraison de produits voués à satisfaire les demandes des clients.
Pour apporter une majeure utilité en peu de temps, SCRUM encourage la hiérarchisation des priorités et le Time-Boxing plutôt que la concentration sur la planification, les coûts et l'extension de chaque projet. Une caractéristique fondamentale de SCRUM est l'auto-organisation, qui permet aux ressources d'évaluer personnellement et de prendre le contrôle de leurs charges.

Offre iLEARN
iLEARN offre les certifications SCRUM de SCRUMstudy™, basées sur le Scrum Body of Knowledge (SBOK™ Guide), qui est un manuel de 340 pages, disponible gratuitement en ligne auprès de la communauté SCRUM et Agile. Le manuel SBOK™ présente une structure concentrée sur les processus et les outils spécifiques de SCRUM qui se basent sur la connaissance et l'expérience, recueillies en des milliers de projets répartis au sein d'une grande variété d'entreprises et d'industries. D'ultérieures contributions ont été apportées par des experts qui ensignent SCRUM et la gestion de projet à plus de 400'000 professionnels, dans plus de 150 pays.
Le Scrum Body of Knowledge (SBOK™ Guide) peut être téléchargé à ce lien.

La structure des qualifications et des certifications SCRUM est la suivante :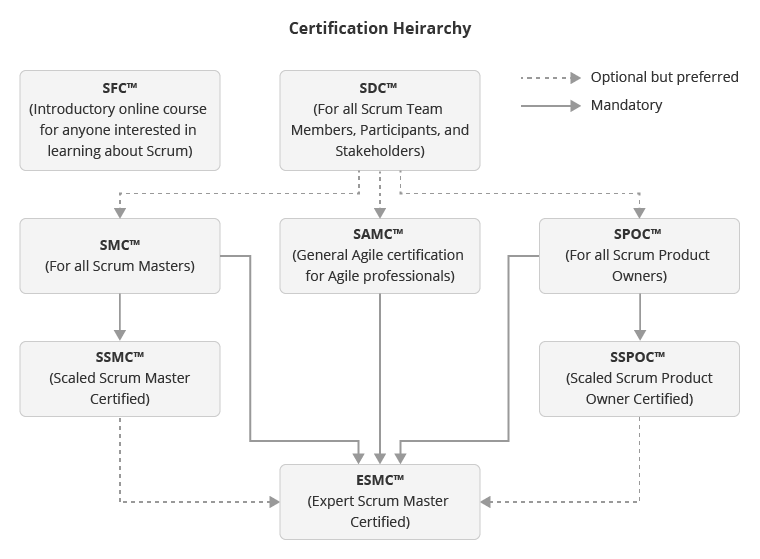 iLEARN offre toutes les qualifications en modalité en ligne:

Structure des cours en ligne
Un cours SCRUM en ligne a deux composants fondamentaux: le matériel de support et les vidéos conceptuelles.
Chaque argument traité dans le cours est accompagné d'une vidéo conceptuelle. Voici comment cela se présente: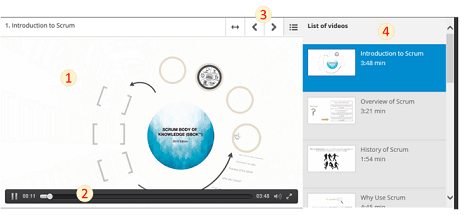 Diapositives expliquées par l'enseignant
Bouton de contrôle de la vidéo
Contrôle de séquence qui permet de passer directement à un argument de la leçon
Sélection des vidéos.
La section du matériel contient le manuel SBOK™, les lexiques, des exercices et des cas pratiques facultatifs, comme cela est illustré dans l'image ci-dessous.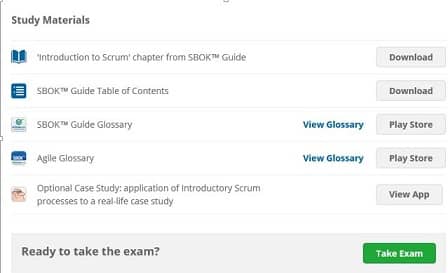 Liens utiles
Sous-catégories
Cours de certification SCRUMstudy offerts par iLEARN