Examen TOGAF® 9 Level 2 (pour RETAKE) examen en ligne dispensé par iLEARN Innovative Learning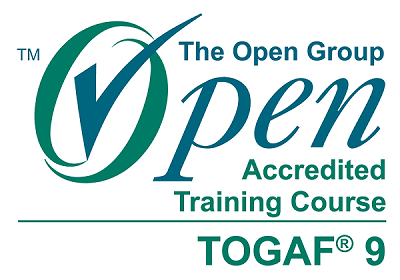 La version 9.2 de la norme TOGAF® est une mise à jour de la norme TOGAF® 9.1 qui fournit des instructions améliorées, corrige les erreurs, améliore la structure du document et supprime le contenu obsolète. Les principales améliorations apportées à cette version incluent des mises à jour de la Business Architecture et du Content Metamodel. Tous ces changements rendent la norme TOGAF plus facile à utiliser et à maintenir.
Le contenu certifié TOGAF® 9 Level 1 & 2; Level 2 se focalise sur l'application pratique du cadre TOGAF, en s'appuyant sur les connaissances fondamentales et sur la compréhension de la partie 1, en utilisant des scénarios pratiques pour appliquer les concepts.
ACCRÉDITATIONS
Le cours TOGAF® 9 Level 1 & 2; Level 2 de iLEARN - Innovative Learning est accrédité par The Open Group
CARACTÉRISTIQUES ET MODALITÉS DE L'EXAMEN EN LIGNE
NOTE: L'examen Level 2 peut être exécuté en 2 modalités:
En ligne avec la supervision d'un Surveillant (OnVUE)
Dans un Centre de Test Pearson Vue
Pour plus d'informations sur les prérequis techniques et la procédure des examens en ligne, cliquez ici.
Accréditations
The Open Group
Prix par personne
279,00EUR
Langue
Anglais, Français, Chinois (Mandarin), Espagnol (Amérique Latine)
Adressé à
Toute personne souhaitant avoir une compréhension plus complète du référentiel TOGAF 9
Professionnels qui travaillent dans une organisation dans laquelle on adopte le référentiel TOGAF 9 et qui doivent participer à des projets et initiatives d'architecture
Toute personne ayant besoin d'une connaissance pratique des meilleures pratiques d'architecture d'entreprise : intégrateurs systèmes, exploitation, opérations, conception, process managers et owners, projects managers et leaders, architectes métiers et SI
Prérequis
Avoir des connaissances et de l'expérience dans la gestion des systèmes d'information. Être certifié TOGAF ® Level 1.
Pour acheter l'examen TOGAF® 9 Level 2 (option RETAKE) il faut avoir déjà passé sans succès un examen TOGAF® 9 Level 2.
Typologie d'examen
En ligne
Certification
Certificat officiel TOGAF® 9 Level 2
Format certificat
En ligne
Langue examen
Anglais, Français, Chinois (Mandarin), Espagnol (Amérique Latine)