DASA DevOps
Prodotti in evidenza
In questa vetrina trovate una selezione dei corsi di formazione ed esami online nell'ambito DASA DevOps.
Per ricercare un corso o un esame nelle altre modalità, potete utilizzare lo strumento di "Ricerca prezzi corsi/esami" che trovate di seguito.
Se non visualizzate il corso o l'esame desiderato, non esitate a contattarci.
iLEARN è un
ATO
(Accredited Training Organization)
di
DASA
per i corsi
DevOps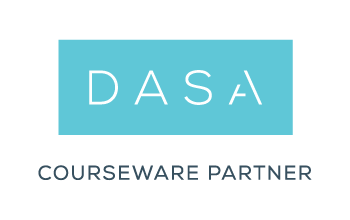 Per una verifica online degli accreditamenti, fare una ricerca con iCONS - Innovative Consulting S.r.l. di cui iLEARN è una business unit.
COS'È DASA?
La DevOps Agile Skills Association (DASA) è un'associazione indipendente e aperta diretta dai suoi membri che sostiene lo sviluppo dei corsi e delle certificazioni DevOps sul mercato globale. Inoltre promuove lo sviluppo di team e professionisti IT ad alto rendimento attraverso le iniziative agile DevOps.
Per realizzare il suo scopo più ampio, DASA mira a:
Promuovere un modello delle competenze e conoscenze per DevOps, basato su uno specifico insieme di principi.
Sviluppare ed evangelizzare un programma di qualificazione DevOps "vendor neutral" per i professionisti.
Generare interesse e consapevolezza sulla necessità di sviluppo di conoscenze e abilità.
Far avanzare la qualità della formazione e delle certificazioni open source sulle conoscenza e abilità DevOps.
Adattare il contenuto della formazione alla baseline delle competenze relative ai diversi ruoli.
PRINCIPI DASA DEVOPS
Per DASA, DevOps non è una cosa. Non è un prodotto, uno standard, delle specifiche, un modello o un job title. DevOps riguarda esperienze, idee e cultura, elementi con lo scopo di creare organizzazioni IT ad alta prestazione.
Azione incentrata sul cliente
Creazione finalizzata al risultato
Responsabilità end-to-end
Team autonomi interfunzionali
Miglioramento Continuo
Massima automazione possibile
CERTIFICAZIONI DASA DEVOPS
Il programma di certificazione DASA DevOps è pensato per i professionisti appassionati di IT che vogliono avere successo con DevOps. Ogni certificazione riguarda argomenti specifici del DASA DevOps Competence Model, così da aiutare i team DevOps e Agile a creare il giusto mix di competenze e capacità.
DevOps Fundamentals
Fornisce un'introduzione dettagliata ai principi agile base di DevOps, trattando tutte le conoscenze e abilità essenziali determinate dalla DASA.
DevOps Professional Enable and Scale
Si sviluppa sulla certificazione DASA DevOps Fundamentals. DevOps Professional Enable and Scale si focalizza sulle 4 aree di competenza richieste per ottenere risultati DevOps di successo.
PROGRAMMA DI QUALIFICAZIONE DASA
DASA ha identificato tre aree principali di esperienza e ha sviluppato un programma di certificazione per ogni profilo. Questi programmi mettono alla prova le abilità pratiche e l'esperienza dei professionisti che si identificano con questi profili.
Copyright© DevOps Agile Skills Association LLC. All rights reserved.
OFFERTA ILEARN
I corsi DASA DevOps si possono seguire nelle seguenti modalità:
Classic

A calendario: formazione in aula tradizionale presso le sedi iLEARN
in-house: formazione in aula tradizionale pianificata in base alle esigenze del cliente e presso le sedi del cliente o di iLEARN

Distant-learning: seguendo le lezioni in video conferenza
Inoltre iLEARN offre solamente il livello Fundamentals nelle seguenti modalità:
E-learning: Formazione erogata tramite il nostro sistema di gestione di apprendimento online, da qualsiasi luogo e in qualsiasi momento
ONE-to-ONE: accesso alla piattaforma e-learning e sessioni interattive tramite web-conference con un docente accreditato
LINK UTILI
Grazie alla nuova applicazione "iLEARN LMS" puoi usufruire del tuo corso e-learning dove e quando vuoi sui tuoi dispositivi mobili. Scaricala ora!
Corsi di formazione DASA DevOps offerti da iLEARN