IT4IT™ Courses
IT4IT certification courses
Availability and prices of IT4IT™ courses
Featured products
In this showcase you will find a selection of training courses and exams in the IT4IT™ context.
To look for a course or an exam specifically, you can use the "Search courses/exams prices" tool that you will find below.
If you do not see the course or exam you want, please contact us.
No course or exam found. Contact us to find out the available solutions!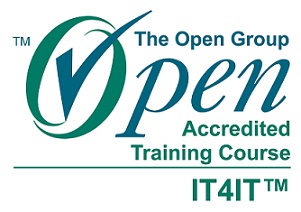 IT4IT™
The IT4IT Reference Architecture, a standard of the Open Group, is a powerful tool for aligning and managing a Digital Enterprise. Its flexible, value stream-based approach supports your digital business wherever you are in your journey and wherever you want to go, regardless of whether your primary business outcome is better, faster, cheaper, safer or some combination of the four.
Designed as an umbrella framework, IT4IT is useful for companies addressing many of todays' challenges, whether it be moving to the cloud, deploying Agile or DevOps, undergoing a digital transformation, moving to a product centric operating model. With a focus on information needed to manage IT and the flow of data between IT management systems, IT4IT is process agnostic and useful for businesses of all sizes and industries.
The IT4IT Standard is being used by companies of all sizes and industries all across the world. It has been used to drive interoperability, rationalize applications, assess and improve capabilities, and much more.
ACCREDITATIONS
IT4IT™ courses delivered by Good e-learning are courses accredited by The Open Group. iLEARN promotes these courses for Good e-Learning.
IT4IT QUALIFICATION SCHEME
Awareness: IT4IT™ Standard
This course covers everything you need to know about The Open Group's IT4IT Standard, making it a perfect introduction for both individuals and teams.
IT4IT™ Foundation
This IT4IT course will fully prepare students for the official IT4IT Foundation (level 1) exam. Successfully passing the examination will earn students a recognized and highly-regarded qualification, proving that they have gained knowledge of the terminology, structure and basic concepts of the IT4IT standard.
IT4IT™ Foundation & Awareness Suite
The IT4IT Foundation & IT4IT Awareness courses provided in this suite offer an excellent introduction to the IT4IT Reference Architecture and IT Value Chain.
iLEARN OFFER
iLEARN offers Foundation, Awareness and Foundation & Awareness Suite levels in the following ways:
E-learning: training provided through an online learning management system from anywhere at anytime
USEFUL LINKS