Awareness: IT4IT™ Standard 180d without exam online course in English provided by iLEARN Innovative Learning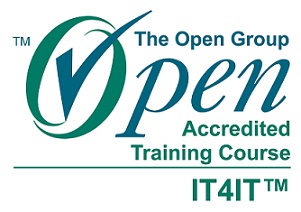 This course covers everything you need to know about The Open Group's IT4IT Standard, making it a perfect introduction for both individuals and teams.
Although this course does not itself lead to any formal qualification or accreditation, it will put you in good shape to consider further IT4IT training.
It might be that your organization is implementing the standard, or is considering the value of doing so. You may be a decision-maker, or a potential user. You might be an IT professional, an HR executive, or an accountant. Whatever your background, the IT4IT Standard is something you need to be aware of!
ACCESS DURATION
180 days of access to the platform
AWARENESS: IT4IT™ STANDARD ONLINE COURSE DETAILS
Fully accredited training course
Course duration: 6+ hours
Tutor support
Quizzes & practice exams
Certificate of completion
ACCREDITATIONS
Awareness: IT4IT™ Standard delivered by Good e-learning is a course accredited by The Open Group. iLEARN promotes this course for Good e-Learning.
Discounted price
39,00EUR




35,10EUR

up to 31/08/2022
Access duration of the course
180 days
Objectives
Explain the problems that the IT4IT Reference Architecture can resolve
Understand the key demands & drivers for changing IT functions (to become a service broker & integrator), and hence the importance of IT4IT
Understand at a high level the IT4IT Standard, the IT4IT Value Streams and the IT4IT Reference Architecture
Understand the positioning of the IT4IT Standard versus other standards (such as ITIL), and understand how IT4IT is complementary to them
Who it is aimed at
You should purchase this course if:
You are in a role where you need to understand IT4IT, its content, context, activities and benefts, but you do not need to be a certifed practitioner
You have a group of sponsors, decision-makers or stakeholders that need to be aware of the value, and benefts of an IT4IT project
You need to "sell" IT4IT internally within your organization
You want to know more about the IT4IT standard before committing to the full Foundation training and examination
Contents
What's the Story?
The IT4IT Standard in Detail
The Benefits of Using the IT4IT Standard
The IT4IT Benefits per Stakeholder
Prerequisites
There are no prerequisites for taking this Awareness: IT4IT™ Standard course.
Material course language
English