Awareness: IT4IT™ Standard Courses
Awareness: IT4IT™ Standard certification courses
Availability and prices of Awareness: IT4IT™ Standard courses
Featured products
In this showcase you will find a selection of training courses and exams in the IT4IT™ Awareness context.
To look for a course or an exam specifically, you can use the "Search courses/exams prices" tool that you will find below.
If you do not see the course or exam you want, please contact us.
No course or exam found. Contact us to find out the available solutions!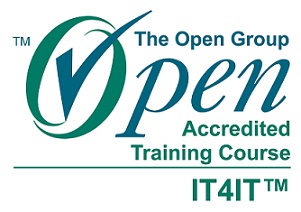 AWARENESS: IT4IT™ STANDARD
This course covers everything you need to know about The Open Group's IT4IT Standard, making it a perfect introduction for both individuals and teams.
Although this course does not itself lead to any formal qualification or accreditation, it will put you in good shape to consider further IT4IT training.
It might be that your organization is implementing the standard, or is considering the value of doing so. You may be a decision-maker, or a potential user. You might be an IT professional, an HR executive, or an accountant. Whatever your background, the IT4IT Standard is something you need to be aware of!
AWARENESS: IT4IT™ STANDARD CERTIFICATION
Completing section one will give you a good idea of what the IT4IT Standard is about, and why it is so important for modern businesses. If you require more technical details, you can continue to section two, which really gets into the nuts and bolts of the IT4IT reference architecture. Section three offers a much closer look at the potential benefits of employing the IT4IT Standard, and in section four you will have the opportunity to further investigate the benefits of the standard according to your role in the organization.
AWARENESS: IT4IT™ STANDARD COURSE
At points during this IT4IT Awareness course, you will be asked questions that will help you retain your knowledge of the IT4IT Standard, think about what you have learned and consider how IT4IT has changed the way you think about your current work environment. Knowledge checks also appear at the end of each topic and there is even a comprehensive quiz at the end of the course.
This course outlines the importance of following a solid prescriptive reference architecture and discusses, in detail, the challenges faced by IT managers in the age of digital disruption.
ACCREDITATIONS
Awareness: IT4IT™ Standard is delivered by Good e-Learning. Innovative Consulting – iLearn promotes this course for Good e-Learning.
Here below you can read the course sheet with information about Awareness: IT4IT™ Standard course.