Foundation & Awareness Suite: IT4IT™ Standard 180d with exam online course in English provided by iLEARN Innovative Learning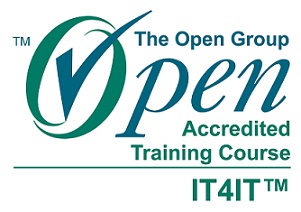 The IT4IT™ Foundation & Awareness: IT4IT™ Standard courses provided in this suite offer an excellent introduction to the IT4IT Reference Architecture and IT Value Chain. With months of access, learners can study at their own pace without having to take time out of busy work schedules. Better yet, Good e-Learning's content is also accessible on handheld digital devices, letting users access information any time, anywhere.
ACCESS DURATION
180 days of access to the platform
IT4IT™ FOUNDATION & AWARENESS SUITE ONLINE COURSE DETAILS
Course duration: 20+ hours
Tutor support
Quizzes & practice exams
Mobile compatible
IT4IT™ FOUNDATION ONLINE EXAM FORMAT
Multiple choice exam
40 questions
60 minutes to complete the exam
Exam is closed book and supervised. You cannot make use of any resources or materials during the exam
Pass mark for the exam is 65%: you must get 26 out of 40 questions correct
In countries where English is a second language, the time allocated for the exam is extended to 90 minutes
ACCREDITATIONS
Foundation & Awareness: IT4IT™ Standard delivered by Good e-learning is a course accredited by The Open Group. iLEARN promotes this course for Good e-Learning.
Accreditation
The Open Group (IT4IT Foundation only)
Individual price
599,00EUR
Access duration of the course
180 days
Objectives
Professionals will be able to understand:
The key demands & drivers for changing IT functions (to become a service broker & integrator), and hence the importance of IT4IT
The positioning of the IT4IT standard compared to others (such as ITIL), as well as how IT4IT is complementary to them
The four Value Streams: The Strategy to Portfolio Value Stream, The Requirement to Deploy Value Stream, The Request to Fulfill Value Stream, and The Detect to Correct Value Stream
The basic concepts of the IT4IT Reference Architecture and the IT Value Chain
Everything needed to pass the official IT4IT Foundation exam, become a certified IT4IT practitioner and earn a globally recognized qualification!
Who it is aimed at
Business leaders
Enterprise architects
Developers
IT engineers
IT operations executives
Anyone with an interest in ensuring that IT can work as quickly and efficiently as possible without sacrificing quality.
Roles where you need to understand IT4IT, its content, context, activities and benefts, but you do not need to be a certifed practitioner
A group of sponsors, decision-makers or stakeholders that need to be aware of the value, and benefts of an IT4IT project
Individuals who need to "sell" IT4IT internally within an organization
Contents
Awareness: IT4IT™ Standard
IT4IT™ Foundation (v2.1)
Prerequisites
There are no prerequisites for taking this Foundation & Awareness Suite: IT4IT™ Standard course.
Material course language
English
Certification
IT4IT™ Foundation official certificate