IT4IT™ Foundation Certification Courses
IT4IT Foundation certification training courses and exams available in several languages and provided by iLEARN
Availability and prices of IT4IT™ Foundation Certification courses
Featured products
In this showcase you will find a selection of training courses and exams in the IT4IT™ Foundation context.
To look for a course or an exam specifically, you can use the "Search courses/exams prices" tool that you will find below.
If you do not see the course or exam you want, please contact us.
No course or exam found. Contact us to find out the available solutions!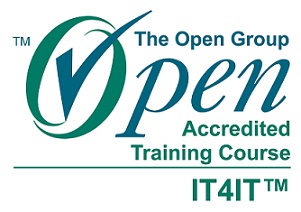 IT4IT™ FOUNDATION
Kickstart your path to gaining an IT4IT Certification at Foundation level with this fully-accredited online training course.
IT4IT™ FOUNDATION CERTIFICATION
This IT4IT course will fully prepare students for the official IT4IT Foundation (level 1) exam. Successfully passing the examination will earn students a recognized and highly-regarded qualification, proving that they have gained knowledge of the terminology, structure and basic concepts of the IT4IT standard.
This course has been fully accredited by The Open Group and meets all the learning requirements of the latest version of IT4IT (v2.1). As such, students can rely on this course to provide all the information they need in order to sit and pass the official IT4IT Foundation exam.
IT4IT™ FOUNDATION COURSE
In the course, students will learn about the terminology, structure, and basic concepts of the IT4IT Standard, as well as the core principles of the IT4IT Reference Architecture and the IT Value Chain.
The course has been designed for business leaders, enterprise architects, developers, IT engineers, IT operations executives and anyone else with an interest in ensuring that IT can work as quickly and efficiently as possible without sacrificing quality.
ACCREDITATIONS
IT4IT™ Foundation Certification is delivered by Good e-Learning, is accredited by The Open Group. Innovative Consulting – iLearn promotes this course for Good e-Learning.
Here below you can read the course sheet with information about IT4IT™ Foundation course.