SCRUMstudy™
Featured products
In this showcase you will find a selection of training courses and exams in the SCRUM.
To look for a course or an exam specifically, you can use the "Search courses/exams prices" tool that you will find below.
If you do not see the course or exam you want, please contact us.
iLEARN is a REP (Registered Education Provider)
of SCRUMstudy for SCRUM® courses




For an online verification of accreditations, do a research with iCONS - Innovative Consulting S.r.l. of which iLEARN is a business unit.
Scrum is one of the most popular agile methodologies for Project Management. It is an adaptive, iterative, fast, flexible, and effective methodology designed to deliver significant value quickly and throughout a project. Scrum ensures transparency in communication and creates an environment of collective accountability and continuous progress.
The Scrum framework, as defined in the SBOK™ Guide, is structured in such a way that it supports product and service development in all types of industries and in any type of project, irrespective of its complexity.
A key strength of Scrum lies in its use of cross-functional, self-organized, and empowered teams who divide their work into short, concentrated work cycles.
A traditional project management emphasizes on conducting detailed upfront planning for the project with emphasis on fixing the scope, cost and schedule - and managing those parameters. Whereas, SCRUM encourages data based, iterative decision making in which the primary focus is on delivering products that satisfy customer requirements.
To deliver the greatest amount of value in the shortest amount of time, SCRUM promotes prioritization and Time-boxing over fixing the scope, cost and schedule of a project. An important feature of SCRUM is self-organization, which allows the individuals who are actually doing the work to estimate and take ownership of tasks.

iLEARN offer
iLEARN offers SCRUMstudy™ SCRUM certifications based on the Scrum Body of Knowledge (SBOK™ Guide), a 340 page Scrum knowledge guide, available as a free download to the Scrum and Agile community. The SBOK™ Guide proposes a framework consisting of specific Scrum processes and tools, which draws from the combined knowledge and insight gained from thousands of projects across a variety of organizations and industries. In addition, the guide includes contributions made by educational experts who have taught SCRUM and project management courses to more than 400,000 professionals in 150 countries.
The Scrum Body of Knowledge (SBOK™ Guide) can be downloaded at this link.
The structure of SCRUM qualifications and certifications is the following: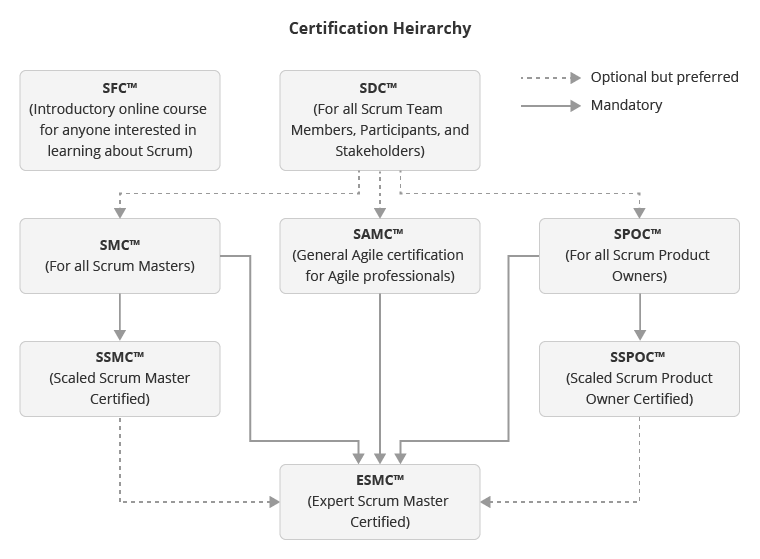 iLEARN proposes all the certifications online:

Online course structure
SCRUM online course has two basic components: the study material and conceptual video.
A conceptual video is available for each topic addressed in the course and it looks like the image below: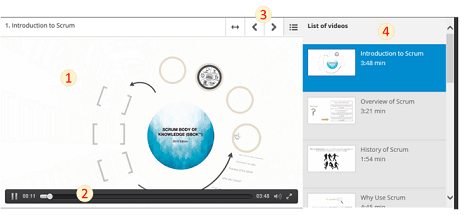 Slides shown by teacher
Control elements of video
Control subjects that takes you directly to another topic of the lesson
Video selection
The section of the materials contains, the guide SBOK ™, glossaries, exercises and optional practical cases, as presented in the picture as shown below.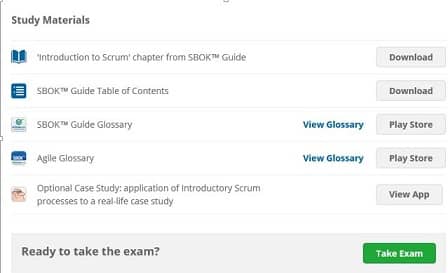 Useful links
Subcategories
SCRUMstudy certification courses provided by iLEARN