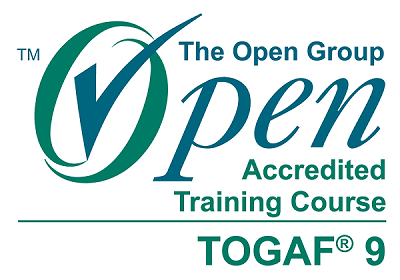 The TOGAF® Standard, Version 9.2, is an update to the TOGAF® 9.1 standard providing improved guidance, correcting errors, improving the document structure, and removing obsolete content. Key enhancements made in this version include updates to the Business Architecture and the Content Metamodel. All of these changes make the TOGAF framework easier to use and maintain.
The TOGAF® 9 Level 1 & 2; Level 2 content focuses on the practical application of TOGAF framework, building on the foundational knowledge and comprehension of Part 1, using practical scenarios to enforce concepts.
ACCESS DURATION
14 days access to the platform
TOGAF® 9 Level 1 & 2; Level 2 ONLINE COURSE DETAILS
17 lessons (6 hours of video recorded by an accredited teacher)
Downloadable PDF documents with detailed contents (slides, explanations) for each lessons
Quizzes
1 practice test
By purchasing our online course, we will provide for free the official manual "The TOGAF Standard, version 9.2" in PDF format. You can download the manual directly from our e-learning platform, once received the access credentials.
ONLINE COURSE FORMAT AND CHARACTERISTICS
Access 24/7
For further information about online courses, please click here.
ACCREDITATIONS
TOGAF® 9 Level 1 & 2; Level 2 course from iLEARN - Innovative Learning is accredited by The Open Group
ONLINE EXAM FORMAT AND CHARACTERISTICS
N.B.: Level 2 exam can be taken in two different modalities:
Online with the supervision of an Invigilator (OnVUE)
At a Pearson Vue Test Center
For more information about technical requirements and online exam procedure, please click here.
Accreditation
The Open Group
Discounted price
299,00€
284,05€
up to 30/04/2021
Access duration of the course
14 days
Objectives
At the end of this course participants will be able to understand:
The Architecture Development Method (ADM)
The Architecture Content Framework
The Architecture Repository
TOGAF™ 9 Reference Models
Architectural Governance and Capability - governance board, skills and maturity
Who it is aimed at
Individuals who require a deeper understanding of the TOGAF 9 standard
Professionals who are working in an organization where the TOGAF 9 standard has been adopted and who need to participate in architecture projects and initiatives
Architects who will be responsible for developing architecture artifacts
Architects who wish to introduce the TOGAF 9 standard into an architecture practice
Architects who want to achieve a recognized qualification to demonstrate their detailed knowledge of the TOGAF 9 standard
Contents
The Architecture Development Method
Enterprise Continuum and Architecture Repository
Architecture Content Framework
Preliminary Phase and Requirements Management
Architecture Vision
Business Architecture
Information Systems Architecture
Technology Architecture
Transition Planning
Implementation Governance and Architecture Change Management
Enterprise Security Architecture
Enterprise Integration and Service Oriented Architecture
Architecture Capability Framework
Prerequisites
In order to take the TOGAF® 9 Level 2 exam, students must have the TOGAF® 9 Level 1 Certificate.
Material course language
English
Certification
TOGAF® 9 Level 2 official certificate
Exam language
English, French, Brazilian, Chinese (Mandarin) , Spanish (Latin American)
TOGAF® 9 Level 1 & 2; Level 2 - 14d with exam online course in English provided by iLEARN Innovative Learning