Scrum Product Owner Certified
Productos destacados
En la ventanilla aquí abajo Usted puede encontrar una selección de cursos de formación y examenes en el entorno Scrum Product Owner Certified.
Para buscar otros cursos u otras modalidades de exámen, puede utilizar la herramienta "Búsqueda precios cursos/exámenes" que encuentra a continuación.
Si no visualiza el curso o el examen requerido, no dude en contactarnos.
ScrumLearn® es una marca registrada de iCONS - Innovative
Consulting S.r.l., de la cual iLEARN es una business unit.

SCRUM PRODUCT OWNER CERTIFIED
The Product Owner is the one that determines the roadmap of the product to realize with the Scrum approach by identifying, describing, and prioritizing the "functionalities" to achieve. The Product Owner represents the interests of the stakeholder community to the Scrum Team and he/she is responsible for ensuring clear communication of product or service functionality requirements to the Scrum Team, defining Acceptance Criteria, and ensuring those criteria are met.
CERTIFICACIÓN SCRUM PRODUCT OWNER CERTIFIED
ScrumLearn Product Owner Certified certification has the aim of evaluating and attesting the mastering of the necessary skills to carry out in optimal way the role of Product Owner as part of a Scrum initiative.
ScrumLearn Product Owner Certified certification is automatically achieved after passing ScrumLearn Product Owner Certified exam.
CURSO SCRUM PRODUCT OWNER CERTIFIED
Scrum Product Owner Certified is fit-for-purpose for whoever is interested in having a deep understanding of Scrum. The course prepares the participants for Scrum Product Owner Certified exam.
INSIGNIAS DIGITALES (SCRUMLEARN) SCRUM PRODUCT OWNER CERTIFIED
Después de aprobar el examen de certificación final, el candidato va a obtener gratuitamente la siguiente Insignia Digital que certifica las competencias obtenidas.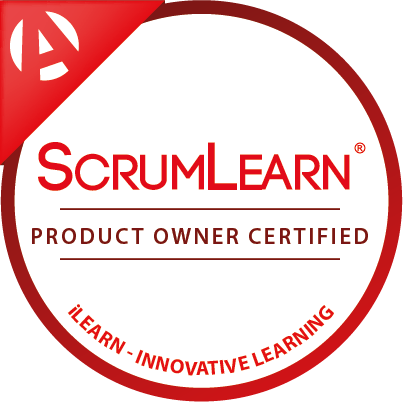 Descubre más sobre las Insignias Digitales de iLEARN clicando aquí.
¿No está seguro de si Scrum sea justo para usted? ¡Lea este artículo!
A continuación es posible consultar la ficha de datos con todas las informaciones del curso ScrumLearn Product Owner Certified.
Cursos de formación y exámenes de certificación Scrum Product Owner Certified disponibles en varios idiomas y proporcionados por iLEARN