Cursos Resiliencia organizacional Foundation
Cursos de formación y exámenes de certificación Resiliencia Organizacional Foundation disponibles en varios idiomas y proporcionados por iLEARN
Resiliencia organizacional es una marca registrada de iCONS - Innovative Consulting S.r.l., de la cual iLEARN es una business unit.

RESILIENCIA ORGANIZACIONAL FOUNDATION
Organizations are evolving more and more in a context where the pace of turbulence and shocks is accelerating. How can we create favorable conditions for the emergence of resilience, the ability to cope with shock, adapt or rebound? What are the different and possible trajectories in a crisis situation?
This course will discuss the major concepts of organizational resilience and the strategies to be implemented. A toolkit will allow you to identify weak signals, deal with a crisis and manage the lifecycle of organizational change.
CERTIFICACIÓN RESILIENCIA ORGANIZACIONAL FOUNDATION
The Organisational Resilience Foundation certification is automatically achieved after passing the Organisational Resilience Foundation exam. The Organisational Resilience Foundation course provides an optimal preparation to pass the exam and, therefore, to obtain the certification.
CURSO RESILIENCIA ORGANIZACIONAL FOUNDATION
This course is the first module, Organisational Resilience Foundation. It is composed of theoretical and conceptual elements of organizational resilience.
The course prepares the participants for the exam Organisational Resilience Foundation.
INSIGNIAS DIGITALES RESILIENCIA ORGANIZACIONAL
Después de aprobar el examen de certificación final, el candidato va a obtener gratuitamente la siguiente Insignia Digital que certifica las competencias obtenidas.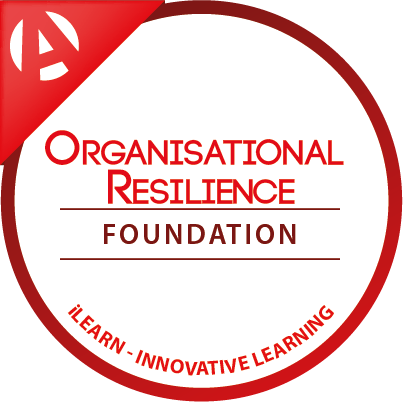 Descubre más sobre las Insignias Digitales de iLEARN clicando aquí.
Here below you can read the course sheet with information about Organisational Resilience Foundation course.