Organisational resilience Foundation Courses
Organisational Resilience Foundation certification training courses and exams available in several languages and provided by iLEARN
Availability and prices of Organisational resilience Foundation courses
Featured products
In this showcase you will find a selection of training courses and exams in the Organisational Resilience Foundation context.
To look for a course or an exam specifically, you can use the "Search courses/exams prices" tool that you will find below.
If you do not see the course or exam you want, please contact us.
Organisational Resilience is a registered trademark of iCONS - Innovative Consulting S.r.l., of which iLEARN is a business unit.


ORGANISATIONAL RESILIENCE FOUNDATION
Organizations are evolving more and more in a context where the pace of turbulence and shocks is accelerating. How can we create favorable conditions for the emergence of resilience, the ability to cope with shock, adapt or rebound? What are the different and possible trajectories in a crisis situation?
This course will discuss the major concepts of organizational resilience and the strategies to be implemented. A toolkit will allow you to identify weak signals, deal with a crisis and manage the lifecycle of organizational change.
ORGANISATIONAL RESILIENCE FOUNDATION CERTIFICATION
The Organisational Resilience Foundation certification is automatically achieved after passing the Organisational Resilience Foundation exam. The Organisational Resilience Foundation course provides an optimal preparation to pass the exam and, therefore, to obtain the certification.
ORGANISATIONAL RESILIENCE FOUNDATION COURSE
This course is the first module, Organisational Resilience Foundation. It is composed of theoretical and conceptual elements of organizational resilience.
The course prepares the participants for the exam Organisational Resilience Foundation.
ORGANISATIONAL RESILIENCE FOUNDATION DIGITAL BADGE
By passing the final certification exam, the candidate will receive the following free Digital Badge that certifies the knowledge acquired.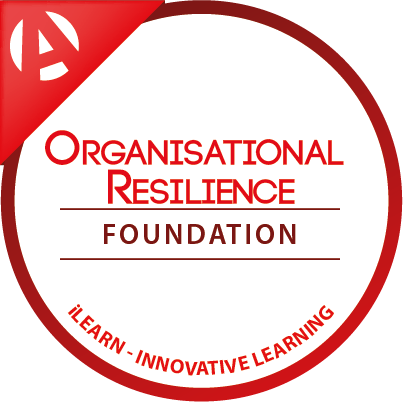 Learn more about iLEARN Digital Badges here.
Here below you can read the course sheet with information about Organisational Resilience Foundation course.