AgileLearn® Courses
AgileLearn® certification training courses and exams focused on the agile methodology and approach provided by iLEARN
Featured products
In this showcase you will find a selection of training courses and exams in the AgileLearn® context.
To look for a course or an exam specifically, you can use the "Search courses/exams prices" tool that you will find below.
If you do not see the course or exam you want, please contact us.
You are viewing prices for
AgileLearn® is a registered trademark of iCONS - Innovative
Consulting S.r.l., of which iLEARN is a business unit.


In an environment of intense competition and increasing change, adapting, improving and/or enhancing and transforming the way of working is crucial, for individuals and organizations, to compete and survive.
Values, mindset, behaviors, principles, practices, techniques frameworks, organizational styles and even leadership styles are directly or indirectly labeled under the term "Agile" to help individuals and organizations to succeed in the challenge of optimizing the response to change, both in project and business as usual contexts.
Agile practitioners use multiple terms for concepts, practices, approaches, values and frameworks. In this "jungle", it clearly emerges that there is the need for knowledge and competences to get oriented and master the path to achieve the benefits promised by the "Agile" culture and tools.
For this reason, iLEARN has developed the AgileLearn® qualification scheme described in the picture below. The scheme provides the qualifications and the related level of knowledge needed to master all Agile concepts, both when addressing project contexts or business as usual, small scale or large-scale adoption.
SINGLE PRACTICE AGILE QUALIFICATIONS
The first level of the scheme includes single practice-based qualifications both internal or external to AgileLearn®. The qualifications included are all characterized by focusing on a specific agile practice, such as Scrum or AgilePM® or others. There can be more qualifications for each practice. This level is continually evolving by including either new internal or external qualifications.
The aim of each qualification included in this level is to provide detailed knowledge on the specific agile practice, e.g., Scrum. The difference between internal and external practices classification is the following:
INTERNAL: for these practices, iLEARN manages the content syllabus and the provision of examinations.
EXTERNAL: these practices are addressed and used in qualifications of other levels of the AgileLearn® scheme but their content syllabus and the provision of examinations is defined by other actors (typically those owning the related body of knowledge).
AGILELEARN QUALIFICATIONS
AgileLearn® qualification scheme is divided in two different levels:
AgileLearn® Agile Master Certified certification
Agilelearn® Agile Master Certified is a cross-practice qualification aimed at providing the knowledge needed to optimally leverage all the elements of the Agile "umbrella" and finally to improve project success or business as usual performances. In particular, it helps to classify and find out the right mix of agile practices to manage the products, handle software development, organized and manage the flow of work or use hybrid approaches.
AgileLearn® Scaled Agile Master Certified certification
Agility is usually implemented initially at a local level, e.g., team, project. When successful, it becomes natural to scale the approach to the whole organization to fully achieve its benefits. However, this has proved to be a challenge and, here too, several approaches have been developed to govern this evolution. AgileLearn® Scaled Agile Master Certified is a cross practice qualification aimed at providing the knowledge needed to scale Agile approaches in organizations.
Not sure if AgileLearn® suits your needs? Read this article!
AGILELEARN - DIGITAL BADGES AVAILABLE
The AgileLearn® certification scheme includes the achievement of the following Digital Badges: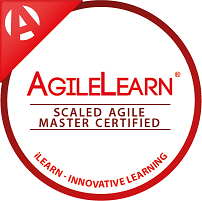 Learn more about iLEARN Digital Badges here.
PDU - AGILELEARN CERTIFICATION SCHEME
iLEARN is an Authorized Training Partner (ATP) of the Project Management Institute. Our AgileLearn® training courses provide Professional Development Units (PDUs). Here below you can find more details about the PDUs allocation for each level of the AgileLearn® certification scheme:
To learn more about the PDUs allocation according to the PMI Talent Triangle and to discover all of our online training courses and exam packages for each certification level, click on one of the links above.
Please note that, in order to earn PDUs attending this course provided by iLEARN as an Authorized Training Partner (ATP), the purchase of the attendance confirmation (attendance certificate) in electronic format (pdf) is mandatory. Select the option to add the attendance confirmation at the moment of purchase and proceed to checkout.
For more information about PDUs and how to claim them to maintain your PMI qualifications, please visit this page.
ILEARN OFFER
iLEARN makes available the AgileLearn certifications in the following modalities:
Classic

On pre-scheduled dates: traditional classroom training at iLEARN premises
in-house: traditional classroom training scheduled based on client needs and at customer's or iLEARN premises

Distant-learning: following a remote classroom by means of a webconference
E-learning: training provided through our online learning management system from anywhere and anytime
ONE-to-ONE: access to e-learning platform and interactive sessions via web-conference with the accredited teacher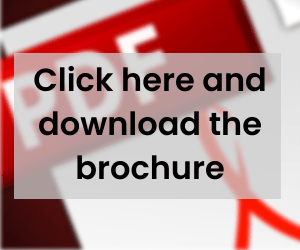 Thanks to the new App "iLEARN LMS", you can access your e-learning course from anywhere and at anytime you want on your mobile devices. Download it now!