Kanban Awareness Certified
Kanban Awareness Certified free exam and certification: test your Kanban knowledge
Summary of Topics
Availability and prices of Kanban Awareness Certified courses
Kanban Awareness Certified online free exam
In this showcase you will be able to request the Kanban free exam, fully online, that will release Kanban Awareness Certified certification and credential, issued by iLEARN Examinations.
KanbanLearn® is a registered trademark of iCONS - Innovative
Consulting S.r.l., of which iLEARN is a business unit.


What is KanbanLearn® Kanban Awareness free exam?
KanbanLearn® Kanban Awareness is a Kanban certification free exam that is intended to confirm if you own a basic understanding of Kanban Systems and Kanban Method.
Why take Kanban Awareness exam?
By passing the Kanban Awareness free exam, you will demonstrate that you have a basic knowledge and expertise about Kanban Systems and Kanban Method to improve process control and flow in your team or daily job activities.
By passing this Kanban exam, you will receive the credentials and badge to demonstrate your knowledge. This Kanban certification can be useful for your career in many domains.
This Kanban exam free of costs is also useful as a preliminary step to understand if you are ready to move forward to achieve advanced qualification in Kanban management, such as Kanban Master Certified.
KanbanLearn® Kanban Master Certified
The Kanban Master acts as a coach and moderator for everyone else involved in the process. A Kanban Master is an expert in the field with theoretical and practical knowledge of Kanban systems and Kanban methods to facilitate their application and ongoing support for process optimization. The use of Kanban is frequent in most agile management approaches.
Who should take Kanban Awareness exam?
Kanban Awareness exam is fit-for-purpose for anyone who is interested in testing and discovering the Kanban knowledge and for those who want to start their Kanban certification journey.
What do I get when I take this exam? You will receive a certificate upon successful completion of the exam, which you can show to employers or colleagues, for example if you are applying for a job or enrolling for a course.
What is Kanban Awareness exam format?
KanbanLearn® Kanban Awareness free exam is composed of 25 multiple choice questions and it lasts 30 minutes. You need to answer at least 15 questions correctly to pass. You can take the exam anytime and anywhere, completely online.
Please note that candidates can subscribe to and attempt the KanbanLearn® Kanban Awareness free exam only once. Additional attempts are possible but shall be purchased. You can find Kanban Awareness Certified retake exam here.
What does Kanban Awareness exam issue?
The exam includes a free digital certificate and a free digital badge, that you will be able to show on your cv and your social networks to boost your visibility and career.
At the end of the exam, whether you will pass it or not, you will receive a gift to continue with your Kanban training path.
Kanban Awareness Digital Badge
By passing the final certification exam, the candidate will receive the following free Digital Badge that certifies the knowledge acquired.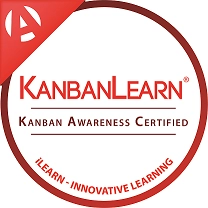 Learn more about iLEARN Digital Badges.
Details about Kanban Awareness exam