SCRUM Courses
SCRUM online training courses, exams and certifications provided by iLEARN
Summary of Topics
Availability and prices of SCRUM courses
Scrum online courses (e-learning) with exams
In this showcase you will find a selection of training courses and exams concerning Scrum learning area and ScrumLearn® certifications.
If you do not see a specific Scrum course or Scrum exam, please contact us.
Scrum online exams
In this showcase you will be able to purchase Scrum exam vouchers only to take the online exam with iLEARN Examinations, in complete autonomy.
Scrum distance - live virtual courses calendar
In this showcase you will find the next available dates for Scrum ScrumLearn® courses (live virtual sessions) with online certification exam. These courses are provided via web-conference in real time by our accretited trainers. ScrumLearn certification exams will be taken online with iLEARN Examinations.
ScrumLearn® is a registered trademark of iCONS - Innovative
Consulting S.r.l., of which iLEARN is a business unit.


What is Scrum?
Scrum is an agile development method for development based on iterative and incremental processes. Scrum is an adaptable, fast, flexible, and effective agile framework designed to deliver value to customers throughout the development process. The primary goal of Scrum is to meet customer needs through transparent communication, collective responsibility, and an environment of continuous improvement. Development starts with a rough idea of ​​what needs to be built and creating a prioritized (product backlog) list of features that the product owner wants to keep.
What is ScrumLearn?
ScrumLearn® is a qualification scheme born from the iLEARN experience in Scrum training and certification area, and from the practical experience in consultancy activities and coaching of initiatives managed with Scrum. The goal of the certification program is to ensure that the key roles of the Scrum team have useful and necessary skills to fulfil their responsibilities: Scrum Master, Product Owner, and Developer.
What are the benefits of using Scrum?
The three main benefits of using Scrum are:
Customer Satisfaction
First and foremost is getting passionate clients. In Scrum, sprints are really short, so results are delivered and ready for testing in 1-3 weeks. The main focus of Scrum is to deliver new features or fixes frequently and to collect customer feedback as quickly as possible. As a result, Scrum speeds up the troubleshooting process and the development of new features and keeps customers happy.
Lower production costs
Using Scrum in development reduces production costs. Product cost is largely determined by the time and effort required for the new release. But companies are rarely able to estimate the true total cost of production. In Scrum, story points can be used to estimate the complexity of any task. Complexity is closely related to production cost. Story pointing for each task enables to better estimate the cost of developing new features, and also allows project managers to prioritize tasks based on their complexity.
Enhanced collaboration & communication
The third major area of ​​Scrum's strengths is its intense focus on collaboration and day-to-day communication. Scrum provides task visibility for each team member to track progress and enable better resource allocation. A strong focus on collaboration results in a happier and more productive team. The two main advantages of Agile Scrum are faster response to market demands and cost savings due to improved performance.
Who should get Scrum certified?
Scrum training courses are fit-for-purpose for whoever is interested in having a deep understanding of Scrum and for those who professionally act in ICT as architects, business analysts, designers, developers, team leaders, testers, product managers, program managers, project managers etc.
Our Scrum courses aim at providing candidates with the necessary knowledge to operate as Scrum Master, Scrum Developer or Scrum Product Owner in Business-as-Usual projects or activities conducted with the Scrum methodology. The acquisition of this knowledge is a necessary condition, but it is also important to gain experience participating in Scrum initiatives in different roles; it is important to gain the knowledge of facilitation and coaching techniques and the knowledge of context in which the Scrum initiatives are accomplished as far as they represent equally essential elements for playing Scrum roles with effectiveness and success.
It is possible to test and prove your prior knowledge in Scrum and Agile field by taking the fundamental Scrum Awaraness Certified test for free. By passing this exam, the candidate will obtain the basic certificate and digital badge.
How do I get Scrum certified?
iLEARN developed the ScrumLearn® qualification scheme to support the spread and develop the understanding and knowledge of the whole Scrum context.
The best way to get certified is attending ScrumLearn® accredited courses, online or by traditional approaches.
iLEARN provides Scrum training and the corresponding Scrum certification for all the following roles and programs:
ScrumLearn® Scrum Awareness is a free basic certification exam that allows candidates to evaluate the degree of inital knowledge in the field of Scrum framework. Thanks to Scrum Awareness certification, the candidate will be able to know if he/she is ready to go on with the Scrum certification journey.
Developers are members of a Scrum team who contribute to achieving planned outcomes or product themes.
In this context, ScrumLearn offers the Scrum Developer certification, which is designed to assess and demonstrate mastery of the skills necessary to optimally perform the developer role in a Scrum team.
The role of Scrum Master is, in Scrum application field, the expert that operates as a coach and facilitator for all the other members of one or more Scrum teams involved in the implementation of products. Therefore, he doesn't directly achieve the expected results, but it helps the others to have success in the Scrum application and in achieving the goals. He is an expert of the subject with theoretical and practical skills of Scrum implementation and of the role of facilitator and coach.
ScrumLearn offers in this context the Scrum Master Certified certification (also called "Certified Scrum Master - CSM") that has the aim of evaluating and attesting the mastering of the necessary skills to carry out the role of Scrum Master optimally.
The Product Owner determines the product roadmap to be implemented using the Scrum methodology by identifying, describing, and prioritizing the "features" to be implemented.
In this context, ScrumLearn offers the Scrum Product Owner Certification, which is designed to assess and demonstrate mastery of the skills necessary to optimally perform the Product Owner role in a Scrum program.
How can I study Scrum?
iLEARN provides ScrumLearn® training courses that are helpful to achieve the knowledge and related certifications. Courses, are available with different delivery methods:
Scrum training in e-Learning / self-paced learning: training provided through our online learning management system from anywhere and anytime;
ONE-to-ONE Scrum courses: access to e-Learning platform and interactive sessions via web-conference with the accredited teacher;
distant/remote Scrum learning: following a remote classroom by means of a web conference;
classic Scrum training

on pre-scheduled dates: traditional Scrum classroom training at iLEARN premises;
in-house: traditional Scrum classroom training scheduled based on client needs and at customer's or iLEARN premises.
Add a Scrum coaching session
By purchasing any ScrumLearn® package, you have the possibility to add a coaching sessions with one of our expert trainers on the use of the Scrum method, at a very special price.
During coaching, you will learn to apply the Scrum framework to your working environment. Sessions are held using an advanced software solution for Scrum management, EasyBoards®, that you will be free to use for 6 months after the end of the coaching. You will be able to put into practice the concepts learned during the training course acquired.
Here below you can find some examples of what you will experiment during the coaching:
build a product roadmap;
prepare the story map of a product, refine the user stories from epic until they are ready for development;
estimate the user stories using Planning Poker;
create a Scrum board for the Sprint management;
experience a Sprint Planning event;
experience a Daily Scrum event;
create and read a Burndown Chart;
evaluate the Sprint progress;
manage priorities and quality;
manage the impediments;
limit the Work in Progress;
manage the commitments in Sprint Retrospective.
The topics will be discussed according to needs of the participant.
Get free access to a Scrum tool

By purchasing any ScrumLearn® Scrum training course, you will get 1-year free access to EasyBoards®, one of the best enteprise scrum team management software tools integrated in our training offer for free. This EasyBoards® free license will allow you to practice and simulate real project scenarios while you are preparing for ScrumLearn® Scrum certification exams.
What can you do with EasyBoards®?
Configurate Scrum boards
Collaborate with your team members
Send or receive notifications and warning alerts
Create new Scrum board templates
Create new workflows to support business processes and agile visual management
ScrumLearn - Digital badges available
The ScrumLearn® scrum certification scheme includes the achievement of the following Digital Badges: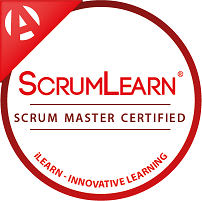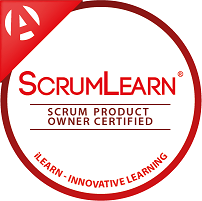 Learn more about iLEARN Digital Badges.
Not sure if ScrumLearn® suits your needs? Read this article!
Earn PDUs with Scrum
Our ScrumLearn® training courses can provide Professional Development Units (PDUs) through an auto-declaration procedure on PMI's portal. Here below you can find more details about the PDUs allocation for each level of the ScrumLearn® certification scheme:
To learn more about the PDUs allocation according to the PMI Talent Triangle and to discover all of our online training courses and exam packages for each certification level, click on one of the links above.
Please note that, in order to auto-declare PDUs attending this course provided by iLEARN, the purchase of the attendance confirmation (attendance certificate) in electronic format (pdf) is mandatory. Select the option to add the attendance confirmation at the moment of purchase and proceed to checkout.
Read more information about PDUs and how to claim them to maintain your PMI qualifications.
Thanks to the new App "iLEARN LMS", you can access your e-learning course from anywhere and at anytime you want on your mobile devices. Download it now!
Our e-learning platform is optimized for access via web browers, including mobile!
Subcategories