AgileLearn® Scaled Agile Master Certified
AgileLearn® Scaled Agile Master Certified is a registered trademark of iCONS - Innovative
Consulting S.r.l., of which iLEARN is a business unit.


AGILELEARN SCALED AGILE MASTER CERTIFIED
Agility is usually implemented initially at a local level, e.g. team, project. When successful, it becomes natural to scale the approach to the whole organization to fully achieve its benefits. However, this has proved to be a challenge and, here too, several approaches have been developed to govern this evolution.
AgileLearn® Scaled Agile Master Certified is a cross practice qualification aimed at providing the knowledge needed to scale Agile approaches in organizations.
AGILELEARN SCALED AGILE MASTER CERTIFIED CERTIFICATION
AgileLearn Scaled Master Certified certification helps you understanding how to use the Agile frameworks and practices in synergy in a scaled environment, how to design and govern the deployment of agility at scale in organizations.
AGILELEARN SCALED AGILE MASTER CERTIFIED COURSE
Scaled AgileLearn Master Certified course is aimed to project teams in charge of scaling agility or having to support it. It is also suitable for anyone interested in successfully scaling Agile approaches in an organization.
(AGILELEARN) SCALED AGILE MASTER CERTIFIED DIGITAL BADGE
By passing the final certification exam, the candidate will receive the following free Digital Badge that certifies the knowledge acquired.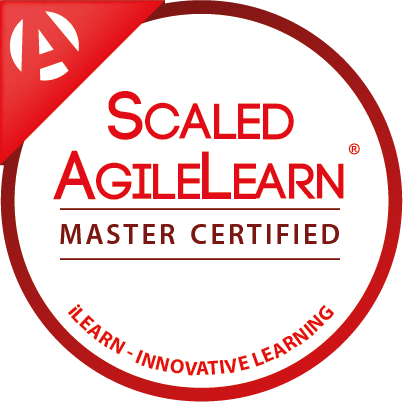 Learn more about iLEARN Digital Badges here.
Not sure if AgileLearn® suits your needs? Read this article!
Here below you can read the course sheet with all the information of AgileLearn Scaled Agile Master Certified course.
AgileLearn® Scaled Agile Master Certified certification courses provided by iLEARN