KanbanLearn®
KanbanLearn® Kanban training courses and exams for Kanban and Agile management provided by iLEARN
KanbanLearn® online courses (e-learning) with exam
In this showcase you will find a selection of training courses and exams concerning Kanban learning area and KanbanLearn® certifications.
To look for a specific Kanban course or Kanban certification exam, you can use the "Search courses/exams prices" tool that you will find below.
If you do not see the Kanban course or Kanban exam you want, please contact us.
You are viewing prices for
KanbanLearn® distance - live virtual courses calendar
In this showcase you will find the next available dates for Kanban KanbanLearn® courses (live virtual sessions) with online certification exam. These courses are provided via web-conference in real time by our accretited trainers. KanbanLearn certification exams will be taken online with iLEARN Examinations.
You are viewing prices for
KanbanLearn online exams
In this showcase you will be able to purchase KanbanLearn® Kanban exam vouchers only to take the online exam with iLEARN Examinations.
You are viewing prices for
KanbanLearn® is a registered trademark of iCONS - Innovative
Consulting S.r.l., of which iLEARN is a business unit.

Kanban is a term with several meanings depending on the context. In manufacturing, initially Toyota, it was a visual method for controlling as part of Just in Time and Lean Manufacturing approach. Generally speaking, the "Kanban" or "Kanban System" is a visual system for managing work as it flows.
"Kanban Systems" have gained momentum recently, in the second decade of 2000, and have become increasingly popular especially in combination with the use of Scrum. The reason for the success resides in their simplicity and ease of implementation, often driving quick wins in terms of improvement of the flow of work.
In service industries, the "Kanban Method" is used for defining, managing, and improving services that deliver knowledge work. "Kanban Systems" and "Kanban Method" have work visualization in common, but "Kanban Method" requires additional activities (such as continual improvements) and enables greater benefits.
KANBANLEARN QUALIFICATIONS AND CERTIFIED KANBAN TRAINING
At the moment, KanbanLearn® qualification scheme is composed by one level.
KanbanLearn® Kanban Master Certified
The KanbanLearn® Kanban Master Certified (KMC) qualification is fit-for-purpose for whoever is interested in having a deep understanding of "Kanban Systems" or "Kanban Method".
ADD A COACHING SESSION TO PUT INTO PRACTICE AND EXPERIENCE IN REAL LIFE THE KANBANLEARN CONCEPTS WITH AN EXPERT TRAINER
By purchasing any KanbanLearn® package, you have the possibility to access a 4-hours coaching session with one of our expert trainers on the use of Kanban method, at a very special price.
You will learn to apply Kanban method in your working environment. Sessions are held using an advanced software solution for Kanban management, EasyBoards®, that you will be free to use for 6 months after the end of the coaching. You will be able to put into practice the concepts learned during the training course acquired.
Here below you can find some examples of what you will experiment during the coaching:
Build a Kanban board
Manage the Kanban tasks (cards)
Manage priorities
Manage the impediments
Collaborate
Limit the Work in Progress
Analyze the workflow:

Progress
Throughput
Work in progress
Throughput time
Meet the deadlines
Quality
Problems

Build a task qualification Kanban board
Improve and optimize performance over time
Kanban boards for personal use
The topics will be discussed according to needs of the participant.
GET FREE ACCESS TO EASYBOARDS® - THE OFFICIAL ENTERPRISE KANBAN SOFTWARE TOOL

By purchasing any KanbanLearn® Kanban training course, you will get 1-year free access to EasyBoards®, one of the best enteprise kanban software tools integrated in our training offer for free. This EasyBoards® free license will allow you to practice and simulate real project scenarios while you are preparing for KanbanLearn® Kanban certification exams.
What can you do with EasyBoards®?
Configurate kanban boards
Collaborate with your team members
Send or receive notifications and warning alerts
Create new kanban board templates
Create new workflows to support business processes and agile visual management
KANBANLEARN - DIGITAL BADGES AVAILABLE
The KanbanLearn® certification scheme includes the achievement of the following Digital Badge: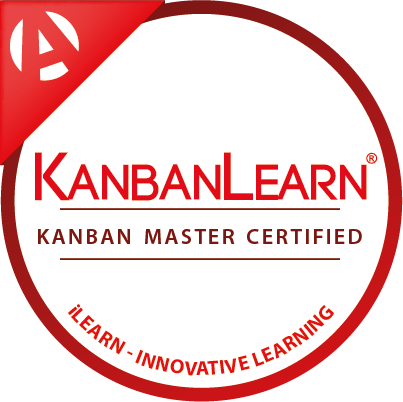 Learn more about iLEARN Digital Badges here.
PDU - KANBANLEARN CERTIFICATION SCHEME
iLEARN is an Authorized Training Partner (ATP) of the Project Management Institute. Our KanbanLearn® training courses provide Professional Development Units (PDUs). Here below you can find more details about the PDUs allocation for each level of the KanbanLearn® certification scheme:
To learn more about the PDUs allocation according to the PMI Talent Triangle and to discover all of our online training courses and exam packages for each certification level, click on one of the links above.
Please note that, in order to earn PDUs attending this course provided by iLEARN as an Authorized Training Partner (ATP), the purchase of the attendance confirmation (attendance certificate) in electronic format (pdf) is mandatory. Select the option to add the attendance confirmation at the moment of purchase and proceed to checkout.
For more information about PDUs and how to claim them to maintain your PMI qualifications, please visit this page.
ILEARN OFFER FOR KANBAN COURSES AND EXAMS
iLEARN makes available KanbanLearn® certifications in the following modalities:
Classic

On pre-scheduled dates: traditional classroom training at iLEARN premises
in-house: traditional classroom training scheduled based on client needs and at customer's or iLEARN premises

Distant-learning: following a remote classroom by means of a webconference
E-learning: training provided through our online learning management system from anywhere and anytime
ONE-to-ONE: access to e-learning platform and interactive sessions via web-conference with the accredited teacher
Thanks to the new App "iLEARN LMS", you can access your e-learning course from anywhere and at anytime you want on your mobile devices. Download it now!
Subcategories