Kanban Master Certified Courses
KanbanLearn® Kanban Master Certified training courses and exams for Kanban and Agile management provided by iLEARN
Summary of Topics
Availability and prices of Kanban Master Certified courses
KanbanLearn® Kanban Master Certified online courses (e-learning) with exam
In this showcase you will find a selection of training courses and exams concerning Kanban learning area and KanbanLearn® Kanban Master Certified certifications.
If you do not see a specific Kanban Master Certified course or Kanban Master Certified exam, please contact us.
KanbanLearn Kanban Master Certified online exams
In this showcase you will be able to purchase KanbanLearn® Kanban Master Certified exam vouchers only to take the online exam with iLEARN Examinations, in complete autonomy.
KanbanLearn® Kanban Master Certified distance - live virtual courses calendar
In this showcase you will find the next available dates for Kanban KanbanLearn® Kanban Master Certified courses (live virtual sessions) with online certification exam. These courses are provided via web-conference in real time by our accredited trainers. Kanban Master Certified certification exam will be taken online with iLEARN Examinations.
KanbanLearn® is a registered trademark of iCONS - Innovative
Consulting S.r.l., of which iLEARN is a business unit.


What is a Kanban Master
There are no predefined roles in a Kanban System or applying Kanban method. However, in KanbanLearn® qualification the Kanban Master is designed as a member of the group steering the processes where the Kanban System / Method is applied. The Kanban Master operates as a coach and facilitator for all the other members involved in the processes. The Kanban Master is an expert of the subject with theoretical and practical knowledge of Kanban Systems and Kanban Method facilitating their application and continually supporting the optimization of the processes. The role is often matching and/or combined with the one of Team Lead in an environment adopting Lean / Lean Six Sigma.
Which are the benefits of becoming a Kanban Master?
Kanban, Lean and agile management are increasingly adopted by organizations of all sizes and industry. This means that there is a growing request of profiles with skills in using Kanban professionally as this as proven to be very effective to improve organizations' business performances. Kanban knowledge is very useful also if you are not looking for a new job. It is very easy to introduce Kanban that can rapidly improve the process control and flow. Therefore, achieving Kanban Master knowledge is very useful for all those that can play an influencing role in a process.
How to become a Kanban Master?
To become and act as a successful Kanban Master, it requires some key ingredients:
theoretical and practical knowledge on how to use and apply the Kanban System or Kanban Method
soft skills supporting the coaching and facilitating task
knowledge of the context
practical experience
It is possible to test and prove your prior knowledge in Kanban field by taking the fundamental Kanban Awaraness Certified test for free. By passing this exam, the candidate will obtain the basic certificate and digital badge.
THEORETICAL KNOWLEDGE REQUIRED BY A KANBAN MASTER
The theoretical knowledge can be acquired by taking a kanban Master course and, specifically, iLEARN courses are designed to this aim. The related certification exam demonstrates the achievement of the required theoretical knowledge.
SOFT SKILLS REQUIRED BY A KANBAN MASTER
Some typical required skills are problem-solving, adaptability, motivational and communication skills. They are embedded in all of us at some level, but they can be practiced and improved. The best approach is combining education and practice.
KNOWLEDGE OF THE CONTEXT REQUIRED BY A KANBAN MASTER
The context is the environment where the processes supported by a Kanban System or Method operates and this is typically an organization. The knowledge is acquired by working in the context or being guided.
PRACTICAL EXPERIENCE REQUIRED BY A KANBAN MASTER
Typically, a Kanban Master has previously been acting in some teams using Kanban Systems or Method. But this is not always the case and needed. KanbanLearn® Kanban Master courses have very practical contents and can be completed with coaching hours to fully prepare candidates also on practical aspects too.
Which Kanban Master certification?
There are some industry credentials for Kanban roles in the market.
Here below are some good reasons to choose KanbanLearn® Kanban Master courses and exams:
We are a strong international training company, very popular for e-learning training
We provide courses in four languages
We provide online courses with flexible access durations
Our customer service team is loved by our customers - we give immediate support in English, French, Spanish and Italian
The KanbanLearn® course include a free practice laboratory based on a state-of-the-art Kanban tool
Students can choose to add coaching hours to theoretical training
Our accredited trainers are always available to provide support and tutoring to students
KanbanLearn® Kanban Master courses and exams offer
KANBANLEARN® KANBAN MASTER COURSES OVERVIEW
Kanban Master Certified course provides candidates with the necessary knowledge to build and optimize Kanban Systems or Kanban Method in an organization. Moreover, the course prepares the participants for Kanban Master Certified exam to obtain the corresponding Kanban Master certification. This training is available both in online (e-learning/self-paced) modality or in live virtual or classroom option provided by expert accredited Kanban trainers.
KANBAN MASTER COURSE DELIVERY OPTIONS
Currently iLEARN provides Kanban Master training, exams and certifications in the following delivery options:
Kanban Master training in E-learning / self-paced learning: training provided through our online learning management system from anywhere and anytime
ONE-to-ONE Kanban Master courses: access to e-learning platform and interactive Kanban Master sessions via web-conference with the accredited trainer
Distant/remote Kanban Master learning: following a remote classroom by means of a web conference
Classic Kanban Master training

On pre-scheduled dates: traditional Kanban classroom training at iLEARN premises
in-house: traditional Kanban classroom training scheduled based on client needs and at customer's or iLEARN premises.
ADD A COACHING SESSION TO PUT INTO PRACTICE AND EXPERIENCE IN REAL LIFE THE KANBANLEARN CONCEPTS WITH AN EXPERT TRAINER
By purchasing any KanbanLearn® package, you have the possibility to add coaching sessions with one of our expert trainers to practically learn the use of Kanban method.
You will learn to apply Kanban method in your working environment. Sessions are held using an advanced software solution for Kanban management, EasyBoards®, that you will be free to use for 6 months after the end of the coaching. You will be able to put into practice the concepts learned during the training course acquired.
Here below you can find some examples of what you will experiment during the coaching:
Build a Kanban board
Manage the Kanban tasks (cards)
Manage priorities
Manage the impediments
Collaborate
Limit the Work in Progress
Analyze the workflow:

Progress
Throughput
Work in progress
Throughput time
Meet the deadlines
Quality
Problems

Build a task qualification Kanban board
Improve and optimize performance over time
Kanban boards for personal use
The topics will be discussed according to needs of the participant.
GET FREE ACCESS TO EASYBOARDS® - THE OFFICIAL ENTERPRISE KANBAN SOFTWARE TOOL

By purchasing any KanbanLearn® Kanban training course, you will get 1-year free access to EasyBoards®, one of the best enterprise kanban software tools integrated in our training offer for free. This EasyBoards® free license will allow you to practice and simulate real project scenarios while you are preparing for KanbanLearn® Kanban certification exams.
What can you do with EasyBoards®?
Configurate kanban boards
Collaborate with your team members
Send or receive notifications and warning alerts
Create new kanban board templates
Create new workflows to support business processes and agile visual management
Monitor and control your process figures and Key Performance Indicators
(KANBANLEARN) KANBAN MASTER CERTIFIED DIGITAL BADGE
By passing the final certification exam, the candidate will receive the following free Digital Badge that certifies the knowledge acquired.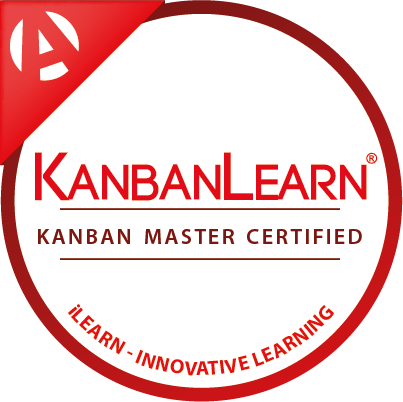 Learn more about iLEARN Digital Badges here.
Earn PDUs with Kanban Master Certified
Our KanbanLearn® Kanban Master Certified training course can provide 10 Professional Development Units (PDUs). Here below you can find more details about the PDUs allocation:
Technical: 10
Leadership: 0
Strategic: 0
Please note that, in order to auto-declare PDUs attending this course provided by iLEARN, the purchase of the attendance confirmation (attendance certificate) in electronic format (pdf) is mandatory. Select the option to add the attendance confirmation at the moment of purchase and proceed to checkout.
For more information about PDUs and how to claim them to maintain your PMI qualifications, please visit this page.
Details about Kanban Master Certified courses