Praxis Framework™ Courses
Praxis Framework training courses provided by iLEARN
Availability and prices of Praxis Framework™ courses
Featured products
In this showcase you will find a selection of training courses and exams in the Praxis Framework context.
To look for a course or an exam specifically, you can use the "Search courses/exams prices" tool that you will find below.
If you do not see the course or exam you want, please contact us.
You are viewing prices for
Praxis is a free, community driven framework which can help you and your organisation realise the intended benefits of projects, programmes and portfolios – keeping stakeholders happy.
The Praxis Framework™ is a combination of four types of best practice guidance; Knowledge, Method, Competency and Capability and is the first framework to integrate projects, programmes and portfolios in a single guide.
By covering the full breadth of guidance needed for effective project management within a single framework – Praxis is the most efficient means of delivering projects and programmes.
The Praxis Framework Certifications confirm you understand and can apply the framework to projects and programmes – ensuring they achieve optimal results. You would need to take at least three separate project and programme management certifications to reach the breadth of guidance provided by Praxis. The contents of these certifications often overlap - forcing you to study duplicated themes and terminologies, risk management for example is covered by many certifications.
Being completely comprehensive, Praxis removes repetition by covering all of the key areas – combining the value of three introductory certifications into a single one.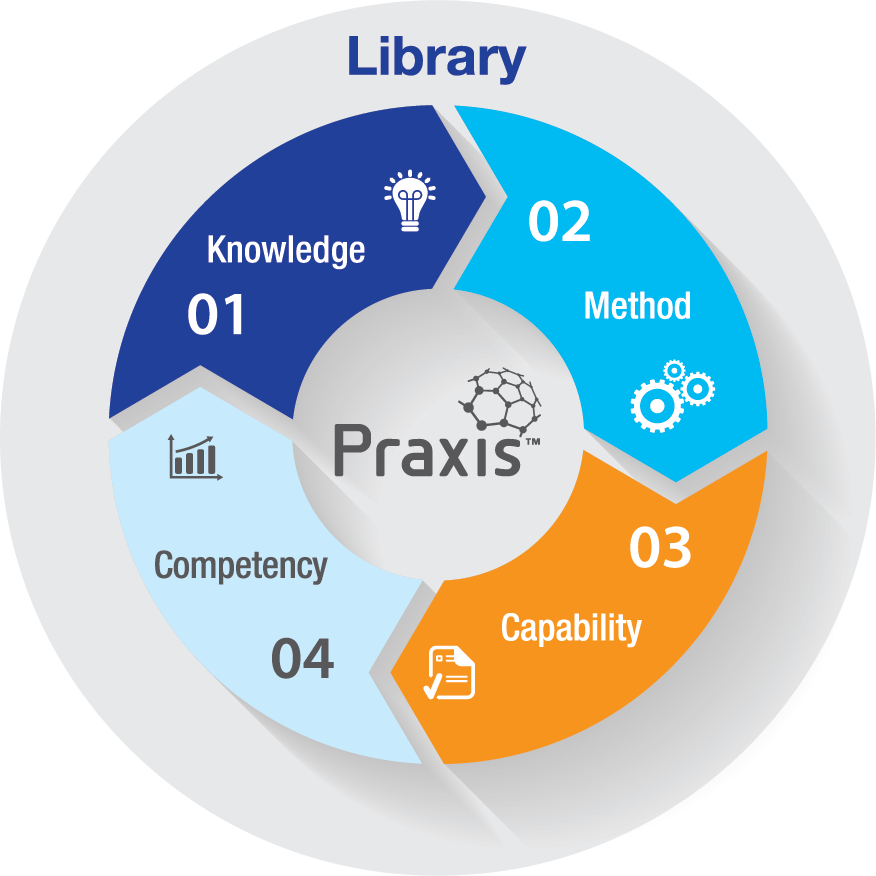 KEY BENEFITS OF PRAXIS FRAMEWORK™
Completely comprehensive – encompassing knowledge, method, competency and capability.
Maximum efficiency – negating the need to cross reference or translate between guides by using a common taxonomy and terminology across all areas.
The only best practice guide that supports all elements of the UK Government's Project Delivery Standard.
Community driven – Praxis practitioners are encouraged to actively share insights and suggest improvements to any page of the framework, which will be considered for inclusion.
Easily tailorable to any project context.
Continual development – the entire framework is available for free online, empowering you to undertake professional development wherever and whenever needed.
PRAXIS FRAMEWORK™ CERTIFICATION SCHEME
Praxis Framework Foundation certification
Praxis Foundation equips you with an understanding of project and program functions and the processes and documentation used to manage lifecycle phases. Foundation enables you to work effectively as part of any project or program management team. It is a pre-requisite for the Practitioner certification.
ILEARN OFFER
The Praxis Framework Foundation course can be followed in the following way:
Classic

on pre-scheduled dates: traditional classroom training at iLEARN premises
in-house: traditional classroom training scheduled based on client needs and at customer's or iLEARN premises

Distant-learning: following a remote classroom by means of a webconference
E-learning: training provided through our online learning management system from anywhere and anytime
ONE-to-ONE: access to e-learning platform and interactive sessions via web-conference with the accredited teacher
USEFUL LINKS
Thanks to the new App "iLEARN LMS", you can access your e-learning course from anywhere and at anytime you want on your mobile devices. Download it now!
Subcategories