Scrum Awareness Certified
Scrum Awareness Certified free exam and certification: test your Scrum knowledge
Summary of Topics
Availability and prices of Scrum Awareness Certified courses
Scrum Awareness Certified online free exam
In this showcase you will be able to request the Scrum free exam, fully online, that will release Scrum Awareness Certified certification and credential, issued by iLEARN Examinations.
ScrumLearn® is a registered trademark of iCONS - Innovative
Consulting S.r.l., of which iLEARN is a business unit.


What is ScrumLearn® Scrum Awareness free exam?
ScrumLearn® Scrum Awareness is a free exam that is intended to confirm if you own a basic understanding of the Agile field, specifically of the Scrum framework.
Thanks to the exam, you will discover if you are ready to proceed with your Scrum certification journey, according to your level of knowledge.
Why take Scrum Awareness exam?
Through Scrum Awareness free exam, you will learn if you are ready to work in a Scrum Team and you will test your Scrum knowledge level.
We recommend this exam for all individuals who want to learn about Scrum and want to improve their awareness and understanding on how Scrum works internally within the team as well as externally to the organization or industry where they work.
If you pass Scrum Awareness exam, you will be able to improve your knowledge by attending one of the higher Scrum certification levels and certify your skills:
Scrum Developer Certified
Developers are members of a Scrum team who contribute to achieving planned outcomes or product themes.
Scrum Master Certified
The role of Scrum Master is, in Scrum application field, the expert that operates as a coach and facilitator for all the other members of one or more Scrum teams involved in the implementation of products.
Scrum Product Owner Certified
The Product Owner determines the product roadmap to be implemented using the Scrum methodology by identifying, describing, and prioritizing the "features" to be implemented.
Who should take Scrum Awareness exam?
Scrum Awareness exam is fit-for-purpose for anyone who is interested in testing and discovering the Scrum and Agile knowledge and for those who want to start their Scrum learning journey.
The exam will assess your current knowledge of agile software development practices, with a focus on Scrum specifically and a few other agile methods as well (like Kanban).
What do I get when I take this exam? You will receive a certificate upon successful completion of the exam, which you can show to employers or colleges if you are applying for a job or enrolling for a course.
What is Scrum Awareness exam format?
ScrumLearn Scrum Awareness free exam is composed of 30 multiple choice questions and it lasts 30 minutes. You can take the exam anytime and anywhere, completely online.
Please note that candidates can subscribe to and attempt the ScrumLearn® Scrum Awareness free exam only once. Additional attempts are possible but shall be purchased. You can find Scrum Awareness Certified retake exam here.
What does Scrum Awareness exam issue?
The exam includes a free digital certificate and a free digital badge, that you will be able to show on your cv and your social networks to boost your visibility and career.
At the end of the exam, whether you will pass it or not, you will receive a gift to continue with your Scrum training path.
Scrum Awareness Digital Badge
By passing the free Scrum Awareness certification exam, the candidate will receive the following free Digital Badge that certifies the knowledge acquired.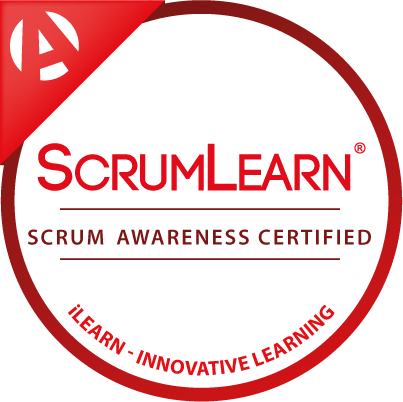 Learn more about iLEARN Digital Badges.
Details about Scrum Awareness exam