TOGAF® Certification Portfolio
TOGAF for Enterprise Architects training courses, exams and certifications provided by iLEARN
Summary of Topics
Availability and prices of TOGAF® Certification Portfolio courses
TOGAF® Enterprise Architecture online courses (e-learning) with exam
In this showcase you will find a selection of training courses and exams in the TOGAF certification scheme, aligned to TOGAF® Standard, 10th Edition.
If you do not see a specific TOGAF EA course or TOGAF EA exam, please contact us.
TOGAF® online exams
In this showcase you will be able to purchase TOGAF exam vouchers, aligned to TOGAF Standard, Version 9.2 and TOGAF Standard, 10th Edition, to take the online exams with The Open Group.
TOGAF® virtual and classroom courses calendar
Do you want to organize an TOGAF® virtual or classroom course for your company? Contact us for more information.
No course or exam found. Contact us to find out the available solutions!
What is TOGAF® Standard?
TOGAF is a widely used standard for enterprise architecture (EA) development. It provides a comprehensive approach to designing, planning, implementing, and managing an enterprise architecture.
The TOGAF standard is used by commercial enterprises of any size, as well as government agencies, public non-government organizations and defense agencies.
With greatly expanded guidance and guidance, it enables organizations to operate efficiently and effectively across a variety of use cases, including agile enterprises and digital transformation.
The TOGAF certification portfolio encloses the TOGAF 9 certifications, TOGAF Enterprise Architecture certification, TOGAF Business Architecture certification, and TOGAF certification credentials.
The portfolio includes Bodies of Knowledge based on both the TOGAF Standard, Version 9.2 and the TOGAF Standard, 10th Edition.
TOGAF® Certification Portfolio
© The Open Group
Why to choose the TOGAF® Standard?
Irrespective of the nature of your enterprise architecture practice, whether it's focused on supporting strategy, portfolio, project, or solution delivery, or whether you're embarking on a Digital Transformation or a legacy simplification initiative, the TOGAF Standard is universally applicable. Its fundamental content and series of guides offer timeless, unchanging concepts and well-established best practices.
The TOGAF Standard, 10th Edition improves upon the previous versions of the TOGAF Standard, providing architecture practitioners with additional resources to facilitate the adoption of best practices. This latest version embodies the most stable, scalable, and effective practices available today.
What are the key benefits of TOGAF® Standard?
The TOGAF Standard offers a comprehensive and interconnected view of an organization's landscape, facilitating strategic decision-making and the implementation of best practices in business and technology trends.
This standard provides a flexible, scalable framework that can be adapted to various use-cases and architecture styles, allowing organizations to pursue transformation initiatives that are best suited to their needs.
The TOGAF Standard also includes a reference model for architecture views, deliverables, and an Enterprise Architecture repository, as well as the TOGAF ADM and governance framework, which supports the practice in an automated manner.
As the most widely adopted EA standard, the TOGAF Standard is suitable for enterprises of all sizes and industries and provides EA teams with proven standards and best practices to effectively structure and align their EA efforts.
Who should get a TOGAF certification?
TOGAF is a popular framework used to design and manage enterprise architecture. TOGAF certification is designed for individuals who want to demonstrate their knowledge and expertise in enterprise architecture.
What is a TOGAF certification? The TOGAF certification is typically pursued by enterprise architects, solution architects, technology architects, IT strategists, and other professionals who are involved in the design, planning, and implementation of enterprise architecture. TOGAF certification is especially valuable for those who work in large organizations with complex IT systems and business processes.
However, it's important to note that TOGAF certification is not limited to IT professionals. The framework can be applied to any type of enterprise architecture, including business architecture, data architecture, and application architecture. Therefore, anyone who is involved in enterprise architecture, regardless of their specific role, can benefit from becoming TOGAF certified.
Overall, a TOGAF certificate is a valuable credential for anyone who wants to demonstrate their knowledge and skills in enterprise architecture and improve their career prospects in this field.
Which is the TOGAF® Standard certification pathway?
The TOGAF certification pathway includes certifications based on both the TOGAF® Standard, Version 9.2 and the TOGAF Standard, 10th Edition. Based on the TOGAF Standard, 10th Edition body of knowledge, two new Learning Paths have been introduced: TOGAF Enterprise Architecture and TOGAF Business Architecture.
At the moment, the TOGAF certification portfolio includes the following levels.
Please check the links below to see the related TOGAF training:
TOGAF 9 Foundation (Level 1)
TOGAF 9 Certified (Level 2)
TOGAF Business Architecture Foundation
Furthermore, there is a Bridge Path available to enable TOGAF 9 Certified individuals to obtain TOGAF Enterprise Architecture Practitioner certification. The Bridge path will be available for a limited time, even though the withdrawal date hasn't been announced yet.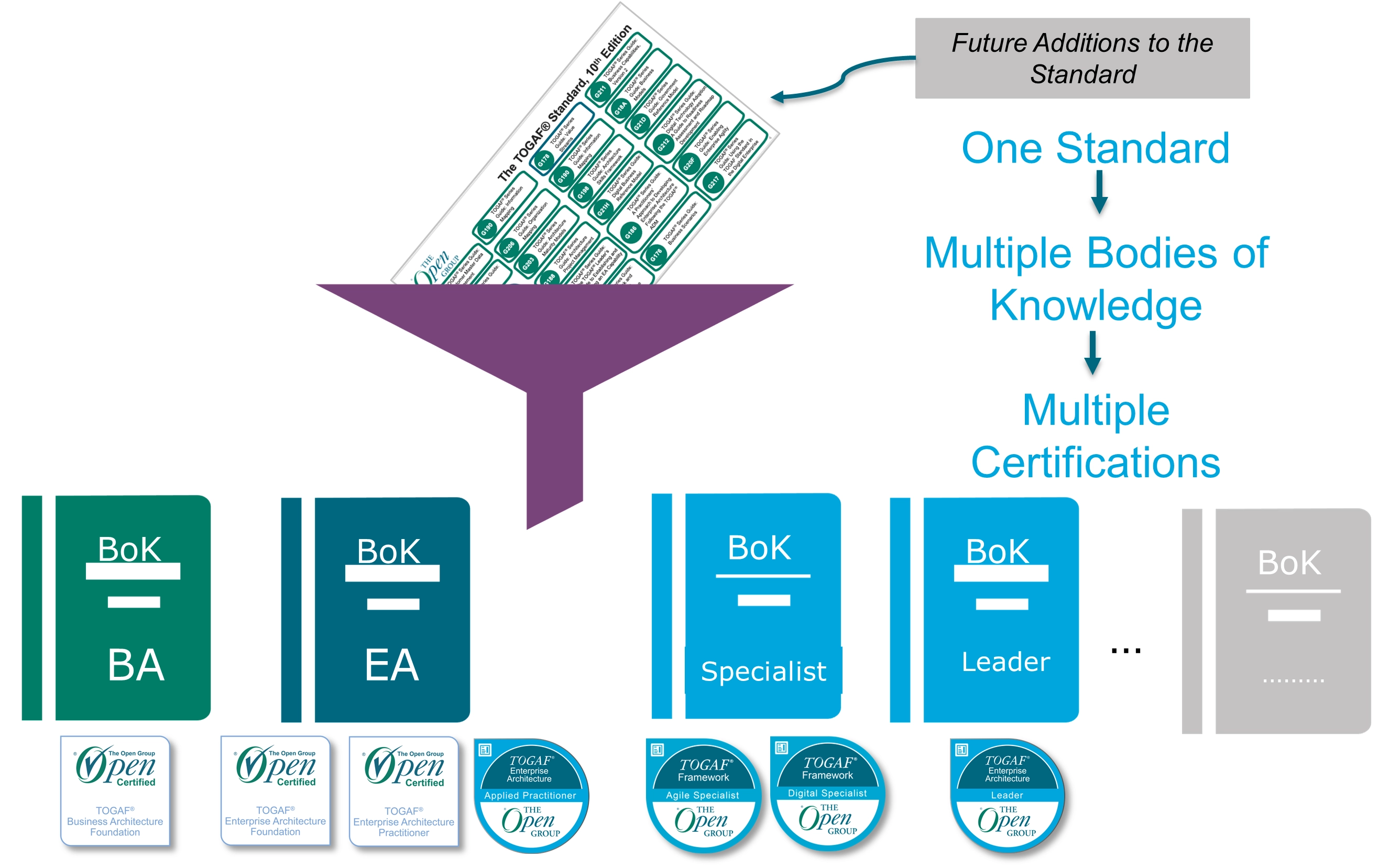 The Bodies of Knowledge for certification based on the TOGAF Standard, 10th Edition
© The Open Group
How do I get a TOGAF certification?
iLEARN makes available the training to achieve TOGAF® certifications in the following modalities:
Classic

On pre-scheduled dates: traditional classroom training at iLEARN premises
in-house: traditional classroom training scheduled based on client needs and at customer's or iLEARN premises

Distant learning: following a remote classroom by means of a web conference
eLearning: training provided through our online learning management system from anywhere and anytime
ONE-to-ONE: access to eLearning platform and interactive sessions via web-conference with the accredited teacher
iLEARN proposes the following courses:
More details of the courses can be found in the pages dedicated to each level or directly in the course details.
How to earn PDUs with TOGAF® certifications?
Our TOGAF® training courses can provide Professional Development Units (PDUs) through an auto-declaration procedure on PMI's portal. Here below you can find more details about the PDUs allocation for each level of the TOGAF® certification training pathway:
To learn more about the PDUs allocation according to the PMI Talent Triangle and to discover all of our online training courses and exam packages for each certification level, click on one of the links above.
Please note that, in order to auto-declare PDUs attending this course provided by iLEARN, the purchase of the attendance confirmation (attendance certificate) in electronic format (pdf) is mandatory. Select the option to add the attendance confirmation at the moment of purchase and proceed to checkout.
Visit this page for more information about PDUs and how to claim them to maintain your PMI qualifications.
Useful links
Thanks to the new App "iLEARN LMS", you can access your e-learning course from anywhere and at anytime you want on your mobile devices. Download it now!
Our e-learning platform is optimized for access via web browers, including mobile!
Subcategories