CompTIA Data+ Courses
CompTIA Data+ training courses, labs and certification exams
Summary of Topics
Availability and prices of CompTIA Data+ courses
CompTIA Data+ online courses (e-learning)
In this showcase you will find a selection of online training courses and self-study material (eBook) concerning CompTIA Data+ certification.
If you do not see a specific CompTIA Data+ course, CompTIA Data+ exam or a specific exam version, please contact us.
CompTIA Data+ Virtual Labs and Practice Test
In this showcase you will be able to purchase a selection of official CompTIA Data+ exam preparation material and tools.
To better prepare for the final certification exam, you can purchase the CompTIA Data+ Virtual Labs and the official Practice Test to simulate the real exam experience.
CompTIA Data+ online exam
In this showcase you will be able to purchase CompTIA Data+ exam voucher only to take the online exam through Pearson VUE, in test centers or in online modality.
iLEARN is a CompTIA Delivery Partner
for CompTIA Data+ courses and exams

What is CompTIA Data+?
CompTIA Data+ is a data analytics certification for entry-level professionals responsible for developing and facilitating data-driven business decisions.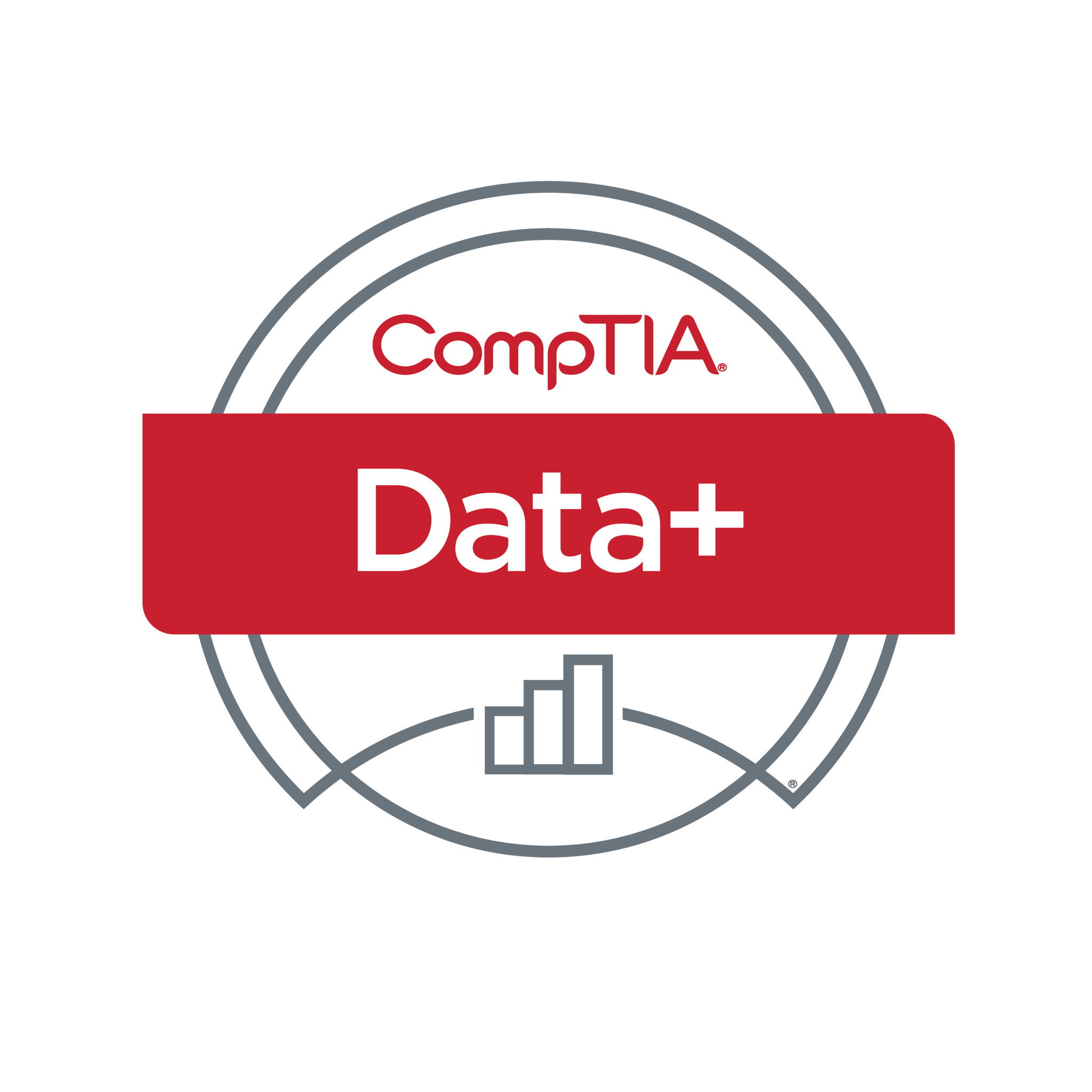 Why CompTIA Data+?
CompTIA Data+ is the only data analyst certification that covers the basic data analysis skills, assesses hands-on skills, and is vendor and tool independent.
Vendor-neutral certifications provide the analyst skills needed to perform a variety of job roles, regardless of the specific programs and tools used. There are also certifications that are more in-depth, such as B. Big Data and Business Analytics, which can be followed up after obtaining a CompTIA Data+ certificate.
Calculate your potential salary with CompTIA Data+ certification with the salary calculator.
What is CompTIA Data+ useful for?
Data-related jobs are expected to be one of the fastest-growing occupations by the end of the decade, with some positions, such as data scientist jobs, expected to grow five times faster than others. However, the need for basic data skills extends beyond data-specific job roles. In the past 12 months, employers have posted more than 1 million job postings looking for candidates with data analysis, data mining or data visualization skills. CompTIA Data+ can help candidates develop and hone these skills and demonstrate the practical experience employers are looking for:
Better analyze and interpret data - break down data more efficiently, analyze carefully and avoid confusing results
Exchange Insights - Highlight what's important, create convincing rather than confusing reports, help teams make better data-driven decisions
Demonstrate competence – become a more valuable team member and demonstrate data literacy to be more employable and upwardly mobile

.
Discover if CompTIA Data+ certification is the right choice for your career path.
How can I study for CompTIA Data+ exam?
iLEARN provides a selection of training options and exam material to prepare for CompTIA Data+ exam:
E-Learning (self-paced): training provided through an online learning management system from anywhere and anytime
Self-study material: electronic material (eBook - CompTIA Study Guide) to be studied autonomously
Virtual Labs: virtual laboratory environments designed to address practical and performance-based aspects of th exam preparation
Practice Tests (mock exam): an adaptable and realistic practice test experience that works well as a follow-up to other training as it really diagnoses the knowledge gaps and then trains in the areas of weakness
Read this CompTIA article to get some tips on how to handle the exam preparation journey.
What is the latest CompTIA Data+ version?
The latest version of CompTIA Data+ certification is CompTIA Data+ DA0-001, issued on 28th February 2022.


CompTIA Data+ certification renewal
CompTIA Data+ certificate expires three years from the date a candidate earned it and it must be renewed before its expiration date, through the CompTIA Continuing Education (CE) Program. In order to renew the certificate, candidate must:
Complete a CertMaster CE (online self-paced CE course) OR
Collect at least 20 Continuing Education Units (CEUs)
Learn more about the CompTIA Continuing Education Program.

Details about CompTIA Data+ course