Scrum Developer Certified
Scrum Developer Certified certification training courses and exams available in several languages and provided by iLEARN
Featured products
In this showcase you will find a selection of training courses and exams in the Scrum Developer Certified context.
To look for a course or an exam specifically, you can use the "Search courses/exams prices" tool that you will find below.
If you do not see the course or exam you want, please contact us.
You are viewing prices for
ScrumLearn® is a registered trademark of iCONS - Innovative
Consulting S.r.l., of which iLEARN is a business unit.


SCRUM DEVELOPER CERTIFIED
The Developer is a member of Scrum team that contributes to the realization of the result or product subject of an initiative.
Scrum Developer Certified is an entry level certification for Scrum Team members and those who interact with any Scrum Team.
SCRUM DEVELOPER CERTIFIED CERTIFICATION
Scrum Developer Certified certification has the aim of evaluating and attesting the mastering of the necessary skills to carry out in optimal way the role of Developer as part of a Scrum initiative.
ScrumLearn Scrum Developer Certified certification is automatically achieved after passing ScrumLearn Developer Certified exam.
SCRUM DEVELOPER CERTIFIED COURSE
Scrum Developer Certified course (SLDC) is fit-for-purpose for whoever is interested in having a deep understanding of Scrum. The course prepares the participants for Scrum Developer Certified exam.
ADD A COACHING SESSION TO PUT INTO PRACTICE AND EXPERIENCE IN REAL LIFE THE SCRUM METHOD WITH AN EXPERT TRAINER
By purchasing any ScrumLearn® package, you have the possibility to access a 4-hours coaching session with one of our expert trainers on the use of Kanban method, at a very special price.
You will learn to apply the Scrum framework to your working environment. Sessions are held using an advanced software solution for Scrum management, EasyBoards®, that you will be free to use for 6 months after the end of the coaching. You will be able to put into practice the concepts learned during the training course acquired.
Here below you can find some examples of what you will experiment during the coaching:
Build a roadmap
Make the story map of a product, refine the user stories from epic until they are ready for development
Estimate the user stories using Planning Poker
Create a Scrum board for the Sprint management
Do a Sprint Planning
Do a Daily Scrum
Create and read a Burndown Chart
Evaluate the Sprint progress
Manage priorities and quality
Manage the impediments
Limit the Work in Progress
Manage the commitments in Sprint Retrospective
The topics will be discussed according to needs of the participant.
GET FREE ACCESS TO EASYBOARDS® - THE OFFICIAL ENTERPRISE SCRUM TEAM SOFTWARE TOOL

By purchasing any ScrumLearn® Scrum training course, you will get 1-year free access to EasyBoards®, one of the best enteprise scrum team management software tools integrated in our training offer for free. This EasyBoards® free license will allow you to practice and simulate real project scenarios while you are preparing for ScrumLearn® Scrum certification exams.
What can you do with EasyBoards®?
Configurate Scrum boards
Collaborate with your team members
Send or receive notifications and warning alerts
Create new Scrum board templates
Create new workflows to support business processes and agile visual management
PDU - SCRUM DEVELOPER CERTIFIED
iLEARN is an Authorized Training Partner (ATP) of the Project Management Institute. Our ScrumLearn® Scrum Developer Certified training course provides 8 Professional Development Units (PDUs). Here below you can find more details about the PDUs allocation:
Technical: 7
Leadership: 1
Strategic: 0
Please note that, in order to earn PDUs attending this course provided by iLEARN as an Authorized Training Partner (ATP) of PMI, the purchase of the attendance confirmation (attendance certificate) in electronic format (pdf) is mandatory. Select the option to add the attendance confirmation at the moment of purchase and proceed to checkout.
For more information about PDUs and how to claim them to maintain your PMI qualifications, please visit this page.
(SCRUMLEARN) SCRUM DEVELOPER CERTIFIED DIGITAL BADGE
By passing the final certification exam, the candidate will receive the following free Digital Badge that certifies the knowledge acquired.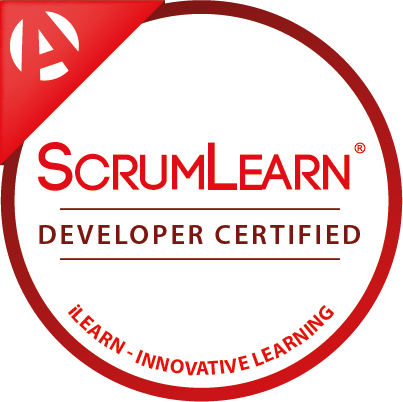 Learn more about iLEARN Digital Badges here.
Not sure if Scrum suits your needs? Read this article!
Here below you can read the course sheet with all the information of Scrum Developer Certified training course.