Organisational resilience Courses
Organisational resilience certification courses provided by iLEARN
Availability and prices of Organisational resilience courses
Featured products
In this showcase you will find a selection of training courses and exams in the Organisational Resilience context.
To look for a course or an exam specifically, you can use the "Search courses/exams prices" tool that you will find below.
If you do not see the course or exam you want, please contact us.
Organisational Resilience is a registered trademark of iCONS - Innovative Consulting S.r.l., of which iLEARN is a business unit.


Organizations are evolving more and more in a context where the pace of turbulence and shocks is accelerating. How can we create favorable conditions for the emergence of resilience, the ability to cope with shock, adapt or rebound? What are the different and possible trajectories in a crisis situation?

RESILIENCE PATH
Resilience course is divided into:
Resilience Foundation
Resilience Practitioner (coming soon)
ORGANISATIONAL RESILIENCE - DIGITAL BADGES AVAILABLE
The Organisational Resilience® certification scheme includes the achievement of the following Digital Badge: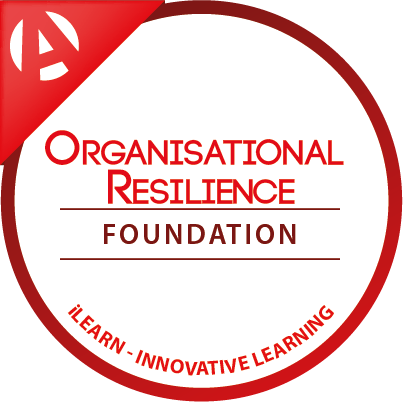 Learn more about iLEARN Digital Badges here.
iLEARN OFFER
iLEARN proposes the Resilience Foundation level in the following ways:
Classic

on pre-scheduled dates (traditional classroom training at iLEARN premises)
in-house (traditional classroom training scheduled based on client needs and at customer's or iLEARN premises)

Distant-learning (following a remote classroom by means of a webconference)
E-learning (training provided through our online learning management system from anywhere and anytime)
Thanks to the new App "iLEARN LMS", you can access your e-learning course from anywhere and at anytime you want on your mobile devices. Download it now!
Our e-learning platform is optimized for access via web browers, including mobile!
Subcategories