Scrum Master Certified course
Scrum Master Certified online courses (e-learning) with exam
In this showcase you will be able to find and purchase the Scrum Master online training course with certification exam included. This Scrum Master course can be attended completely online in self-paced mode on our e-learning platform. It is up to you to decide the course access duration (30, 120 or 180 access days) and the account activation date. Once the course is activated you can study 24/7 wherever you want. When you feel ready to take the final certification exam, just schedule your online examination on the examination portal. Information about course credentials and online exam vouchers will be sent to you by email upon purchase completion.
Scrum Master Certified online certification exam
In this showcase you will be able to purchase the Scrum Master Certified exam voucher only to take the exam completely online. After purchasing the online Scrum Master exam voucher, you will receive by email a link to register for the online proctored examination. On the iLEARN Examinations portal calendar you will be able to select an empy exam slot. Once chosen date/time of the online exam, on the scheduled day it will be enough to start your PC, to start the examination browser and get in contact with exam supervisors. You can take your certification exam from anywhere and at anytime!
ScrumLearn® is a registered trademark of iCONS - Innovative
Consulting S.r.l., of which iLEARN is a business unit.


COURSE OVERVIEW
Scrum Master Certified course provides candidates with the necessary knowledge for the Scrum implementation in Business as Usual and agile projects or activities. Moreover, the course prepares the participants for Scrum Master Certified exam (also known as Certified Scrum Master - CSM) in order to obtain the corresponding Scrum Master certification. This training is available both in online (e-learning/self-paced) modality or in live virtual or classroom option provided by expert accredited Scrum trainers.
ILEARN OFFER FOR SCRUM MASTER COURSES, EXAMS AND CERTIFICATIONS
Currently iLEARN provides Scrum Master training, exams and certifications in the following delivery options:
Scrum Master training in E-learning / self-paced learning: training provided through our online learning management system from anywhere and anytime
ONE-to-ONE Scrum Master courses: access to e-learning platform and interactive Scrum Master sessions via web-conference with the accredited trainer
Distant/remote Scrum Master learning: following a remote classroom by means of a webconference
Classic Scrum Master training

On pre-scheduled dates: traditional Scrum classroom training at iLEARN premises
in-house: traditional Scrum classroom training scheduled based on client needs and at customer's or iLEARN premises.
With iLEARN you can get certified and receive your certificate in just a few days!
WHAT TO DO TO GET YOUR SCRUM MASTER TRAINING COURSE, EXAM AND CERTIFICATION?
You can order and attend one of our Scrum Master course packages or the certification exam in a few steps:
Go on the top of the page and see the available products and training packages;
Click on the different tabs to find the course/certification/level you need;
Click on the package or service you need and read its details (for e-learning products you can opt for different platform access durations);
Once decided what training package or exam you need, click on "Buy" at the end of the product page and complete your purchase!
You can immediately pay by credit card, pay pal or by bank transfer.
For Scrum e-learning courses your account will be activated from the date you select during the purchase process!
Do you need Scrum Master courses for your company? Do you need a formal quotation? Do not hesitate to contact us.
WHY CHOOSING ILEARN FOR SCRUM MASTER COURSES AND CERTIFICATIONS?
We are a strong international training company, famous for e-learning training;
We provide courses in four languages;
We provide online courses with different access durations at different prices;
Our customer service team is loved by our customers - we give immediate support in English, French, Spanish and Italian;
Our accredited trainers are always available to provide support and tutoring to students.
| | | |
| --- | --- | --- |
| | iLEARN | Others |
| Multi-language courses | ✔ | ✖ |
| Multi-language support | ✔ | ✖ |
| Course packages with different durations | ✔ | ✖ |
| Value for money service | ✔ | ✖ |
| Accredited courses | ✔ | ✖ |
| Online exams | ✔ | ✔ |
SCRUM MASTER CERTIFIED (SMC) ROLE
In Scrum implementation field, the role of Scrum Master is operating as a coach and facilitator for all the other members of one or more Scrum teams involved in the implementation of agile project activities or Business as Usual. Therefore, a Scrum Master doesn't achieve the expected results, but it helps the others to have success in the Scrum application and in achieving the goals. He/She is an expert of the subject with theoretical and practical skills of Scrum implementation and of the role of facilitator and coach.
SCRUM MASTER CERTIFIED CERTIFICATION
iLEARN offers ScrumLearn Scrum Master Certified certification, that has the aim of evaluating and attesting the mastering of the necessary skills to carry out in an optimal way the role of Scrum Master. The Scrum Master certification can be achieved by passing the final exam. If you pass the exam, you will receive the official Scrum Master certificate in PDF format for free.
PDU - Scrum Master Certified
iLEARN is an Authorized Training Partner (ATP) of the Project Management Institute. Our ScrumLearn® Scrum Master Certified training course provides 16 Professional Development Units (PDUs). Here below you can find more details about the PDUs allocation:
Technical: 14
Leadership: 2
Strategic: 0
Please note that, in order to earn PDUs attending this course provided by iLEARN as an Authorized Training Partner (ATP) of PMI, the purchase of the attendance confirmation (attendance certificate) in electronic format (pdf) is mandatory. Select the option to add the attendance confirmation at the moment of purchase and proceed to checkout.
You can also read more information about PDUs and how to claim them to maintain your PMI qualifications.
(SCRUMLEARN) SCRUM MASTER CERTIFIED DIGITAL BADGE
By passing the final certification exam, the candidate will receive the following free Digital Badge that certifies the knowledge acquired.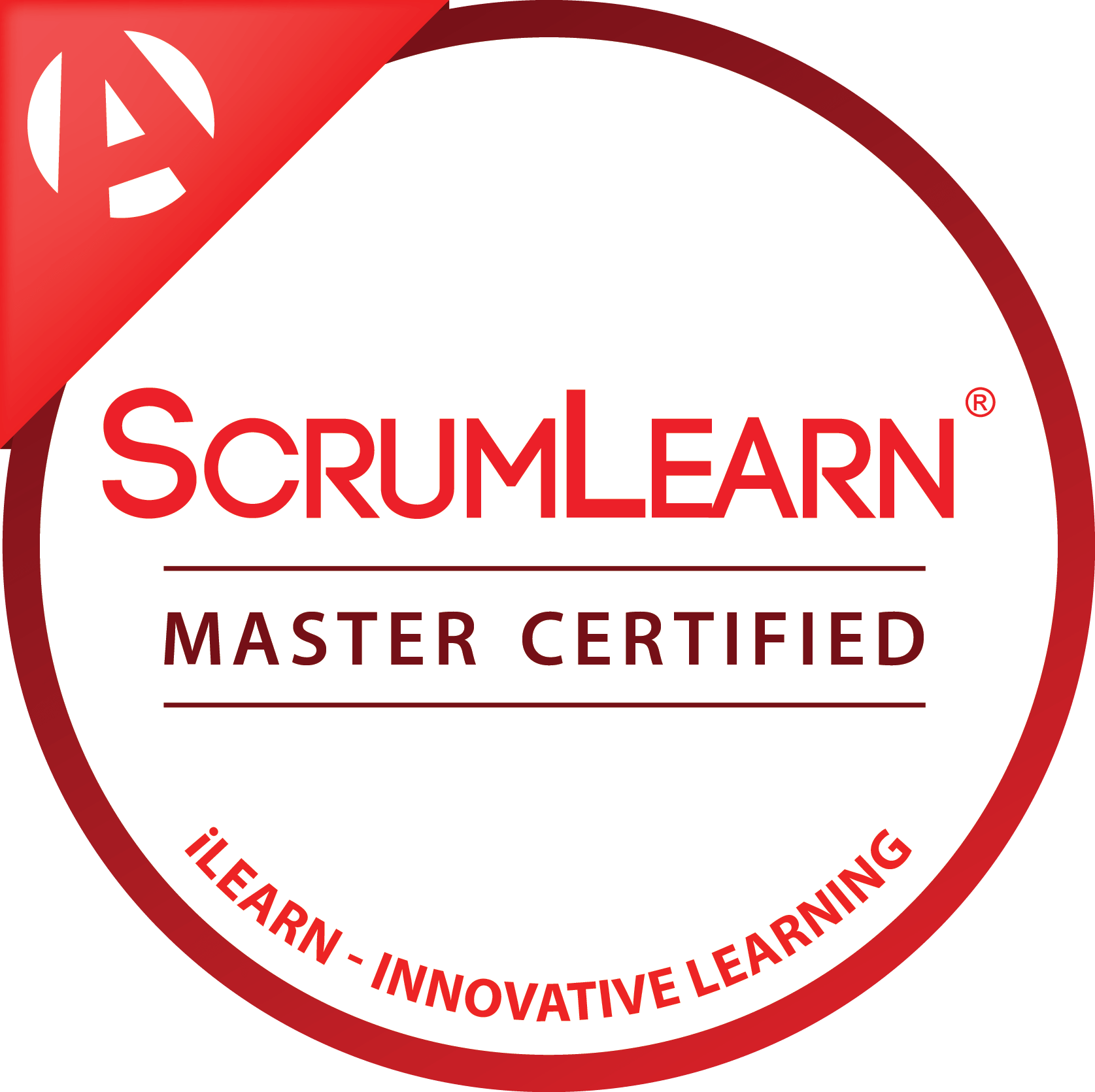 Learn more about iLEARN Digital Badges.
Not sure if Scrum suits your needs? Read this article!
Here below you can read the course sheet with all the information of Certified Scrum Master (CSM) course.
Scrum Master Certified certification training courses and exams available in several languages and provided by iLEARN