Scrum Master Certified
Scrum Master Certified online courses (e-learning) with exam
In this showcase you will find a selection of training courses and exams in the Scrum Master Certified area.
To look for a specific Scrum Master course or Scrum Master exam, you can use the "Search courses/exams prices" tool that you will find below.
If you do not see the Scrum Master Certified course or exam you want, please contact us.
ScrumLearn® is a registered trademark of iCONS - Innovative
Consulting S.r.l., of which iLEARN is a business unit.



SCRUM MASTER CERTIFIED (SMC)
In Scrum implementation field, the role of Scrum Master is operating as a coach and facilitator for all the other members of one or more Scrum teams involved in the implementation of project activities or Business as Usual. Therefore, he doesn't achieve the expected results, but it helps the others to have success in the Scrum application and in achieving the goals. He is an expert of the subject with theoretical and practical skills of Scrum implementation and of the role of facilitator and coach.
SCRUM MASTER CERTIFIED CERTIFICATION
iLEARN offers ScrumLearn Scrum Master Certified certification, that has the aim of evaluating and attesting the mastering of the necessary skills to carry out in an optimal way the role of Scrum Master. In order to acquire these skills, iLEARN makes available Scrum Master Certified courses too, both classroom and online training.
SCRUM MASTER CERTIFIED COURSE
Scrum Master Certified course provides candidates with the necessary knowledge for the Scrum implementation in Business as Usual projects or activities. Moreover, the course prepares the participants for Scrum Master Certified exam (also known as Certified Scrum Master - CSM) in order to obtain the corresponding certification.
PDU - Scrum Master Certified
iLEARN is an Authorized Training Partner (ATP) of the Project Management Institute. Our ScrumLearn® Scrum Master Certified training course provides 16 Professional Development Units (PDUs). Here below you can find more details about the PDUs allocation:
Technical: 14
Leadership: 2
Strategic: 0
Please note that, in order to earn PDUs attending this course provided by iLEARN as an Authorized Training Partner (ATP) of PMI, the purchase of the attendance confirmation (attendance certificate) in electronic format (pdf) is mandatory. Select the option to add the attendance confirmation at the moment of purchase and proceed to checkout.
For more information about PDUs and how to claim them to maintain your PMI qualifications, please visit this page.
(SCRUMLEARN) SCRUM MASTER CERTIFIED DIGITAL BADGE
By passing the final certification exam, the candidate will receive the following free Digital Badge that certifies the knowledge acquired.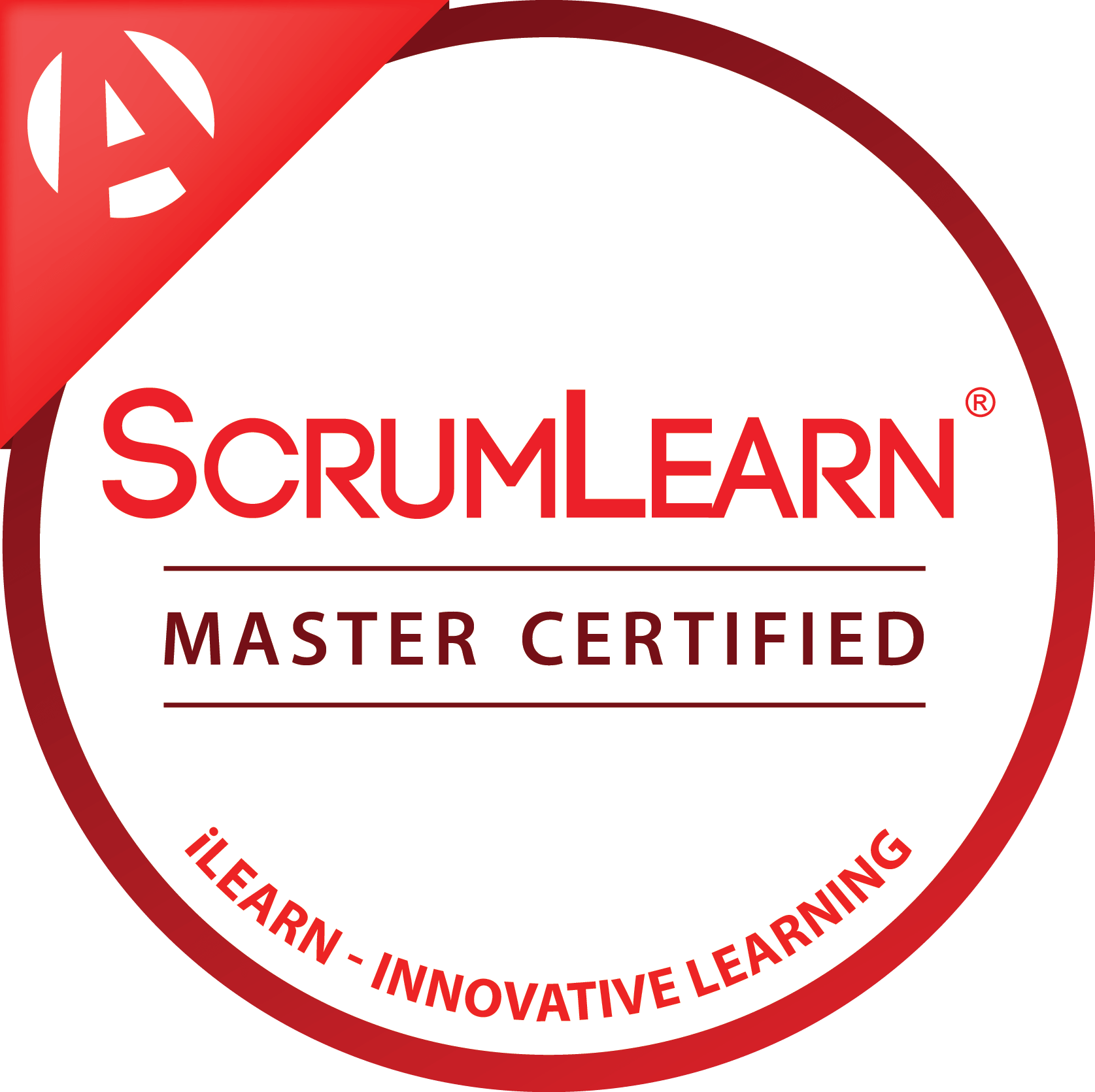 Learn more about iLEARN Digital Badges here.
Not sure if Scrum suits your needs? Read this article!
Here below you can read the course sheet with all the information of Certified Scrum Master (CSM) course.
Scrum Master Certified certification training courses and exams available in several languages and provided by iLEARN