ITIL® 4 Master Pack Courses
ITIL 4 Master Pack in English provided by iLEARN
Availability and prices of ITIL® 4 Master Pack courses
Featured products
In this showcase you will find a selection of training courses and exams in the ITIL® 4 Master Pack and ITIL 4 context.
If you do not see the ITIL certification, course or exam you want, please contact us.
To achieve the ITIL 4 Master certification, candidates must have both the ITIL Managing Professional (ITIL MP), ITIL Strategic Leader (ITIL SL) and ITIL Practice Manager (ITIL PM) designations.
ITIL® 4 Managing Professional (ITIL® 4 MP, ITIL Professional Certification) targets IT practitioners working within technology and digital teams across businesses. The Managing Professional (MP) stream provides practical and technical knowledge about how to run successful IT projects, teams and workflows.
ITIL® 4 Managing Professional is a stream of four modules:
ITIL® 4 Strategic Leader (ITIL® 4 SL) stream recognizes the value of ITIL, not just for IT operations, but for all digitally-enabled services. Becoming an ITIL 4 Strategic Leader demonstrates that the you have a clear understanding of how IT influences and directs business strategy.
ITIL® 4 Strategic Leader is a stream of two modules:
ITIL 4 Practice Manager (ITIL® 4 PM) certification stream is based on the ITIL 4 management practices. ITIL 4 Practice Manager consists of three batches, each divided into five modules. Each module is related to a single practice. The three ITIL 4 Practice Manager batches are:
ITIL 4 Specialist: Plan, Implement and Control
ITIL 4 Specialist: Collaborate, Assure and Improve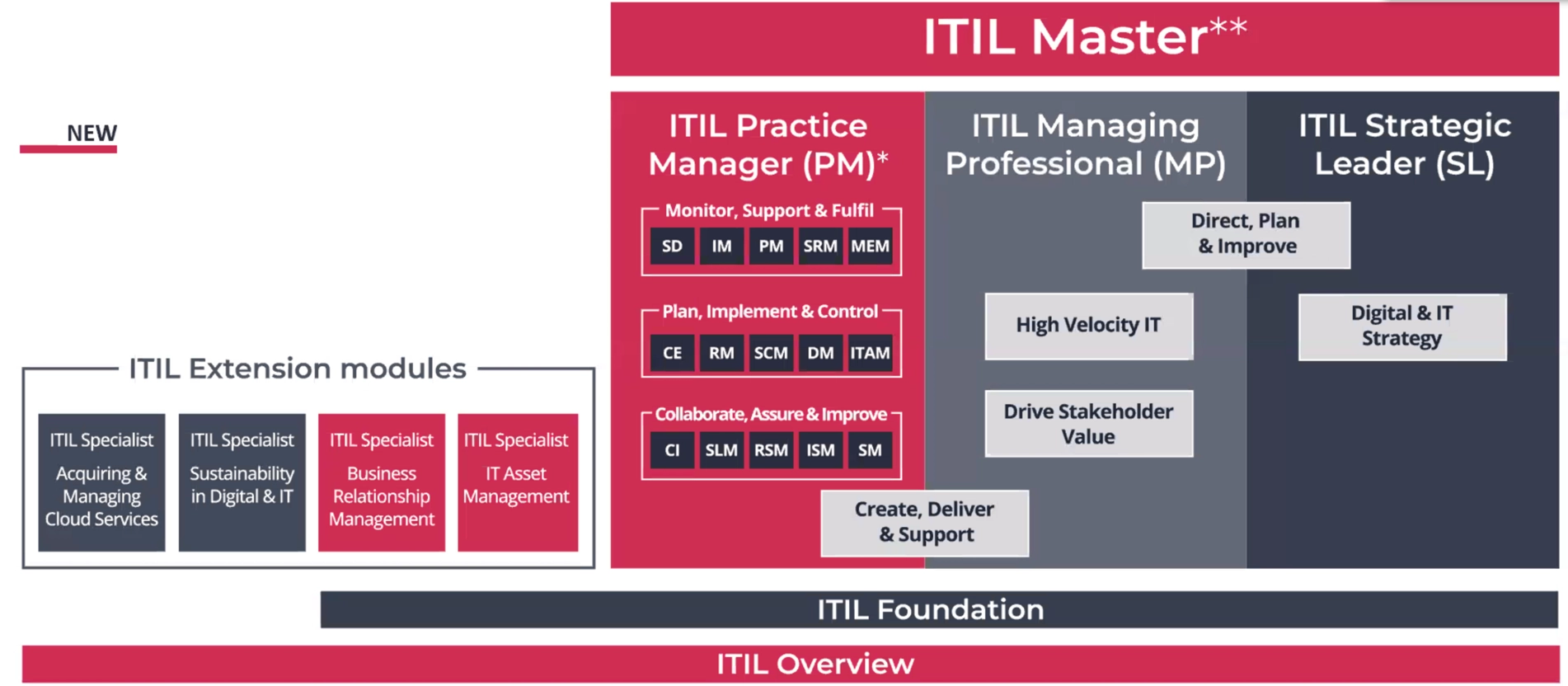 ITIL® 4 certification scheme
ITIL 4 MASTER PACK OFFER
iLEARN offers to its customers the possibility to buy all ITIL® 4 Managing Professional, ITIL® 4 Strategic Leader and ITIL® 4 Practice Manager modules in a package at an advantageous price:
ITIL 4 MASTER PACK - 6 COURSES + EXAM:
ITIL® 4 Specialist: Create, Deliver and Support
ITIL® 4 Specialist: Drive Stakeholder Value
ITIL® 4 Specialist: High Velocity IT
ITIL® 4 Strategist: Direct, Plan and Improve
ITIL® 4 Leader: Digital & IT Strategy
ITIL® 4 Specialist: Monitor, Support and Fulfil - Coming soon