Cursos IT4IT™
Cursos de certificación de IT4IT
Disponibilidad y precios de los cursos IT4IT™
Productos destacados
En la ventanilla aquí abajo Usted puede encontrar una selección de cursos de formación y examenes en el entorno IT4IT™.
Para buscar otros cursos u otras modalidades de exámen, puede utilizar la herramienta "Búsqueda precios cursos/exámenes" que encuentra a continuación.
Si no visualiza el curso o el examen requerido, no dude en contactarnos.
Ningún curso o examen encontrado. ¡Contáctanos para descubrir las soluciones disponibles!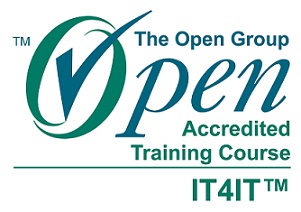 IT4IT™
La arquitectura de referencia IT4IT, una norma de The Open Group, es un instrumento potente para la adaptación y la gestión de una Empresa Digital. Su enfoque flexible, basado en la corriente de valor, soporta la empresa digital donde sea en su camino y donde quiera ir, independientemente de que su resultado empresarial principal sea mejor, más rápido, más económico, más seguro o una combinación de los cuatro.
IT4IT ha sido proyectado como una estructura protectora, y es útil para las empresas que abordan muchas de los desafíos actuales, que se trate del pasaje al cloud, de la implementación de Agile o DevOps, de una fase de transformación digital, del cambio hacia un modelo operativo centrado en el producto. Con atención particular a la información necesaria para la gestión del TI y del flujo de datos entre los sistemas de gestión informáticos, IT4IT es indiferente a los procesos y es útil a las industrias y a las empresas de todas las dimensiones.
La Norma IT4IT es utilizada por las empresas de cualquiera grandeza y por las industrias de todo el mundo. Ella ha sido utilizada para guiar l'interoperabilidad, racionalizar las aplicaciones, evaluar y mejorar las capacidades, y mucho más.
ACREDITACIONES
Los cursos IT4IT™, proporcionados por Good e-Learning, son cursos acreditados por The Open Group. iLEARN promueve estos cursos para Good e-Learning.
ESQUEMA DE CERTIFICACIÓN IT4IT
Awareness: IT4IT™ Standard
Este curso aborda todo lo que se debe saber sobre la Norma IT4IT de The Open Group, y lo convierte en una introducción perfecta tanto para los individuos como para los equipos.
IT4IT™ Foundation
Este curso IT4IT ofrece una preparación excelente a los candidatos para el examen oficial IT4IT Foundation (Level 1). Pasando el examen, los candidatos obtendrán una certificación reconocida y altamente estimada, que comprueba su conocimiento de la terminología, de la estructura y de los conceptos básicos de la Norma IT4IT.
IT4IT™ Foundation & Awareness Suite
Los cursos IT4IT Foundation e IT4IT Awareness proporcionados en este paquete ofrecen una introducción excelente a la Arquitectura de Referencia IT4IT y a la Cadena de Valor del TI.
OFERTA iLEARN
iLEARN ofrece los niveles Foundation, Awareness y Foundation & Awareness Suite en la siguiente modalidad:
E-learning: toda la formación en línea mediante nuestra propia plataforma
ENLACES ÚTILES