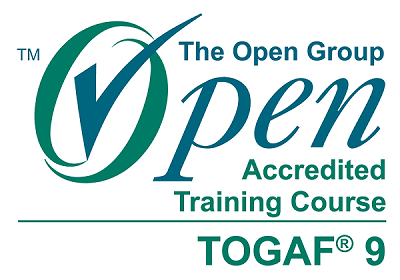 El Estándar TOGAF, Versión 9.2, es una actualización del estándar 9.1 que proporciona una guía mejorada, una corrección de los errores, una mejora de la estructura del documento y la remoción  de los contenidos obsoletos. Las mejoras principales en esta versión incluyen actualizaciones de la Arquitectura Empresarial y del Content Metamodel. Todos estos cambios hacen el marco TOGAF  más facil de utilizar y mantener.
Los contenidos de TOGAF® 9 Level 1 & 2; Level 2 se focalizan en la aplicación práctica del marco TOGAF, basada en los conocimientos básicos y en la comprensión de Level 1, utilizando escenarios prácticos para reforzar los conceptos.
ACREDITACIONES
El curso TOGAF® 9 Level 1 & 2; Level 2 de iLEARN - Innovative Learning es acreditado por The Open Group
FORMATO Y CARACTERÍSTICAS DE LOS EXÁMENES EN LÍNEA 
NOTA: El examen Level 2 se puede tomar en dos diferentes modalidades:
En línea con la supervisión de un Supervisor (OnVUE)
En un Centro de Pruebas Pearson Vue
Para más información sobre los exámenes en línea, por favor presione aquí.
Acreditación
The Open Group
Precio individual
279,00€
A quién está dirigido
Los que quieren una mayor comprensión del estándar TOGAF 9
Profesionales que trabajan en organizaciones en las cuales ha sido adoptado el estándar TOGAF 9 y que necesitan participar en proyectos y actividades de arquitectura
Arquitectos que serán responsables de desarrollar artefactos de arquitectura
Arquitectos que quieren introducir el estándar TOGAF 9 en prácticas de arquitectura 
Arquitectos que quieren obtener una calificación reconocida para demonstar el conocimiento detallado del estándar TOGAF 9
Pre-requisitos
Para tomar el examen TOGAF® 9 Level 2, los candidatos deben teber el Certificado TOGAF® 9 Level 1.
Para poder comprar el examen TOGAF® 9 Level 2 (para RETAKE), los candidatos tienen que haber tomado el examen TOGAF® 9 Level 2 y NO haber aprobado.
Certificación
Certificado oficial TOGAF® 9 Level 2
Tipo de certificación
En línea autónomo
Idioma del examen
Inglés, Francés, Brasileño, Chino (Mandarín), Español (Latinoamérica)
Examen TOGAF® 9 Level 2 (para RETAKE) examen en línea entregado por iLEARN Innovative Learning