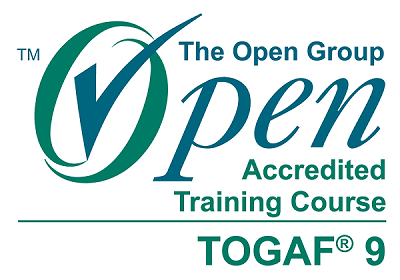 El Estándar TOGAF, Versión 9.2, es una actualización del estándar 9.1 que proporciona una guía mejorada, una corrección de los errores, una mejora de la estructura del documento y la remoción de los contenidos obsoletos. Las mejoras principales en esta versión incluyen actualizaciones de la Arquitectura Empresarial y del Content Metamodel. Todos estos cambios hacen el marco TOGAF más facil de utilizar y mantener.
La certificación TOGAF® 9 Level 1 & 2; Level 1 proporciona una validación de la terminología, la estructura y los conceptos principales del estándar TOGAF 9 y de la comprensión de los principios de la Arquitectura Empresarial y del Estándar TOGAF.
Los contenidos de TOGAF® 9 Level 1 & 2; Level 2 se focalizan en la aplicación práctica del marcoTOGAF, basada en los conocimientos básicos y en la comprensión de Level 1, utilizando escenarios prácticos para reforzar los conceptos.
Duración de acceso
1 año de acceso a la plataforma
Detalles del curso en línea TOGAF 9 Level 1 and 2; Combined
30 lecciones (11 horas de videos grabados por un profesor acreditado)
Documentos PDF descargables con contenidos detallados (diapositivas, explicaciones) para cada lección
Ejercicios
1 practice test
Adquiriendo nuestro curso online, le proporcionaremos también, de manera gratuita, el manual oficial "The TOGAF Standard, versión 9.2" en formato PDF. Podrá descargar el manual directamente de nuestra plataforma e-learning, una vez recibidas las credenciales de acceso.
FORMATO Y CARACTERÍSTICAS DE LOS CURSOS EN LÍNEA
Acceso 24/7
Para más información sobre los cursos en línea, por favore presione aquí.
ACREDITACIONES
El curso TOGAF® 9 Level 1 & 2; Combined de iLEARN - Innovative Learning es acreditado por The Open Group
FORMATO Y CARACTERÍSTICAS DE LOS EXÁMENES EN LÍNEA
* Los candidatos recibirán el voucher de examen Combined (Level 1 + Level 2) y tomarán un solo examen en un centro de pruebas Pearson Vue o también en modalidad OnVUE.
Los candidatos tienen también la posibilidad de tomar los dos exámenes separadamente: en este caso el candidato tendrá que seleccionar la opción correspondiente al final de esta página y comprar los dos vouchers separados.
Para responder a las resticciones debidas a las normas sobre la emergencia COVID-19, ahora es posible adquirir los dos códigos separados sin costes adiciolanes.
Para más información sobre los exámenes en línea, por favor presione aquí.
Acreditación
The Open Group
Precio individual
699,00€
Duración de acceso al curso
1 año
Objetivos
El ciclo Architecture Development Method (ADM) y todas las fases que lo componen
Las consideraciones sobre la seguridad en la aplicación de ADM
Los cambios en la estructura del estándar TOGAF y la importancia de la TOGAF Library
El ecosistema alrededor del estándar TOGAF
Los cambios al TOGAF Content Framework y Metamodel
Las razones empresariales de Enterprise Architecture y TOGAF®
Las técnicas definidas para el uso en el Architecture Development
El Architecture Content Framework y los objetivos de cada elemento suyo
Las directices para adaptar en el proceso ADM
El Enterprise Continuum como herramienta de referencia para la clasificación
El Architecture Capability Framework
La construcción del marco de habilidades Architecture y porque se necesita
Este curso proporciona 30 PDUs (Professional Development Units)
A quién está dirigido
Enterprise Architects
Business Architects
Business Analysts
Program / Project Managers
Solution Architects
Application Architects
Data Architects
Infrastructure / Technology Architects
Security Architects
Technology Vendors
Professional Services Vendors
Change Managers
Technical Designers
IT Strategy Managers
Chief Information Officers
Chief Technology Officers
Presales Consultants
IT Managers
Contenidos
Los nuevos conceptos introducidos en TOGAF® Versión 9.2.
La estructura general y los contenidos del documento TOGAF® 9.2 y los contenidos principales
El ciclo Architecture Development Method (ADM) y sus fases
Las técnicas en el desarrollo arquitectural
El Architecture Content Framework y el objetivo de cada elemento
Las directices para adaptar el proceso ADM
El Enterprise Continuum y Tools.
Los conceptos, la taxonomía y la representación gráfica del modelo de referencia TOGAF® y su aplicación.
El Architecture Capability Framework.
Pre-requisitos
TOGAF® 9 Level 1:
No hay prerrequisitos para este curso.
TOGAF® 9 Level 2:
Certificado TOGAF® 9 Level 1
Lengua del instructor
Inglés
Idioma del material del curso
Inglés
Certificación
Certificado oficial TOGAF® 9 Level 2
Tipo de certificación
En línea autónomo
Idioma del examen
Inglés, Chino (Mandarín)
TOGAF® 9 Level 1 and 2; Combined - 1 año con examen curso en línea en Inglés entregado por iLEARN Innovative Learning