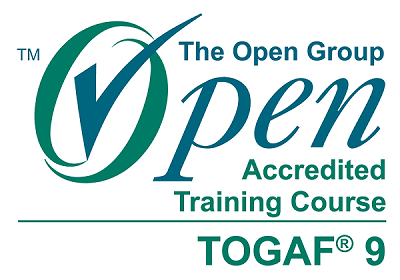 El Estándar TOGAF, Versión 9.2,
es una actualización del estándar 9.1 que proporciona una guía mejorada, una corrección de los errores, una mejora de la estructura del documento y la remoción de los contenidos obsoletos. Las mejoras principales en esta versión incluyen actualizaciones de la Arquitectura Empresarial y del Content Metamodel. Todos estos cambios hacen el marco TOGAF más facil de utilizar y mantener.
Los contenidos de TOGAF® 9 Level 1 & 2; Level 2 se focalizan en la aplicación práctica del marco TOGAF, basada en los conocimientos básicos y en la comprensión de Level 1, utilizando escenarios prácticos para reforzar los conceptos.
Duración de acceso
120 días de acceso a la plataforma
Detalles del curso en línea TOGAF® 9 Level 1 & 2; Level 2
17 lecciones (6 horas de videos grabados por un profesor acreditado)
Documentos PDF descargables con contenidos detallados (diapositivas, explicaciones) para cada lección
Ejercicios
1 practice test
Adquiriendo nuestro curso online, le proporcionaremos también, de manera gratuita, el manual oficial "The TOGAF Standard, versión 9.2" en formato PDF. Podrá descargar el manual directamente de nuestra plataforma e-learning, una vez recibidas las credenciales de acceso.
ACREDITACIONES
El curso TOGAF® 9 Level 1 & 2; Level 2 de iLEARN - Innovative Learning es acreditado por The Open Group
FORMATO Y CARACTERÍSTICAS DEL CURSO ONE-TO-ONE
Acceso 24/7.
Acceso al sistema de e-learning incluyendo ayudas, todo el material (videos y documentación) en inglés;
Videos para todas las lecciones grabados por nuestros instructores acreditados;
Posibilidad de descarga en formato PDF del material de estudio con contenido detallado (diapositivas, explicaciones) para cada lección;
Acceso mediante una plataforma propia a lecciones multimedia que dan la impresión de "estar en clase" gracias a la combinación de videos con diapositivas, material de cada lección, cuestionarios en línea y ejercicios;
Configure su velocidad de aprendizaje;
Estudie el material fuera de línea;
Repita cualquier lección en cualquier momento;
Posibilidad de saltear lecciones cuyo contenido ya le resulte familiar;
Provisión de cuestionarios al final de cada unidad para verificar el conocimiento adquirido;
Enviar mensajes a los instructores acreditados pudiendo por ejemplo preguntar información mas profunda sobre un tema o soporte didáctico;
Sesiones One-to-One para comprobar el aprendizaje y la profundización de los contenidos con un profesor acreditado y proporcionados en el idioma nativo a través de la conferencia web
Exámenes de prueba
Examen de certificación en línea
FORMATO Y CARACTERÍSTICAS DE LOS EXÁMENES EN LÍNEA
NOTA: El examen Level 2 se puede tomar en dos diferentes modalidades:
En línea con la supervisión de un Supervisor (OnVUE)
En un Centro de Pruebas Pearson Vue
Para más información sobre los exámenes en línea, por favor presione aquí.
Acreditación
The Open Group
Precio individual
949,00€
Duración de acceso al curso
120 días
Objetivos
Al final del curso, los participantes habrán entendido:
El Architecture Development Method (ADM)
El Architecture Content Framework
El Architecture Repository
Los Modelos de Referencia TOGAF 9
Architectural Governance and Capability - governance board, habilidades y madurez
A quién está dirigido
Los que quieren una mayor comprensión del estándar TOGAF 9
Profesionales que trabajan en organizaciones en las cuales ha sido adoptado el estándar TOGAF 9 y que necesitan participar en proyectos y actividades de arquitectura
Arquitectos que serán responsables de desarrollar artefactos de arquitectura
Arquitectos que quieren introducir el estándar TOGAF 9 en prácticas de arquitectura
Arquitectos que quieren obtener una calificación reconocida para demonstar el conocimiento detallado del estándar TOGAF 9
Contenidos
El Architecture Development Method
Enterprise Continuum y Architecture Repository
Architecture Content Framework
Preliminary Phase and Requirements Management
Architecture Vision
Business Architecture
Information Systems Architecture
Technology Architecture
Transition Planning
Implementation Governance y Architecture Change Management
Enterprise Security Architecture
Enterprise Integration y Service Oriented Architecture
Architecture Capability Framework
Pre-requisitos
Para tomar el examen TOGAF® 9 Level 2, los candidatos deben teber el Certificado TOGAF® 9 Level 1.
Lengua del instructor
Inglés
Idioma del material del curso
Inglés
Certificación
Certificado oficial TOGAF® 9 Level 2
Tipo de certificación
En línea autónomo
Idioma del examen
Inglés, Francés, Brasileño, Chino (Mandarín), Español (Latinoamérica)
TOGAF® 9 Level 1 & 2; Level 2 - ONE-to-ONE 4Hours con examen curso en línea con coaching en Inglés entregado por iLEARN Innovative Learning