AXELOS® ProPath
Cursos de certificación AXELOS® ProPath ofrecidos por iLEARN
Cursos en línea (e-learning) con examen AXELOS ProPath
En esta ventanilla puede encontrar una selección de cursos de formación online con examen de certificación incluido. El área de formación AXELOS ProPath incluye: AXELOS ProPath Project Expert y AXELOS ProPath Agile Project Expert. Estos cursos AXELOS ProPath pueden ser tomados totalmente en línea en autoaprendizaje en nuestra plataforma e-learning. Podrá elegir la duración del acceso y la fecha de activación de la cuenta. Una vez activado el curso, podrá estudiar 24/7 donde quiera. Cuando será listo para tomar el examen de certificación final, sólo tendrá que reservar el examen en el portal del ente examinador. La información sobre las credenciales y el código voucher de examen serán enviados al completar el curso.
Exámenes de certificación en línea AXELOS® ProPath
En la ventanilla abajo puede comprar el solo voucher de examen AXELOS ProPath para poder hacer el examen en línea en el portal PeopleCert.
RESUMEN DE AXELOS PROPATH
AXELOS® ProPath representa una colección de las certificaciones de gestión de programas, proyectos y portafolio más conocidas en el mundo, incluso PRINCE2®, Managing Successful Programmes (MSP®), PRINCE2 Agile®, Management of Portfolios (MoP®), Management of Risk (M_o_R®), y Portfolio, Programme and Project Offices (P3Ο®).
AXELOS® ProPath es un nuevo enfoque a las calificaciones de proyectos, programas y portafolio que proporciona una estructura de desarrollo progresivo de certificaciones y mejores prácticas, cada una específicamente orientada a entregar un cambio organizacional significativo.
OFERTA ILEARN PARA CURSOS, EXÁMENES Y CERTIFICACIONES AXELOS PROPATH
Los cursos AXELOS® ProPath están proporcionados por profesores e instructores cualificados, certificados y acreditados y están diseñados según la solida experiencia en la gestión de proyectos, programas y portafolio.
Los cursos AXELOS ProPath se pueden tomar en las siguientes maneras:
Capacitación AXELOS ProPath en E-learning: toda la formación online disponible mediante nuestra propia plataforma
Curso AXELOS ProPath ONE-to-ONE: acceso a la plataforma e-learning y sesiones interactivas a través de conferencia web con un profesor acreditado
Formación AXELOS ProPath a distancia/virtual: formación tradicional pero virtual para asistir al curso mediante una plataforma en línea de teleconferencia
Cursos AXELOS ProPath clásicos:

entrenamiento en fechas predeterminadas (a calendario): formación AXELOS ProPath tradicional en aulas de iLEARN
in-house: formación AXELOS ProPath programada en base a las necesidades del cliente
Tomando los cursos en cualquier de las modalidades de entrega se recibirá también:
Material de estudio acreditado AXELOS ProPath por PeopleCert y AXELOS
Pruebas de examen AXELOS ProPath oficiales (proporcionadas por PeopleCert)
Manuales oficiales AXELOS ProPath (opcionales)
Soporte por instructores acreditados
OBJETIVOS DE LOS CURSOS
AXELOS® ProPath tiene el objetivo de entrenar y certificar el conocimiento de los expertos en el área de la gestión de proyectos, programas y portafolio.
¿QUIÉN DEBERÍA TOMAR LOS CURSOS DE FORMACIÓN AXELOS PROPATH?
AXELOS® ProPath es indicado para los que buscan seguir con y completar sus certificaciones PPM o los que buscan empezar un nuevo camino en PPM.
Completando uno o más de los caminos AXELOS ProPath, los candidatos obtendrán conocimiento certificado en el área correspondiente.
¿QUÉ HACER PARA OBTENER SUS CURSOS DE FORMACIÓN, EXÁMENES Y CERTIFICACIONES AXELOS PROPATH?
Puede ordenar y tomar uno entre nuestros cursos y exámenes en pocos pasos:
Vaya en la parte superior de la página y consulte los productos disponibles y los paquetes de formación
Haga clic en las diferentes pestañas para encontrar el curso/la certificación/el nivel que necesita
Haga clic en el paquete o el servicio que necesita y lea sus detalles
Una vez encontrado el curso de capacitación o el examen AXELOS ProPath que necesita, haga clic en "Comprar" al final de la página y ¡complete su compra!
Podrá pagar inmediatamente a con tarjeta de crédito, PayPal o transferencia bancaria
Para los cursos AXELOS ProPath e-learning, su cuenta será activada a partir de la fecha seleccionada durante el proceso de compra.
¿Necesita cursos AXELOS ProPath para su empresa? ¿Necesita un presupesto formal? ¡No dude en contactarnos!
¿POR QUÉ ELEGIR ILEARN PARA LOS CURSOS AXELOS PROPATH Y PARA LAS CERTIFICACIONES AXELOS PROPATH?
Somos una firme empresa de formación internacional, famosos por nuestra formación e-learning
Proporcionamos cursos en línea con diferentes duraciones de acceso a precios diferentes
Nuestro equipo de servicio al cliente es apreciado por nuestros clientes - proporcionamos soporte inmediato en español, inglés, italiano y francés
Nuestros profesores acreditados están siempre disponibles para proporcionar soporte y tutoría a los estudiantes
¿CUÁLES SON LOS BENEFICIOS DE AXELOS PROPATH?
El esquema de certificación AXELOS ProPath proporciona a los individuos la guía práctica más eficaz y la aprobación de los conocimientos adquiridos sobre cómo planear y dirigir el trabajo de un grupo o de una organización, entregando valor mientras supervisan el trabajo y su progreso, y adoptan medidas correctivas cuando es necesario. Los profesionales con las calificaciones del portafolio podrán:
Jugar un papel clave para el cambio en una organización
Adquirir conocimientos de una serie de modos de entrega, incluso los Ágil, lineares y híbridos
Entregar resultados consistentes y reducir los costes
Asegurar que la organización haga buenas inversiones
Mejorar la velocidad de comercialización aumentando la eficiencia
Proporcionar gobierno y realizar cambios de éxito
NIVELES DE FORMACIÓN Y CERTIFICACIÓN AXELOS PROPATH
Ahora podrá aprovechar sus certificaciones de Project, Programme y Portfolio Management o embarcar en un camino PPM, seleccionando entre las tres calificaciones la que más se adapte a las necesidades profesionales y asegure que los logros obtengan el reconocimiento y el valor que merecen.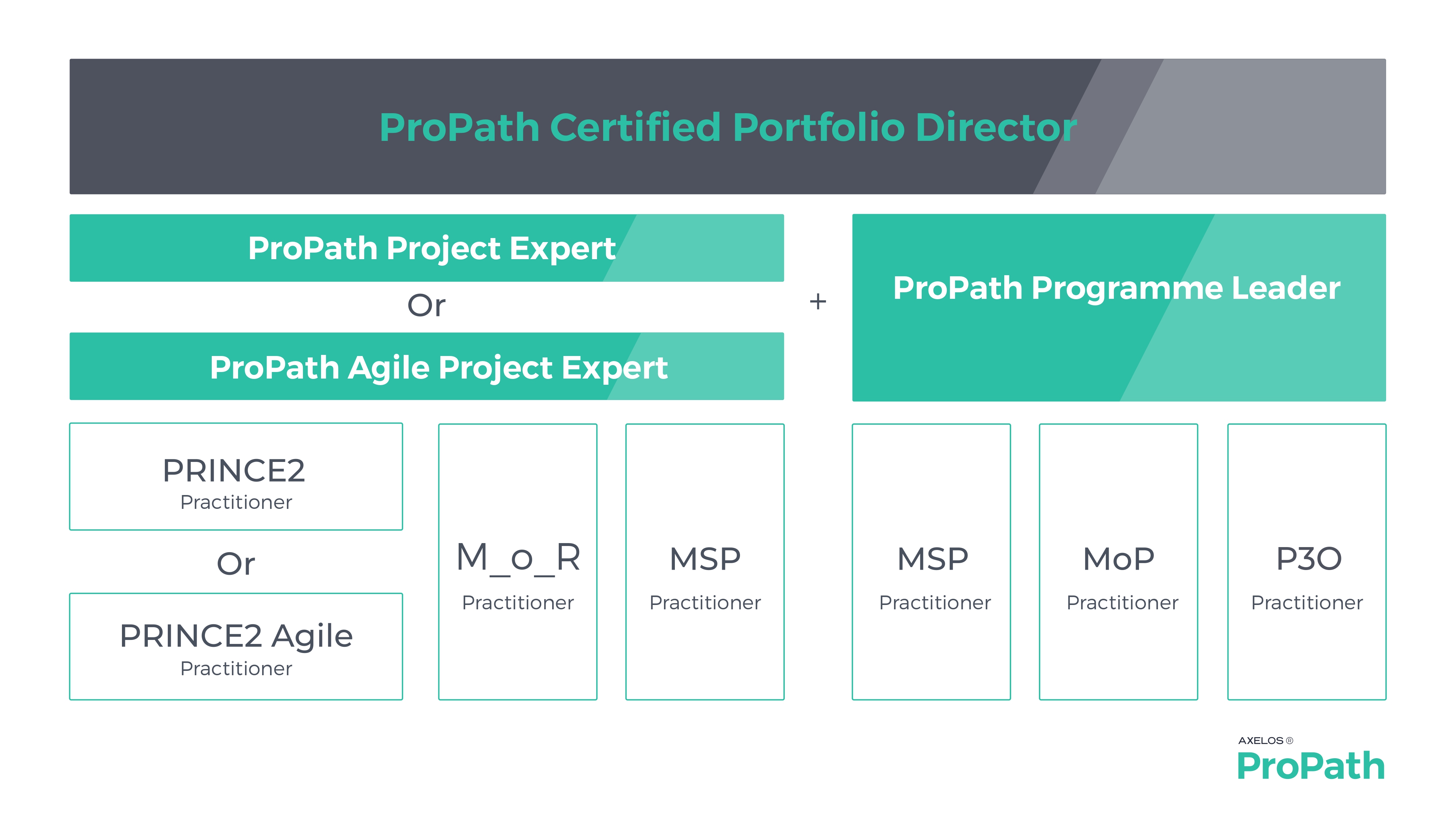 2021 © Copyright AXELOS Limited 2021. All rights reserved.
Diseñado para los profesionales de la gestión de proyectos que están buscando una visión holística de sus proyectos. AXELOS ProPath Project Expert fortalece la habilidad de entregar resultados consistentes y ayuda a maximizar los beneficios y la eficiencia, mientras que gestiona el riesgo.
Este camino incluye:
Creado para los profesionales apasionados de la flexibilidad y la receptividad de la gestión de proyectos ágil. AXELOS ProPath Agile Project Expert proporciona a los candidatos las habilidades y la guía para ayudar a maximizar los beneficios y a gestionar los riesgos con técnicas de entrega ágil.
Este camino incluye:
Creado para los profesionales que buscan aumentar su habilidad de gestionar las complejidades de proyectos y programas múltiples, mientras que controlan el impacto del riesgo y mantienen el alineamiento con la estrategia corporativa.
Este camino incluye:
Combinando el rigor de P3O con el énfasis en la visión general de MSP y MoP, los profesionales demostrarán su liderazgo que inspira y entrega.
Para aplicar al fin de convertirse en un ProPath Certified Portfolio Director, los candidatos primero tienen que haber obtenido:
ProPath Project Expert o ProPath Agile Project Expert
y
ProPath Certified Portfolio Director es la mayor calificación en la gestión de proyectos, programas y portafolio. Col el respaldo líder en la empresa, será posible actuar como una pieza clave para el cambio en una organización. Será posible utilizar su propia considerable experiencia para planear, dirigir, supervisar y corregir el curso del cambio, para asegurar resultados extraordinarios a la organización y a sí mismo.
Se publicarán más detalles sobre como aplicar más adelante en el 2021.
PDU - ESQUEMA DE CERTIFICACIÓN AXELOS PROPATH
iLEARN es un Authorized Training Partner (ATP) de PMI. Nuestros cursos de formación AXELOS® ProPath proporcionan los Professional Development Units (PDUs). A continuación encontrará más detalles sobre la asignación de los PDUs para cada nivel del esquema de certificación de AXELOS ProPath:
Para más información sobre la asignación de las PDUs según el Triángulo de Talentos de PMI y para conocer todos nuestros cursos de formación en línea y los exámenes para cada nivel de certificación, haga clic en uno de los enlaces anteriores.
Le acordamos que, para obtener PDU a través de este curso proporcionado por iLEARN como Authorized Training Partner (ATP) de PMI, es obligatorio comprar la confirmación de participación (certificado de asistencia) en formato eléctronico (pdf). Durante la compra, seleccione la opción relacionada para añadir la confirmación de participación y proceda a la compra.
Para más información los PDUs y sobre cómo mantener sus calificaciones PMI, por favor visite esta página.
ENLACES ÚTILES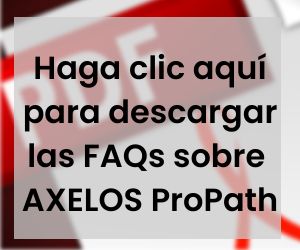 Gracias a la nueva aplicación "iLEARN LMS", puede acceder a sus cursos AXELOS ProPath e-learning donde y cuando quieras desde tus dispositivos móviles. ¡Descárgala ahora!
Sub-categorías