DASA DevOps
Productos destacados
En la ventanilla aquí abajo Usted puede encontrar una selección de cursos de formación y examenes en el entorno DASA DevOps.
Para buscar otros cursos u otras modalidades de exámen, puede utilizar la herramienta "Búsqueda precios cursos/exámenes" que encuentra a continuación.
Si no visualiza el curso o el examen requerido, no dude en contactarnos.
iLEARN es una
ATO
(Accredited Training Organization)
de
DASA
para los cursos
DevOps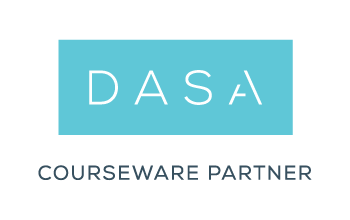 Para verificar en línea las acreditaciones, busque iCONS - Innovative Consulting S.r.l. empresa de la cual iLEARN es una unidad de negocio.
¿Qué es DASA?
DevOps Agile Skills Association (DASA) es una asociación independiente y abierta impulsada por sus miembros, que apoya el desarrollo de la formación y de la certificación DevOps en el mercado global. Además, promueve el desarrollo de profesionales y equipos de TI a través de iniciativas ágiles de DevOps.
Para realizar su objetivo más amplio, DASA mira a:
Promover un marco de conocimientos y habilidades para DevOps, basado en un conjunto definido de principios.
Desarrollar y evangelizar un programa de calificación DevOps neutral para profesionales.
Generar interés y conciencia sobre la necesidad del desarrollo de conocimientos y habilidades.
Potenciar la calidad de la formación y de la certificación de fuente abierta para el conocimiento y las habilidades de DevOps.
Asignar los contenidos de la formación para los miembros a la competence baseline basada en los roles.
PRINCIPIOS DASA DEVOPS
Para DASA, DevOps no es un objeto. No es un producto, un estándar, un requisito, un marco o un empleo. DevOps está hecho de experiencias, ideas y cultura, para crear organizaciones de TI de alto rendimiento.
Acción orientada al cliente
Creación teniendo el propósito en mente
Responsabilidad integral
Equipos multidisciplinarios autónomos
Mejora continua
Automatización de todo lo posible
CERTIFICACIONES DASA DEVOPS
El programa de certificación DASA DevOps está diseñado para apasionados profesionales de TI que desean tener éxito con DevOps. Cada certificación cubre temas específicos del Modelo de Competencias DASA DevOps, ayudando a los equipos DevOps y Agile a desarrollar la correcta combinación de habilidades y capacidades.
DevOps Fundamentals
Ofrece una amplia introducción a los principios ágiles básicos de DevOps, que cubre las competencias de conocimiento y de habilidades esenciales que han sido definidas por DASA.
DevOps Professional Enable and Scale
Usa de base la calificación DASA DevOps Fundamentals. El enfoque clave de DevOps Professional Enable and Scal está en las 4 áreas de habilidades requeridas para resultados de DevOps exitosos.
EL PROGRAMA DE CALIFICACIÓN DASA
DASA ha reconocido tres areas de experiencia y ha desarrollado un programa de certificación para cada perfil. Estos programas proban las habilidades prácticas y la experiencia de los profesionals que se identifican con estos perfiles.
Copyright© DevOps Agile Skills Association LLC. All rights reserved.
OFERTA ILEARN
Los cursos DASA DevOps se pueden seguir de las siguientes maneras:
Clásico

En fechas establecidas (formación tradicional en aula en las sedes de iLEARN)
In-house (formación tradicional en aula programada según las necesidades del cliente y en las sedes de los clientes o de iLEARN)

Formación a distancia (siguiendo un aula remota por medio de una conferencia web)
Además, iLEARN ofrece sólo el nivel Fundamentals de la siguientes maneras:
E-learning: toda la formación en línea mediante nuestra propia plataforma
ONE-to-ONE: acceso a la plataforma e-learning y sesiones interactivas a través de conferencia web con un profesor acreditado
ENLACES ÚTILES
Gracias a la nuova aplicación "iLEARN LMS" podrán acceder al curso e-learning donde y cuando quieran en sus dispositivos móviles. ¡Descárguenla ahora!
Cursos de formación de DASA DevOps ofrecidos por iLEARN