iLEARN est un REP (Registered Education Provider) de
SCRUMstudy pour les cours SCRUM.

Ce cours représente une grande opportunité pour tous ceux qui souhaitent obtenir la certification SCRUM en ligne, depuis chez eux ou depuis leurs bureaux. La certification officielle est une garantie qui prouve que le cours satisfait pleinement les objectifs d'apprentissage indiqués par le schéma de qualification SCRUM.
Un cours SCRUM en ligne a deux composants fondamentaux : le matériel de support et les vidéos conceptuelles. Une vidéo conceptuelle est disponible pour chaque argument affronté dans le cours, et se présente comme dans l'image suivante: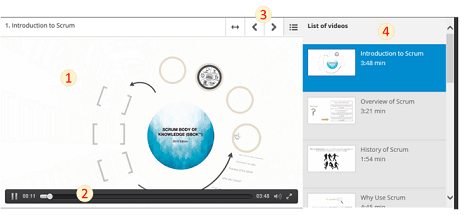 1. Diapositives présentées par l'enseignant
2. Boutons de contrôle de la vidéo
3. Contrôle de séquence, qui permet de passer directement à un autre argument de la leçon
4. Selezione dei video
La section du matériel contient, comme illustré dans l'image suivante, le manuel SBOK™, les lexiques, des exercices et des cas pratiques facultatifs.

Le Scrum Body of Knowledge peut être téléchargé à ce lien.
Valeurs sans compromis
Accès 24 heures sur 24 et 7 jours sur 7.
180 jours d'accès à la plateforme.
Accès au système e-learning et aux vidéos en anglais. .
Accès aux documents en anglais: SBOK™ Guide 2013 Edition; SBOK™ Guide Table of Contents; Roles Guide (guide à la lecture du Guide SBOK™); Bubbleman Case Study; Mots croisés.
Requis pour l'examen
Le système d'examen en ligne pour les cours SCRUM s'appelle SCRUMStudy™. Ce système prévoit la présence d'une personne connectée en ligne qui vérifie le bon déroulement de l'examen.
Il est nécessaire d'avoir:
Une webcam (incorporée ou externe) qui puisse se tourner pour montrer et enregistrer tout le déroulement de l'examen.
Dual-core 2.4GHz CPU ou avec une vitesse supérieure avec au moins 2GB de RAM.
Une connexion internet avec une vitesse non inférieure à 4Mbps.
Un écran (d'au moins 15") avec une résolution égale ou supérieure à 1024 x 768.
Un clavier, une souris ou un équivalent.
Hautparleurs et micro.
Ce test fonctionne avec les dernières versions d'Internet Explorer, Google Chrome, Mozilla Firefox ou avec d'autres navigateurs plus diffusés.
Cours SCRUM en ligne
Nous proposons différents cours SCRUM et leurs relatives certifications, examen final inclus:
Liens utiles