iLEARN è un REP (Registered Education Provider) di
SCRUMstudy per i corsi SCRUM.

This course is a great opportunity for all those who aim to support the SCRUM online certification, from home or office. The official certification is the best guarantee of the fact that the course fully meets the earning aims indicated by SCRUM qualification scheme.
SCRUM online course two basic components: study material and conceptual video. A conceptual video is available for each topic addressed in the course, and it looks like the picture below: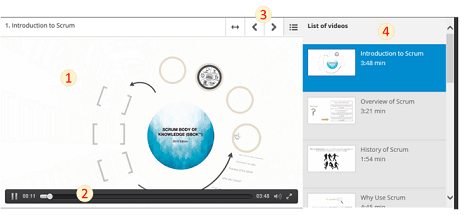 1. Slides explained bu the teacher.
2. Video control buttons.
3. Control of the sequence which allows you to pass directly to another topic from the lesson.
4. Selection of video.
Values without compromises
Access 24 hours a day, 7 days a week.
Access of 180 days to the platform.
Access to e-learning system and video in english.
Access to documents in english: SBOK™ Guide 2013 Edition; SBOK™ Guide Table of Contents; Roles Guide (guide to reading SBOK™ Guide); Bubbleman Case Study; Crosswords.
Requirements for the examination
The examination system for SCRUM online courses is SCRUMstudyTM and it provides the presence of an human supervisor who check online the correct execution of exam. You must have:
A webcam (built in or external) which can be rotated, to capture and record all the examination ;
Dual-core 2.4GHz CPU or faster with at least 2GB of RAM;
An internet connection with a speed not inferior to 4Mbps;
A monitor ( at least 15") with a resolution of 1024 x 768 or more;
Keyboard, mouse or equivalent;
Speakers and microphone;
The exam can be done with the last versions of Internet Explorer, Google Chrome, Mozilla Firefox or other popular browsers.
Online SCRUM courses
We offer different SCRUM courses and certifications, all inclusive of a final exam:
Useful Link