Ajouter au panier
TOGAF® 9 Level 1 & 2; Level 1 - 180j avec examen cours en ligne en Anglais dispensé par iLEARN Innovative Learning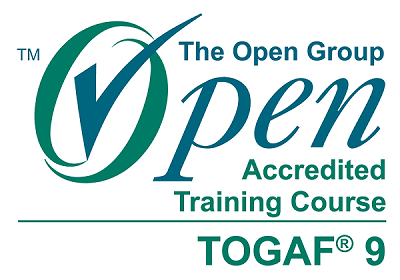 La version 9.2 de la norme TOGAF® est une mise à jour de la norme TOGAF® 9.1 qui peut fournir des instructions améliorées, corrige les erreurs, améliore la structure du document et supprime le contenu obsolète. Les principales améliorations apportées à cette version incluent des mises à jour de la Business Architecture et du Content Metamodel. Tous ces changements rendent la norme TOGAF plus facile à utiliser et à maintenir.
Le niveau de certification TOGAF® 9 Level 1 & 2; Level 1 atteste que le candidat a acquis une connaissance de la terminologie, de la structure et des concepts de base de la norme TOGAF 9 et comprend les principes fondamentaux de l'architecture d'entreprise et de la norme TOGAF.
DURÉES DES ACCÈS
180 jours d'accès à la plateforme
DÉTAILS DU COURS TOGAF® 9 Level 1 & 2; Level 1 EN LIGNE
13 leçons (5 heures de vidéos enregistrées par un enseignant accrédité)
Documents PDF téléchargeables avec un contenu détaillé (diapositives, explications) pour chaque leçon
Exercises et solutions
1 practice test
CARACTÉRISTIQUES ET MODALITÉS DU COURS EN LIGNE
Accès 24 heures sur 24 et 7 jours sur 7
Pour plus d'informations sur les cours en ligne, Cliquez ici.
ACCRÉDITATIONS
Le cours TOGAF® 9 Level 1 & 2; Level 1 de iLEARN - Innovative Learning est accrédité par The Open Group
CARACTÉRISTIQUES ET MODALITÉS DE L'EXAMEN EN LIGNE
L'examen peut être exécuté en 2 modalités:
En ligne avec la supervision d'un Surveillant (OnVUE)
Dans un Centre de Test Pearson Vue
Pour plus d'informations sur les prérequis techniques et la procédure des examens en ligne, cliquez ici.
PDU - TOGAF® 9 Level 1 & 2; Level 1
Notre cours de formation TOGAF 9 Level 1 & 2; Level 1 peut fournir 16 Professional Development Units (PDUs). Ci-dessous vous pouvez trouver plus de détails concernant la répartition des PDU:
Technical: 0
Leadership: 0
Strategic: 16
Veuillez noter que, pour auto déclarer les PDUs en participant à ce cours offert par iLEARN, l'achat de la confirmation de participation (certificat de participation) en format électronique (pdf) est obligatoire. Sélectionnez l'option pour ajouter la confirmation de participation et procédez au paiement.
Pour plus d'informations sur les PDU et sur comment les déclarer pour maintenir vos certifications PMI, visitez cette page.
Accréditations
The Open Group
Prix par personne
399,00EUR
Durée de l'accès au cours
180 jours
Objectifs
Connaître les différents types d'architectures d'entreprise et identifier la nécessité de l'alignement business et technique
Découvrir les bénéfices liés à l'utilisation de TOGAF en tant que référentiel de développement de l'architecture
Connaître les grands principes de TOGAF et le référentiel de développement d'architecture ADM
Maîtriser les différentes étapes des phases de développement de l'architecture
Acquérir une collection de techniques et de meilleures pratiques pour appliquer l'ADM dans leur entreprise
Identifier les types d'architectures gérées par TOGAF
Intégrer TOGAF dans la gouvernance des systèmes d'information
Adressé à
Architecte des SI
Chef de projet
Responsable de l'architecture, de l'urbanisation
Ingénieur
Consultant traitant des projets d'évolution de l'architecture des SI
Contenus
Introduction
Concepts principaux
Terminologie
Introduction à la méthode de développement de l'architecture
Le continuum de l'entreprise et les outils de TOGAF
Les phases de l'ADM
L'ADM et ses techniques
Gouvernance de l'architecture
Points de vue et parties-prenantes
Building Blocks
Les livrables de l'ADM
Modèles de référence de TOGAF
Passage d'un examen blanc pour valider les acquis
Prérequis
Aucun prérequis.
Cependant, il est préférable d'avoir une certaine expérience dans la résolution de problèmes au sein des entreprises.
Langue enseignant
Anglais
Langue matériel cours
Anglais
Typologie d'examen
En ligne
Certification
Certificat officiel TOGAF® 9 Level 1
Format certificat
En ligne
Langue examen
Anglais, Français, Chinois (Mandarin), Espagnol (Amérique Latine)