AXELOS® ProPath
Corsi di certificazione AXELOS® ProPath offerti da iLEARN
Corsi online (e-learning) con esame AXELOS ProPath
In questa vetrina trovate una selezione dei corsi di formazione ed esami online riguardanti l'area di formazione AXELOS® ProPath con esame di certificazione incluso. L'area di formazione AXELOS ProPath include: AXELOS ProPath Project Expert e AXELOS ProPath Agile Project Expert. Questi corsi AXELOS ProPath possono essere seguiti totalmente online in modalità self-paced sulla nostra piattaforma e-learning. Potrete decidere la durata dell'accesso al corso e la data di attivazione dell'account. Una volta attivato il corso, potrete studiare 24/7 ovunque vogliate. Quando sarete pronti per l'esame di certificazione finale, dovrete solo schedulare l'esame online sul portale dell'ente esaminatore. Le informazioni sulle credenziali e sui voucher online verranno inviate per email una votla terminato il corso.
Stai visualizzando i prezzi per
Visualizzati

5

di 8
Pagina

1

di 2
Esami di certificazione online AXELOS ProPath
In questa vetrina potrete acquistare i soli voucher d'esame AXELOS ProPath per sostenere gli esami online sul portale PeopleCert.
Stai visualizzando i prezzi per
Visualizzati

5

di 7
Pagina

1

di 2
PANORAMICA DI AXELOS PROPATH
AXELOS® ProPath rappresenta una collezione delle certificazioni più importanti al mondo nell'ambito project, programme e portfolio management, tra cui PRINCE2®, Managing Successful Programmes (MSP®), PRINCE2 Agile®, Management of Portfolios (MoP®), Management of Risk (M_o_R®), e Portfolio, Programme and Project Offices (P3Ο®).
AXELOS® ProPath è un nuovo approccio alle qualifiche per il Project, Programme e Portfolio Management che fornisce una struttura di sviluppo progressivo di certificazioni e best practice, ciascuna specificamente orientata all'apporto di significativi cambiamenti organizzativi.
OFFERTA ILEARN PER CORSI, ESAMI E CERTIFICAZIONI AXELOS PROPATH
I corsi di formazione AXELOS ProPath sono tenuti da docenti qualificati e certificati e sono progettati sulla base di solide esperienze nel Project, Programme e Portfolio Management.
I corsi AXELOS ProPath di iLEARN sono disponibili in diverse modalità:
Corsi E-learning AXELOS ProPath : Formazione erogata attraverso il nostro sistema di gestione di apprendimento online, da qualsiasi luogo e in qualsiasi momento
Corsi ONE-to-ONE AXELOS ProPath : accesso alla piattaforma e-learning e sessioni interattive tramite web-conference con un docente accreditato
Corsi Distant-learning AXELOS ProPath: Formazione a calendario seguita tramite webconference
Corsi classici AXELOS ProPath:

a calendario: formazione in aula tradizionale presso le sedi di iLEARN
in-house: formazione tradizionale in aula programmata in base alle esigenze del cliente, presso i locali del cliente o di iLEARN
Iscrivendovi ai nostri corsi AXELOS ProPath in qualsiasi modalità di erogazione riceverete anche:
Materiale formativo AXELOS ProPath accreditato da PeopleCert e AXELOS
Sample paper AXELOS ProPath ufficiali (forniti da PeopleCert)
Manuali ufficiali AXELOS ProPath (facoltativi)
Supporto di docenti accreditati
OBIETTIVI DEI CORSI
AXELOS® ProPath ha lo scopo di formare e certificare le conoscenze degli esperti nel campo Project, Program e Portfolio Management.
CHI DOVREBBE SEGUIRE I CORSI DI FORMAZIONE AXELOS PROPATH?
AXELOS ProPath è perfetto per chi voglia proseguire e completare il suo percorso nelle certificazioni PPM o per chi voglia iniziare un nuovo percorso di certificazione PPM.
Completando uno o più percorsi AXELOS ProPath, i candidati otterranno competenza certificata nell'area corrispondente.
COME FARE PER OTTENERE I TUOI CORSI, ESAMI E CERTIFICAZIONI AXELOS PROPATH?
Puoi ordinare e seguire uno dei nostri corsi ed esami AXELOS ProPath in pochi passi:
Vai in cima alla pagina e visualizza i prodotti disponibili e i pacchetti di formazione
Clicca sui vari tab per cercare il corso/la certificazione/il livello che ti interessa
Clicca sul pacchetto o sul servizio di cui hai bisogno e leggine i dettagli
Una volta trovato il corso di formazione o l'esame AXELOS ProPath di cui hai bisogno, clicca su "Compra" in fondo alla pagina e completa il tuo acquisto!
Puoi pagare immediatamente con carta di credito, PayPal o bonifico bancario
Per i corsi e-learning AXELOS ProPath, il tuo account sarà attivato a partire dalla data selezionata durante il processo d'acquisto!
Hai bisogno di corsi AXELOS ProPath per la tua azienda? Hai bisogno di un preventivo? Contattaci subito!
PERCHÉ SCEGLIERE ILEARN PER I CORSI AXELOS PROPATH E LE CERTIFICAZIONI PROPATH?
Siamo una forte società internazionale di formazione, nota per i suoi corsi online
Forniamo corsi online con diverse durate di accesso a diversi prezzi
Il nostro team di assistenza clienti è molto amato dai nostri clienti (diamo supporto immediato in italiano, inglese, francese e spagnolo)
I nostri formatori accreditati sono sempre disponibili per fornire supporto e tutoraggio agli studenti
QUALI SONO I BENEFICI DI AXELOS PROPATH?
Lo schema di certificazione AXELOS ProPath fornisce agli individui la guida pratica più efficace e l'approvazione delle conoscenze acquisite su come pianificare e dirigere il lavoro di un gruppo o di un'organizzazione, fornendo valore mentre monitorano il lavoro e il suo progresso, e su come intraprendere azioni correttive quando necessarie. I professionisti con le qualifiche del portfolio saranno in grado di:
Essere un elemento chiave per il cambiamento all'interno di un'organizzazione
Acquisire conoscenze su una serie di modalità di consegna, tra cui quelle Agile, lineare e ibrida
Fornire risultati consistenti e ridurre i costi
Assicurare che l'organizzazione faccia buoni investimenti
Migliorare la velocità di commercializzazione aumentando l'efficienza
Fornire governance e apportare cambiamenti efficaci
LIVELLI DI CERTIFICAZIONE E FORMAZIONE AXELOS PROPATH
Ora è possibile basarsi sulle certificazioni Project, Programme e Portfolio Management già in possesso o intraprendere il proprio percorso PPM scegliendo tra le tre qualifiche quella che soddisfa al meglio le esigenze professionali e assicura che i propri risultati ottengano il riconoscimento e il valore dovuti.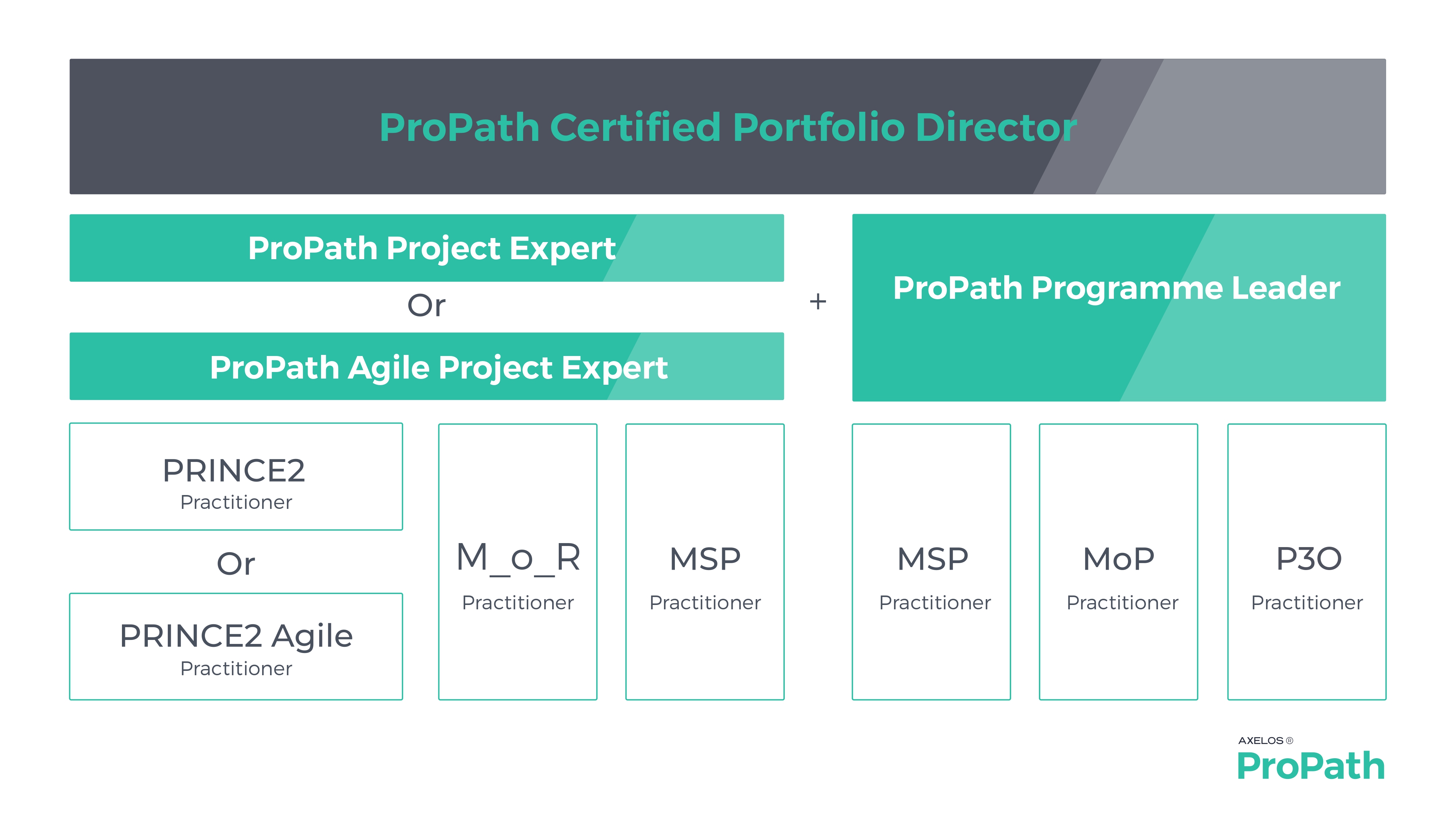 2021 © Copyright AXELOS Limited 2021. All rights reserved.
Ideato per i professionisti del project management che ricercano una visione olistica dei loro progetti. AXELOS® ProPath Project Expert rafforza l'abilità di fornire risultati e aiutare a massimizzare i benefici e l'efficacia, gestendo al contempo i rischi.
Questo percorso comprende:
Ideato per i professionisti appassionati della flessibilità e della reattività Agile. AXELOS® ProPath Agile Project Expert fornisce le abilità e una guida per aiutare a massimizzare i benefici e a gestire i rischi, con tecniche di delivery.
Questo percorso comprende:
Realizzato per i professionisti che vogliono migliorare la loro abilità di gestire le complessità di progetti e programmi multipli, controllando al contempo l'impatto dei rischi e mantenendo l'allineamento con le strategie aziendali.
Questo percorso comprende:
Combinando il rigore di P3O con la visione generale di MSP e MoP, i professionisti dimostreranno la loro leadership.
Per fare richiesta al fine di diventare un ProPath Certified Portfolio Director, i candidati dovranno prima aver ottenuto le qualifiche:
ProPath Project Expert o ProPath Agile Project Expert
e
ProPath Certified Portfolio Director è la qualifica per eccellenza nel project, programme e portfolio management. Con questo background leader nel settore alle proprie spalle, sarà possibile operare come soggetto chiave all'interno dell'organizzazione. Sarà possibile utilizzare la propria significativa esperienza per pianificare, dirigere, monitorare e correggere il corso del cambiamento, per assicurare risultati straordinari alla propria organizzazione e a sé stessi.
Verranno rilasciati più dettagli su come fare richiesta più avanti nel 2021.
PDU - SCHEMA DI CERTIFICAZIONE AXELOS PROPATH
iLEARN è un Authorized Training Partner (ATP) del Project Management Institute. I nostri corsi di formazione AXELOS ProPath forniscono delle Professional Development Units (PDUs). Di seguito trovate maggiori dettagli in merito alla ripartizione delle PDU per ciascun livello dello schema di certificazione AXELOS ProPath:
Per maggiori informazioni sulla ripartizione delle PDU sulla base del Talent Triangle di PMI et per scoprire tutti i nostri pacchetti di corsi di formazione ed esami online per ciascun livello di certificazione, cliccate sui link qui sopra.
Si prega di notare che, per ottenere i PDU frequentando questo corso erogato da iLEARN in qualità di Authorized Training Partner (ATP) di PMI, l'acquisto della conferma di partecipazione (certificato di frequenza) in formato elettronico (pdf) è obbligatorio. Selezionate l'opzione per aggiungere la conferma di partecipazione e procedete all'acquisto.
Per maggiori informazioni sulle PDU e su come dichiararle per mantenere le vostre certificazioni PMI, consultate questa pagina.
LINK UTILI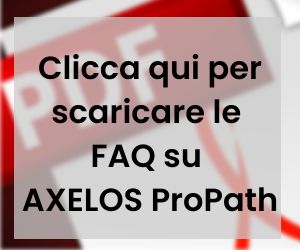 Grazie alla nuova applicazione "iLEARN LMS" puoi usufruire del tuo corso e-learning dove e quando vuoi sui tuoi dispositivi mobili. Scaricala ora!
Sotto categorie