iLEARN è un ATO (Accredited Training Organization)
    di APMG per il corso COBIT5 Foundation.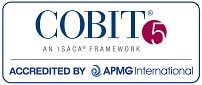 Per una verifica online degli accreditamenti, fare la ricerca con
         ICONS - Innovative Consulting S.r.l.  di cui iLEARN è una business unit.
 
COBIT - Control Objectives for Information and related Technology è il framework di IT governance creato originariamente da ISACA, Information Systems Audit and Control Association e successivamente gestito in partnership da quest'ultima con l'IT Governance Institute (ITGI). Questo framework è oggi arrivato alla sua quinta versione, cui ci si riferisce con COBIT 5.
Il corso, articolato in sessioni teoriche ed interattive, affronta il tema dell'IT governance ed illustra struttura, concetti base ed obiettivi del framework COBIT.
I corsi in aula vengono confermati circa 3 settimane prima dell'inizio effettivo del corso, su raggiungimento del numero minimo di partecipanti richiesto. Vi preghiamo, pertanto, di contattarci prima di procedere con il pagamento.
Prezzo per persona
890,00€
Data inizio corso
21-06-2018
Data fine corso
22-06-2018
Obiettivi
Il corso COBIT 5 Foundation assicura che, al termine, i partecipanti saranno in grado, per la loro specifica realtà aziendale, di comprendere come l'applicazione delle best practice consenta di realizzare il necessario livello di IT governance e di applicare il framework in situazioni pratiche.
A chi è rivolto
IT auditor, IT manager, responsabili qualità IT, responsabili processi IT, professionisti dell?IT che vogliono approfondire il tema dell'IT governance.
Contenuti
Principi di IT Governance;
COBIT 5, struttura, concetti base ed obiettivi;
Sessioni interattive, esempi pratici e case study finalizzati alla comprensione dell'utilizzo del framework;
Il necessario livello di IT Governance.
Materiale fornito:
Manuale studente: slide del corso presentate dal docente con spiegazioni
Esercizi
1 simulazione ufficiale dell'esame
Prerequisiti
E' consigliabile un'esperienza di almeno due anni in ambito IT Governance.
Per lo svolgimento dell'esame è necessario aver letto ed accettare i termini e condizioni dell'organismo di formazione. L'accettazione di tali condizioni e termini dovrà essere confermata nell'ambito dello svolgimento dell'esame.
Lingua materiale corso
Inglese
Certificazione
Certificato ufficiale COBIT 5 Foundation
Formato certificato
Online
COBIT® 5 Foundation corso in aula in Spagnolo dal 21 Giugno 2018 a Valencia della durata di 2 giorni erogato da iLEARN Innovative Learning