Corsi IT4IT™
Corsi di certificazione IT4IT
Disponibilità e prezzi dei corsi IT4IT™
Prodotti in evidenza
In questa vetrina trovate una selezione dei corsi di formazione ed esami online nell'ambito IT4IT™.
Per ricercare un corso o un esame nelle altre modalità, potete utilizzare lo strumento di "Ricerca prezzi corsi/esami" che trovate di seguito.
Se non visualizzate il corso o l'esame desiderato, non esitate a contattarci.
Nessun corso o esame trovato. Contattaci per scoprire le soluzioni disponibili!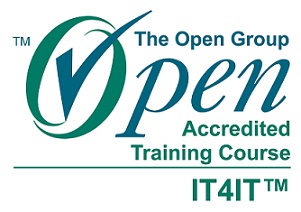 IT4IT™
L'architettura di riferimento IT4IT, uno standard di The Open Group, è un potente strumento per l'adattamento e la gestione di un'Impresa Digitale. Il suo approccio flessibile, basato sul flusso del valore supporta la vostra azienda digitale ovunque vi troviate nel vostro percorso e ovunque vogliate andare, indipendentemente dal fatto che il vostro risultato aziendale principale sia migliore, più veloce, più economico, più sicuro o una combinazione dei quattro.
Progettato come una struttura protettiva, IT4IT è utile per le imprese che affrontano molte delle sfide attuali, che si tratti del passaggio al cloud, dell'implementazione di Agile o DevOps, di una fase di trasformazione digitale, dello spostamento verso un modello operativo incentrato sul prodotto. Con particolare attenzione alle informazioni necessarie per la gestione dell'IT e del flusso di dati tra i sistemi di gestione informatici, IT4IT è indifferente ai processi e utile alle industrie e alle imprese di tutte le dimensioni.
Lo Standard IT4IT viene utilizzato dalle aziende di qualsiasi grandezza e dalle industrie di tutto il mondo. È stato utilizzato per guidare l'interoperabilità, razionalizzare le applicazioni, valutare e migliorare le capacità, e molto altro.
ACCREDITAMENTI
I corsi IT4IT™, forniti da Good E-learning, sono corsi accreditati da The Open Group. iLEARN è un broker di Good e-Learning.
SCHEMA DI CERTIFICAZIONE IT4IT
Awareness: IT4IT™ Standard
Questo corso affronta tutto ciò che occorre sapere in merito allo Standard IT4IT di The Open Group, il che lo rende una perfetta introduzione sia per gli individui che per i team.
IT4IT™ Foundation
Questo corso IT4IT offre un'ottima preparazione ai candidati per l'esame ufficiale IT4IT Foundation (Level 1). Superando l'esame, i candidati conseguiranno una certificazione riconosciuta e altamente stimata, che dimostra la loro conoscenza della terminologia, della struttura e dei concetti di base dello Standard IT4IT.
IT4IT™ Foundation & Awareness Suite
I corsi IT4IT Foundation e IT4IT Awareness forniti in questo pacchetto offrono un'ottima introduzione all'Architettura di Riferimento IT4IT e alla Catena del Valore dell'IT.
OFFERTA iLEARN
iLEARN offre i livelli Foundation, Awareness et Foundation & Awareness Suite nella modalità seguente:
E-learning: formazione fornita attraverso un sistema di gestione dell'apprendimento online disponibile ovunque e in qualsiasi momento
LINK UTILI