Awareness: IT4IT™ Standard 180g senza esame corso online in Inglese erogato da iLEARN Innovative Learning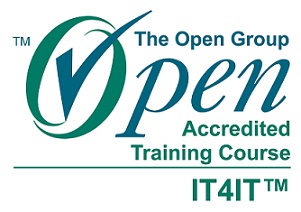 Questo corso affronta tutto ciò che occorre sapere in merito allo Standard IT4IT di The Open Group, il che lo rende una perfetta introduzione sia per gli individui che per i team.
Nonostante questo corso non comporti alcuna certificazione o accreditamento formale, vi permetterà di considerare ulteriori formazioni IT4IT.
È probabile che la vostra organizzazione stia implementando lo standard o stia considerando l'importanza di una tale implementazione. Che voi siate decisori o potenziali utenti, professionisti IT, responsabili delle Risorse Umane o contabili. Qualunque sia la vostra esperienza, lo Standard IT4IT è qualcosa di cui bisogna essere a conoscenza!
DURATA DI ACCESSO
180 giorni di accesso alla piattaforma
DETTAGLI DEL CORSO ONLINE AWARENESS: IT4IT™ STANDARD
Corso di formazione interamente accreditato
Durata del corso: 6+ ore
Supporto didattico
Quiz e simulazioni d'esame
Certificato di completamento
ACCREDITAMENTI
Awareness: IT4IT™ Standard fornito da Good E-learning è un corso accreditato da The Open Group. iLEARN è un broker di Good e-Learning.
Prezzo scontato
39,00EUR




35,10EUR

fino al 31/08/2022
Durata accesso corso
180 giorni
Obiettivi
Spiegare i problemi che l'Architettura di Riferimento IT4IT è in grado di risolvere
Comprendere le richieste e i fattori principali per il cambiamento delle funzioni IT (per diventare broker e integratore di servizi) e dunque l'importanza di IT4IT
Comprendere lo Standard IT4IT ad alto livello, i Flussi del Valore IT4IT e l'Architettura di Riferimento IT4IT
Comprendere il posizionamento dello Standard IT4IT in relazione ad altri standard (come ITIL) e capire in che modo IT4IT è complementare ad essi
A chi è rivolto
Dovreste seguire questo corso se:
Chi ha un ruolo per il quale è necessario comprendere IT4IT, il suo contenuto, il contesto, le attività e i vantaggi, ma non occorre essere un professionista certificato
Chi ha un gruppo di sponsor, di decisori o di parti interessate che devono essere a conoscenza del valore e dei benefici di un progetto IT4IT
Chi deve "vendere" IT4IT all'interno della vostra organizzazione
Chi desidera conoscere meglio lo standard IT4IT prima di dedicarvi interamente alla formazione e all'esame Foundation
Contenuti
Qual è la Storia?
Lo Standard IT4IT nel dettaglio
I Vantaggi dell'utilizzo dello Standard IT4IT
I Vantaggi di IT4IT per ciascuna Parte Interessata
Prerequisiti
Non vi è nessun prerequisito necessario per poter seguire il corso Awareness: IT4IT™ Standard.
Lingua materiale corso
Inglese