Aggiungi al carrello
Esame TOGAF® 9 Level 2 (per RETAKE) esame online erogato da iLEARN Innovative Learning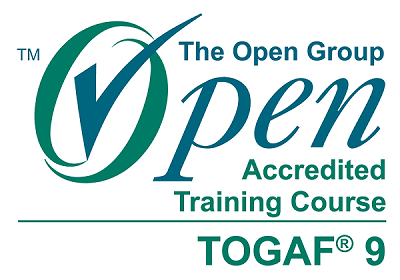 TOGAF® Standard Version 9.2 è un aggiornamento dello standard TOGAF® 9.1 che fornisce una guida migliorata, una correzione degli errori, un miglioramento della struttura dei documenti e la rimozione dei contenuti obsoleti. I principali miglioramenti di questa versione sono stati apportati alla Business Architecture e al Content Metamodel. Tutti questi cambiamenti rendono il framework TOGAF più facile da utilizzare e mantenere.
Il contenuto di TOGAF® 9 Level 1 & 2; Level 2 si concentra sull'applicazione pratica del framework TOGAF, basandosi sulla conoscenza fondamentale e sulla comprensione della Parte 1, utilizzando scenari pratici per rafforzare i concetti.
N.B.: L'esame TOGAF® 9 Level 1 & 2; Level 2 per RETAKE è acquistabile solamente in caso di fallimento del primo tentativo d'esame. Per poterlo acquistare, è necessario avere acquistato il primo voucher d'esame tramite iLEARN.
ACCREDITAMENTI
Il corso TOGAF® 9 Level 1 & 2; Level 2 di iLEARN - Innovative Learning è accreditato da The Open Group
CARATTERISTICHE E FORMATO DELL'ESAME ONLINE
N.B. L'esame Level 2 può essere sostenuto in due modalità:
Online con la supervisione di un Invigilator (OnVUE)
Presso un Pearson Vue Test Center
Per maggiori informazioni sui requisiti tecnici e sulle procedure dell'esame online, cliccate qui.
Accreditamento
The Open Group
Prezzo per persona
299,00EUR
Lingua
Inglese, Francese, Cinese (Mandarino), Spagnolo (America Latina)
A chi è rivolto
Coloro che richiedono una comprensione più approfondita dello standard TOGAF 9
Professionisti che lavorano in un'organizzazione in cui è stato adottato lo standard TOGAF 9 e che devono partecipare a progetti e iniziative di architettura
Architetti che saranno responsabili dello sviluppo di artefatti architettonici
Architetti che desiderano introdurre lo standard TOGAF 9 in una pratica di architettura
Architetti che desiderano ottenere una qualifica riconosciuta per dimostrare le loro conoscenze dettagliate dello standard TOGAF 9
Prerequisiti
Per sostenere l'esame TOGAF® 9 Level 2, è necessario essere in possesso del certificato TOGAF® 9 Level 1.
Per poter acquistare l'esame TOGAF® 9 Level 2 (per RETAKE) è obbligatorio avere già sostenuto un esame TOGAF® 9 Level 2 e NON averlo superato.
Certificazione
Certificato ufficiale TOGAF® 9 Level 2
Formato certificato
Online
Lingua esame
Inglese, Francese, Cinese (Mandarino), Spagnolo (America Latina)