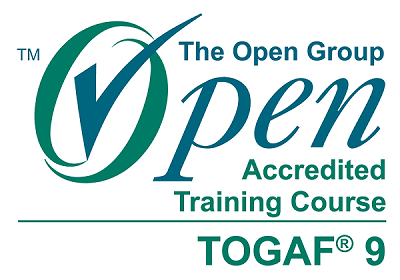 TOGAF® Standard Version 9.2 è un aggiornamento dello standard TOGAF® 9.1 che fornisce una guida migliorata, una correzione degli errori, un miglioramento della struttura dei documenti e la rimozione dei contenuti obsoleti. I principali miglioramenti di questa versione sono stati apportati alla Business Architecture e al Content Metamodel. Tutti questi cambiamenti rendono il framework TOGAF più facile da utilizzare e mantenere.
La certificazione TOGAF® 9 Level 1 & 2; Level 1 attesta che il candidato abbia acquisito conoscenza della terminologia, della struttura e dei concetti di base dello standard TOGAF 9 e che abbia compreso i principi fondamentali dell'Enterprise Architecture e dello standard TOGAF.
Durata di accesso
7 giorni di accesso alla piattaforma
Dettagli del corso online TOGAF® 9 Level 1 & 2; Level 1
13 lezioni (5 ore di video registrati da un docente accreditato)
Documenti PDF scaricabili con contenuti dettagliati (slide, spiegazioni) per ogni lezione
Quiz
1 practice test
FORMATO E CARATTERISTICHE DEL CORSO ONLINE
Accesso 24/7
Per maggiori informazioni sui corsi online, cliccate qui.
ACCREDITAMENTI
Il corso TOGAF® 9 Level 1 & 2; Level 1 di iLEARN - Innovative Learning è accreditato da The Open Group
CARATTERISTICHE E FORMATO DELL'ESAME ONLINE
L'esame può essere sostenuto in due modalità:
Online con la supervisione di un Invigilator (OnVUE)
Presso un Pearson Vue Test Center
Per maggiori informazioni sui requisiti tecnici e sulle procedure dell'esame online, cliccate qui.
Accreditamento
The Open Group
Prezzo scontato
299,00€
284,05€
fino al 30/04/2021
Durata accesso corso
7 giorni
Obiettivi
Alla fine di questo corso, i partecipanti avranno ottenuto le seguenti competenze:
I concetti chiave di una Enterprise Architecture e dell'architettura del framework TOGAF
I principi di base dell'architettura aziendale basati sul framework TOGAF 9
La terminologia chiave del framework TOGAF 9 nel contesto di ADM
Il ciclo ADM e gli obiettivi di ciascuna fase e come adattarli in ADM
Il concetto di Enterprise Continuum; il suo scopo e le parti che lo compongono
In che modo ciascuna fase contribuisce al successo di un'architettura aziendale
Linee guida e tecniche ADM
Come la Architecture Governance contribuisce all'Architecture Development Cycle
Il concetto di Architecture View e Architecture Viewpoints e il loro ruolo nella comunicazione con gli stakeholder
Il concetto di Building Blocks
I principali Deliverable in un ciclo ADM
Modello di riferimento TOGAF
A chi è rivolto
Enterprise Architect, di tutti i livelli
Coloro che desiderano entrare nell'Enterprise Architecture
Chiunque voglia superare l'esame di certificazione TOGAF® 9.2
Contenuti
Le skill principali del framework TOGAF
L'Architecture Development Method (ADM), tutte le sue fasi e le informazioni chiave per superare l'esame
Altri argomenti trattati nell'esame, tra cui Architecture Governance dell'architettura, Architecture Capacity, Enterprise Continuum aziendale, Capability Assessment e framework di riferimento come TRM e III-RM
Prerequisiti
Un'esperienza minima nella risoluzione di problemi a livello aziendale, sebbene non sia richiesta familiarità con lo standard TOGAF.
Lingua materiale corso
Inglese
Certificazione
Certificato ufficiale TOGAF® 9 Level 1
Formato certificato
Online
Lingua esame
Inglese, Francese, Brasiliano, Cinese (Mandarino), Spagnolo (America Latina)
TOGAF® 9 Level 1 & 2; Level 1 - 7g con esame corso online in Inglese erogato da iLEARN Innovative Learning