ITIL® 4 IS COMING!
Discover it and get updated
ITIL is the most widespread and globally used framework for IT Service Management.
AXELOS has now announced that a new version will come out in 2019, ITIL® 4.
The owner of this best practice is still working on it but it has already announced its brand new certification scheme.
The new curriculum will be easier than the previous one and more suitable to everyone's needs. Now we only have to wait for the modules content to be revealed.
THE NEW CERTIFICATION SCHEME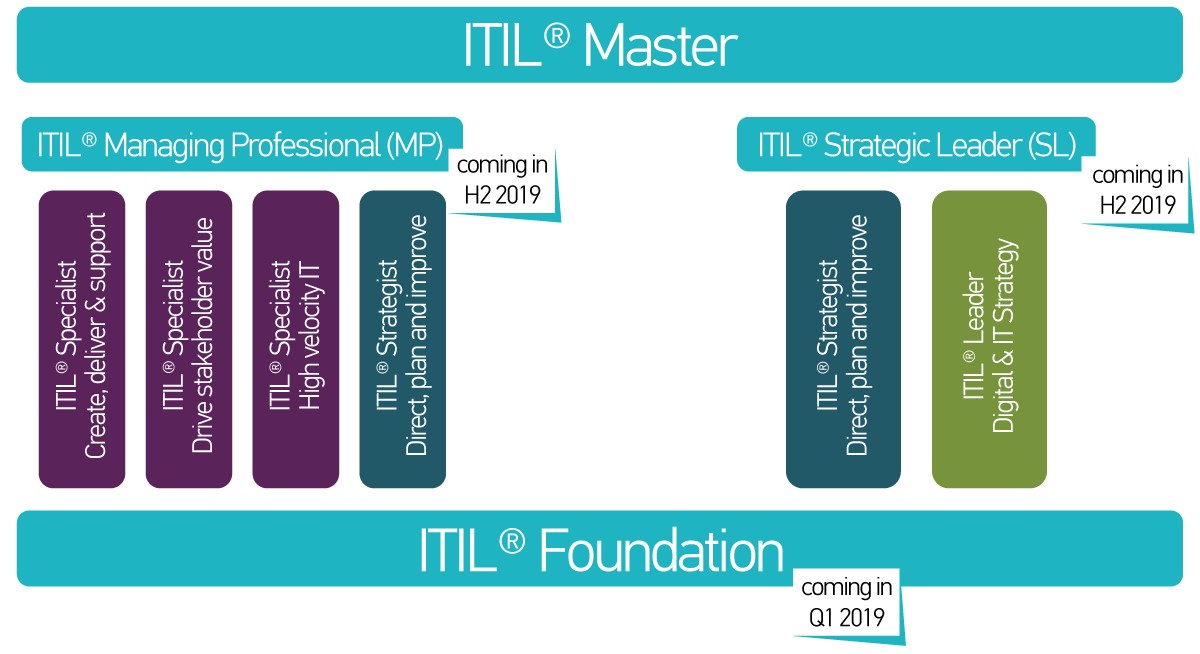 2018 © AXELOS Limited. All rights reserved.
The new scheme is much easier than ITIL 2011 one.
It's composed by three levels of certifications and 5 total qualifications:
1. Basic level: ITIL® Foundation
2. Two specialization routes:
ITIL® Managing Professional (MP) - 4 modules

ITIL® Specialist: Create, Deliver & Support

ITIL® Specialist: Drive Stakeholder Value

ITIL® Specialist: High Velocity IT

ITIL® Strategist: Direct, Plan & Improve

ITIL® Strategic Leader (SL) - 2 modules

ITIL® Strategist: Direct, Plan & Improve

ITIL® Leader: Digital & IT Strategy
3. ITIL® Master
Note that the ITIL Strategist module is common to both routes. This is is given by the fact that, in each route, you need to own the complete set of the corresponding qualification in order to obtain the certification.
RELEASE DATES
The ITIL 4 modules will be released according to the below top-level timelines.
ITIL Foundation – Q1 2019
ITIL Specialist modules (3) – H2 2019
ITIL Strategist – H2 2019
ITIL Leader – H2 2019
ITIL Master – details to be released at a later date.
ITIL v3 AND ITIL 2011 CERTIFICATIONS VALIDITY
If you already achieved ITIL v3 Certifications and you do not want to lose them, AXELOS has created recommended routes that allow candidates to transition while still gaining skills and knowledge needed to understand the core concepts of ITIL 4.
There will be also a transition module, the ITIL® Managing Professional Transition Module, designed for ITIL v3 candidates who are ITIL Experts or who have achieved 17 credits from across the v3 scheme.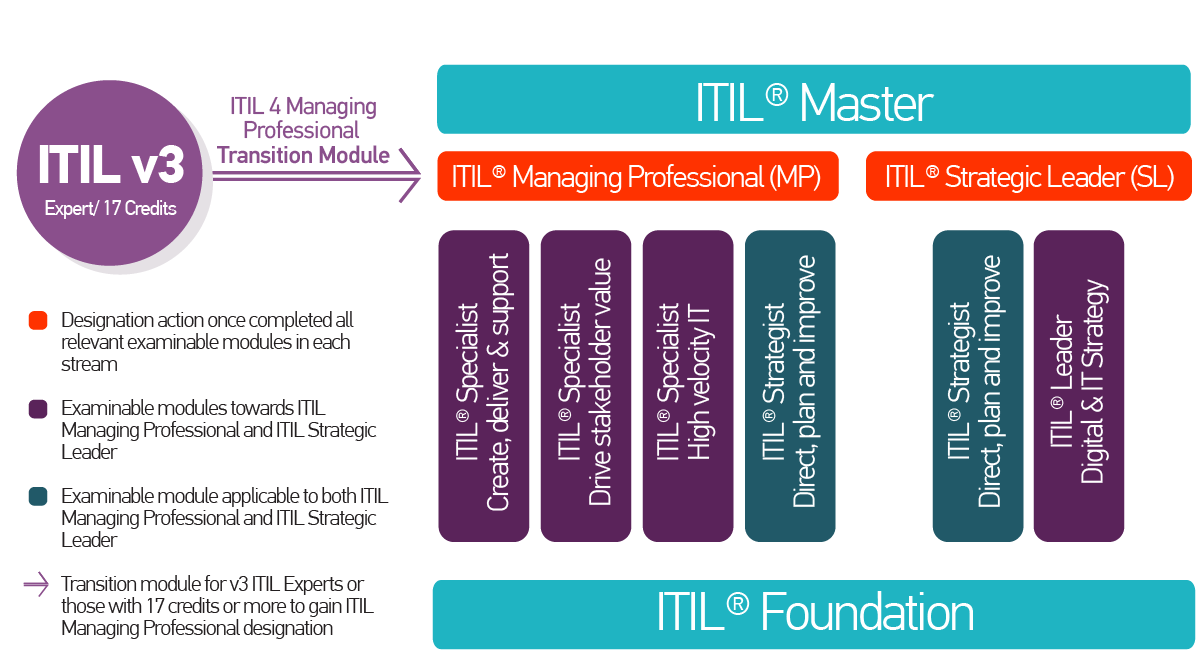 2018 © AXELOS Limited. All rights reserved.
For further information about the new certification scheme, how to update or transition to ITIL® 4 or any other news, don't hesitate to contact us!